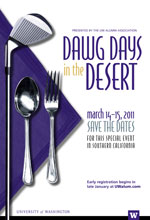 Hit the tees with fellow Huskies at Indian Wells Golf Resort's world-class Celebrity Course, named one of the "best public golf courses in California" by Golfweek. Price includes continental breakfast and lunch.
Cost: UWAA member $200; Non-member $240 (includes a 1-year UWAA membership)
- Return to the main Dawg Days in the Desert page.
Golf Tournament Format Details
Scramble Competition: Everyone tees off. Select the better position, and everyone will play from that position. This method will continue until the ball is holed out. Each team member must use a minimum of 2 tee shots. The ball may be placed one club length from the lie of the ball selected for play. However, the ball placed must remain in the same cut of grass as the selected ball. Threesomes are allowed to hit an extra shot for a total of four shots. Players must take turns hitting the extra shot.
Scoring: Scoring is based on gross and net score. Professional staff will determine and calculate team winners in both categories. USGA rules govern all play. Prizes will be awarded to the 1st place gross team, and 1st, 2nd and 3rd place net teams.