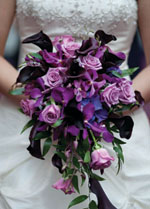 Registration for this event is now CLOSED. However, walk-ups are welcome, so come on by!
Dreaming of celebrating your special event in an architectural landmark with an extraordinary view? The UW has a gorgeous campus, and top-notch facilities to help make your special event spectacular.
You are invited to a free exhibition of campus venues for weddings and other special events. Meet with representatives from UW Event Services, the Horticultural Center, The University of Washington Club and featured vendors from all around Seattle, displaying their wares and offerings.
Complimentary appetizers and beverages from the UW Club and Bay Laurel Catering will be served.
Featured appetizers include:
Flank steak crostini with blue cheese cream and caramelized onions
Artichoke heart arancini: crisp balls of Arborio rice stuffed with artichoke heart and Pecorino Romano cheese, with smoked paprika aioli
Chilled sweet corn soup shooter with basil oil and mini Dungeness crab cake
Gougère "cheese puff" of gruyère and parmesan cheeses filled with jalapeño-whipped cream cheeses
Lamb rilette on herbed polenta cake with sautéed local mushrooms
Caponata-stuffed zucchini rounds.
Featured vendors include:
The University of Washington Club
The University of Washington Botanic Gardens
The Burke Museum of Natural History and Culture
UW Event Services
Bay Laurel Catering
Cakes by Creme de la Creme
CN Wedding Photography
Sounds Unlimited
AA Party Rentals
Ravenna Bloom
Fena Flowers
SK Artistry
New Chapter Weddings
String Thyme