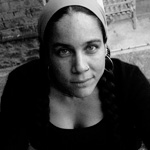 Where does artistic practice and spiritual belief intersect with grassroots activism? This question will be at the heart of Raquel Z. Rivera's discussion on art and spirituality, The Liberation Mythologies: Quests for Roots, Spirit and Justice in Afro-Puerto Rican, Afro-Dominican, and Mexica Music and Dance.
Dr. Rivera will look at myth-making through the prisms of eclectic North American communities. She will examine how groups try to explain the unexplainable, from Afro-Puerto Rican bomba dancers in New York to communities of New Mexico-based concheros and Mexica dancers. Rivera will connect the traditions these groups honor while exploring how they build a better future.
Dr. Raquel Z. Rivera is an author, scholar, and singer-songwriter. Learn more about Dr. Rivera.
Cost: FREE
Location: Kane Hall 120, UW Seattle