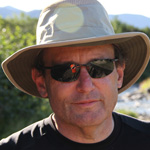 Tonight's lecture is at capacity. However, as a courtesy we will offer stand-by seating as traditionally we have no-shows. We will begin seating for walk-ups at 6:15 p.m.
What happens when scientists find an answer – and nature changes the question? Quasicrystals, an exotic state of matter with symmetries once thought to be impossible, were first created in science labs 30 years ago.
But did nature beat scientists to the punch? Dr. Paul Steinhardt will discuss the search for the first natural quasicrystal and the adventures that have taken scientists to the ends of the Earth in his lecture, Once Upon a Time in Kamchatka: The Extraordinary Search for Natural Quasicrystals.
Steinhardt is the director of the Princeton Center for Theoretical Physics at Princeton University. Learn more about Steinhardt.
Cost: FREE
Location: Kane Hall 120, UW Seattle