Online registration for this event is now closed. Walk- up are welcome to register at the event. Please contact Eryn Boyles Ilk at 206.685.0757 or boyles@uw.edu with questions.
Join a distinguished group of UW alumni and friends for cocktails, hors d'oeuvres and lively conversation at Dawgs on Wall Street. The event will feature His Excellency Abdullah A. Alireza, Vice Chairman, Xenel Industries and Former Minister of Commerce and Industry, Kingdom of Saudi Arabia.
Space is limited, so RSVP today. You may also register by calling the UW Alumni Association at 800-289-2586. If you have questions about this event, please contact Eryn Boyles Ilk at boyles@uw.edu or 206-685-0757.
Club dress code: Jacket and tie for men; business attire for women.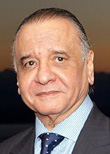 His Excellency Abdullah A. Alireza
H.E. Abdullah Alireza served as Minister of Commerce and Industry from March 2008 to December 2011. Prior to this position, H.E. was Minister of State and Member of the Council of Ministers from May 2003 to March 2008. H.E. was a Member of the Supreme Economic Council and served on the Board of Trustees of King Abdulaziz and his Companions Foundation for the Gifted.
H.E. was also Chairman of the Kingdom's World Trade Organization (WTO) Working Team as well as Chairman of the Board of Directors of the Saudi Arabia Standards Organization (SASO), and Chairman of the Board of Directors of the Commission for Development of Industrial Cities and Technical Zones. In addition, H.E. was Head of the Kingdom's Delegation to the United Nations Industrial Development Organization (UNIDO) as well as the Kingdom's Delegations at the Gulf Cooperation Council (GCC) in the Commerce Cooperation Committee and Industrial Cooperation Committee. H.E. was Chairman of the Council of Saudi Chambers of Commerce & Industry as well as Co-Chairman of the National U.S. Arab Chamber of Commerce, and Chairman of the Commission for Industrial Cities & Technology Parks.
H.E. has worked closely with world-renowned academic institutions and non-profit organization in promoting education and cross-cultural understanding. H.E. initiated an executive tailor-made development program for senior Saudi executives and government officials at Harvard University. Currently, H.E. is Vice Chairman at Xenel Industries.
The UWAA would like to extend its thanks to our generous hosts for this event:
Alan Delsman '70, Deutsche Bank AG New York
Lex Gamble '59, Gamble & Associates
Susan Hullin '66, Arrowwood LLC
Mike Jeffers '62, '64
Mark Lawrence '94, Apollo Investment Management
Steve Looney '71, '74, Peale Davies
Peter Majar '87, Freeman & Co. LLC
Charlie Short '87, RBC Capital Markets Corp.
Norm Slonaker '62, Sidley Austin LLP
Jon Yourkoski '96, Morgan Stanley & Co. Inc. LLC