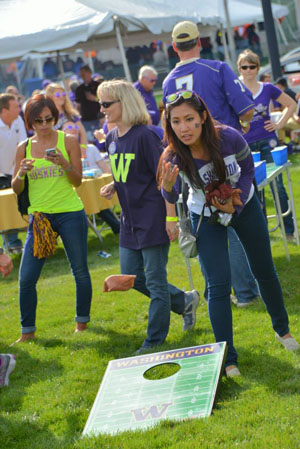 Join the UW Alumni Association and fellow Husky fans for the official pre-game parties of your Washington Huskies. Washington Warm Ups will be held at select UW away games. If you're a UWAA member, you save $5 on tickets when registering in advance.
Admission to the tailgate-style party includes a souvenir button, one ticket for beer or wine (or two tickets for soft drinks), and the chance to mingle with fellow Dawgs.
Go Huskies!
Cost: $15 for UWAA and Big W Club members; $20 for non-members
Meal tickets ($20) and drink tickets—good for beer, wine, soft drinks or water—will be available for purchase. Meal tickets are good for a buffet that includes hamburgers, hot dogs, green salad, pasta salad, cookies, and brownies.
Volunteers needed! Want a fun event experience and free admission? Give your UWAA staff a hand with set up, event and clean up duties. To volunteer please contact Liani Swingle at swingle9@uw.edu.
Special thanks to our Washington Warm Up sponsors: