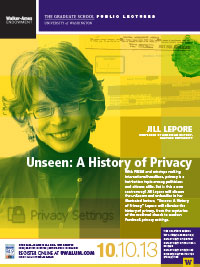 With PRISM and wiretaps making international headlines, privacy is a hot-button topic among politicians and citizens alike. But is this a new controversy? Jill Lepore will discuss the unknown and unfamiliar in her illustrated lecture, Unseen: A History of Privacy. Lepore will examine the history of privacy, from the mysteries of the medieval church to modern Facebook privacy settings.
Jill Lepore is a professor of American history at Harvard University.
Department Sponsors: The Graduate School, UW Alumni Association, Department of History, Department of Political Science, Department of English, Simpson Center for the Humanities
When:
Thursday, Oct. 10, 2013, 6:30-8 p.m.
Where:
Kane Hall, Room 220
UW Seattle

Cost:
Free, but advance registration is required.
For more information, contact the UW Alumni Association at 206-543-0540 or uwalumni@uw.edu.