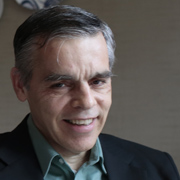 Liberation, economic reform, global prominence – the past 65 years have seen great tumult and change in China. But what has the transformation meant for the country's mental health? Michael Phillips, M.P.H. '84, M.A., '85, will discuss that issue in his lecture, Mental Health in the People's Republic of China: An Epidemiological Journey. Phillips will describe the social, economic and political factors that influenced the perception and management of mental health in China through the lens of his experiences living in the country.
Michael Phillips is director of the Suicide Research and Prevention Center and the Research Methods Consultation Center of the Shanghai Mental Health Center at Shanghai Jiao Tong University School of Medicine.
Department Sponsors: The Graduate School, UW Alumni Association, School of Public Health, UW School of Medicine- Department of Psychiatry and Behavioral Sciences
When:
Tuesday, Oct. 15, 2013, 6:30-8 p.m.
Where:
Kane Hall, Room 120
UW Seattle

Cost:
Free, but advance registration is required.
For more information, contact the UW Alumni Association at 206-543-0540 or uwalumni@uw.edu.