This event is sold out. As a courtesy, registrations will be accepted on a space-available basis 15 minutes before the event.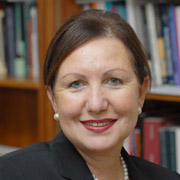 What do extreme conditions teach us about human responsibility? Seyla Benhabib will try to answer this question by discussing one of the most controversial books of the second half of the 20th century in her lecture, Hannah Arendt's Eichmann in Jerusalem: Fifty Years Later. Arendt's book was among the first to shed light on the atrocities committed by Nazis in World War II, and it raised questions about international jurisdiction, crimes against humanity, and punishing the perpetrators of genocide. Benhabib will give an overview of the controversy and discuss some of the book's enduring lessons and questions.
Seyla Benhabib is a professor of political science and philosophy at Yale University.
Department Sponsors: The Graduate School, UW Alumni Association, Human Interaction and Normative Innovation Research Cluster (HI-NORM), UW Tacoma, Henry M. Jackson School of International Studies, Department of Political Science, Department of Philosophy, Program on Values in Society, Department of Geography
When:
Thursday, Oct. 24, 2013, 6:30-8 p.m.
Where:
Kane Hall, Room 120
UW Seattle

Cost:
Free, but advance registration is required.
For more information, contact the UW Alumni Association at 206-543-0540 or uwalumni@uw.edu.