This event is at capacity. As a courtesy, stand-by attendees will be accepted on a space-available basis 15 minutes before the event.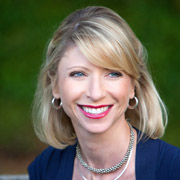 You'll want to sit up straight for this presentation, in which Amy Cuddy examines Power Posing – striking a pose that projects confidence – and its impact on leaders and followers alike. Cuddy's discussion, Connect, Then Lead, wonders whether it's better for a leader to be loved or feared, examines how leaders can strike a balance between showing warmth and strength, and looks at how Power Posing might improve the relationship between leaders and peers, groups, or even brands.
Amy Cuddy is an associate professor of business administration at Harvard University.
Department Sponsors: The Graduate School, UW Alumni Association, Women in the Chemical Sciences
When:
Wednesday, Nov. 13, 2013, 7-8:30 p.m.
Where:
Kane Hall, Room 130
UW Seattle

Cost:
Free, but advance registration is required.
For more information, contact the UW Alumni Association at 206-543-0540 or uwalumni@uw.edu.