This event is sold out. As a courtesy, registrations will be accepted on a space-available basis 15 minutes before the event.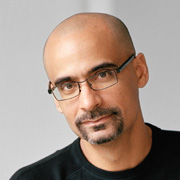 Writer, scholar and public intellectual Junot Díaz will spend an evening with the UW community doing what he does best: sharing select readings from his latest book: This is How You Lose Her. In this reading, Díaz will share stories about the haunting, impossible power of love—obsessive love, illicit love, fading love, maternal love.
In prose that is endlessly energetic, inventive, tender, and funny, his reading—containing mature content—will lay bare the infinite longing and inevitable weakness of the human heart. Díaz will remind us that passion always triumphs over experience, and that "the half-life of love is forever."
Junot Díaz is a professor of writing at Massachusetts Institute of Technology.
Department Sponsors: The Graduate School, UW Alumni Association
When:
Tuesday, Oct. 22, 2013, 7-8:30 p.m.
Where:
Kane Hall, Room 130
UW Seattle

Cost:
$5
The University of Washington, in recognition of area teachers and students, will waive the admission fee for students. To make arrangements to bring a class to campus, please contact Lauren Johnson at ljohn523@uw.edu or 206-685-9222.
For more information, contact the UW Alumni Association at 206-543-0540 or uwalumni@uw.edu.