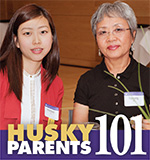 This event is sold out. Thank you for your interest, and we look forward to bringing you similar events in the future.
Parents can purchase discounted tickets (regardless of Husky Parent 101 attendance) for the following events on March 8: UW men's basketball vs. USC and the UW School of Drama performance of Arabian Nights. Ticket information is available on the Parent and Family Programs website.
You spoke, and we listened. A survey of parents and families in February 2013 identified careers as the number one topic of interest. Join Parent & Family Programs for a morning of learning, networking and discussion on what your student can be doing to develop their career path while at the UW.
At our first Husky Parents 101, you will hear from University of Washington experts about how to navigate the various on-campus career resources available to students, as well as learn about current career-related research and gain insight into job preparation strategies. Participants will also have the opportunity to chat one-on-one with faculty and staff and network with other Husky parents in a roundtable format.
Topics will include:
The Husky Experience
Michaelann Jundt, Assistant Dean,
Undergraduate Academic Affairs

Pursuing scholarly interests and career opportunities
Robert Stacey, Dean of the College of Arts and Sciences,
UW Professor of History

Job satisfaction research
Thomas Lee, Associate Dean for Academic
and Faculty Affairs, UW Foster School of Business

Career sophistication – resources and preparation
Susan Terry, Director, UW Career Center
Read more about the speakers. Closing remarks by Denzil Suite, Vice President, Division of Student Life.
Cost:
Free; advance registration required.
Coffee and a light breakfast will be served.