March 25 issue of UW Medicine Insight
VP Joseph Biden, on his Cancer Moonshot Tour, talks of "immense hope" in solving cancer. He meets Fred Hutch researchers Philip Greenberg (right), UW professor of immunology, and Stan Riddell, UW professor of medicine (oncology) March 20. (Photo by Robert Hood/ Fred Hutch News Service.)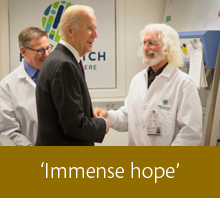 Problems viewing this message? View the online version here.
IN THIS ISSUE:
RESEARCH: Prehistoric mysteries unraveled
CLINICAL: Airlift Northwest gets cool new plane
EDUCATION: School of Medicine rocks rankings
WWAMI: Match Day ritual brings happy tears, hugs
PEOPLE: Adam Wilcox, chief analytics officer
AWARDS: Neighborhood Clinics; UW staff
EVENTS: Science in Medicine WWAMI lecture
and much more...
A biweekly newsletter focused on issues related to
the UW Medicine system.
Institute for Protein Design poised for challenges in medicine
Dear Colleagues,
It is an exciting time to witness the tremendous growth in the field of protein design. The UW Institute for Protein Design (IPD), led by David Baker, professor of biochemistry, is an amalgamation of our deep institutional strengths in biochemistry, genome sciences, biological structure, pharmacology, immunology, computational biology and many other disciplines. Formed just four years ago, IPD is already a world leader in designing synthetic proteins to address current and future challenges in medicine, energy and technology.
David Baker, Ph.D., leads the UW Institute for Protein Design. (Photo by Clare McClean/UW Medicine.)
Last year, the Bill & Melinda Gates Foundation awarded $12M to IPD to support vaccine research. The institute's progress with HIV-AIDS and respiratory syncytial virus (RSV) led to the Gates Foundation's subsequent request for proposals from IPD to quickly expand its research to include malaria and childhood diarrheal diseases.
IPD also supports young scientists as they convert scientific breakthroughs from labs into commercially viable products. Industry-sponsored research collaborations with UW Medicine are expanding rapidly in the fields of brain cancer research, drug delivery, aging, diseases characterized by inflammation such as MS and Crohn's, Alzheimer's disease, gene therapy, and synthetic gene assembly to bring products to market.
Of particular note:
A new gluten-degrading enzyme, KumaMax, developed by Ingrid Swanson-Pultz, acting instructor in the Department of Biochemistry, has led her to co-found PvP Biologics. The company hopes to be in full operations this summer.

Aaron Chevalier, senior fellow in the Department of Biochemistry, is designing small, stable, synthetic anti-flu proteins (protein therapeutics) that protect rodents from lethal exposure to influenza virus. He, along with IPD collaborators in the UW Department of Microbiology, has started a new company, Virvio, which hopes to initiate operations by the end of this year.

Neil King, acting assistant professor in the Department of Biochemistry, is developing a new protein nanoparticle technology for vaccines and drug delivery that self-assembles and delivers packaged proteins into target cells. This is a key step in developing targeted drug delivery systems and next-generation vaccines.
Other researchers are working on developing sensors for aging research, an Alzheimer's Disease therapy and auto-immunity therapeutics to name a few.
Within the next six months, the publication of four or five papers—possibly more—is expected on IPD advances in protein design methodology in Science and Nature. This is an exciting time in protein design and I am proud of the work being done by IPD under Dr. Baker's outstanding guidance. I would also like to congratulate Dr. Baker for receiving Seattle Business magazine's 2016 Leaders in Healthcare Award for 'Outstanding Achievement in the Delivery of Digital Health.'
Sincerely,
Paul G. Ramsey, M.D.
CEO, UW Medicine
Executive Vice President for Medical Affairs and
Dean of the School of Medicine,
University of Washington
DNA from mysterious 'Denisovans' helped modern humans survive
Population geneticists Joshua Akey (left) and Benjamin Vernot are studying Denisovan and Neanderthal DNA in the genomes of modern humans. (Photo by Clare McClean/UW Medicine.)
A UW study found that the ancestors of modern humans interbred with Neanderthals and another type of prehuman, Denisovans, not just once, but several times. The study led by Benjamin Vernot, a UW postdoctoral student in genomic sciences, also finds that interbreeding may have helped our ancestors fight certain pathogens. The genes of these ancient Neanderthals and Denisovans live on today, in modern Europeans, Asians and the Melanesians of Papua New Guinea and other Australasian islands.
The study, published in Science, helps confirm earlier theories that human ancestors didn't interbreed with other hominin species until after they left Africa. "What was surprising from our study is that it revealed the history of contact with Neanderthals was more complicated than previously anticipated," said Joshua Akey, UW professor of genome sciences, who helped lead the study. See story on HSNewsBeat, NBC News, The New York Times, livescience, CNN, TechTimes, The Atlantic, Science News, Discovery, BBC.
Note: See Opinion: "A golden age of ancient DNA science" begins KUOW's The Conversation, March 22, 2016. "A few years back we fossil-jocks couldn't agree about whether interbreeding had actually occurred or not. The case now seems to be closed thanks to the geneticists," writes researcher and contributor Darren Curnoe with the University of New South Wales. UW study on Denisovans is referenced.
Findings provide new insight on breast biopsies
Dr. Joann Elmore
While it's relatively easy to identify benign breast tissue and invasive breast cancer, the diagnoses of atypia and ductal carcinoma in situ (DCIS) are prone to elicit differing opinions among pathologists, a UW study found. The study published in the Annals of Internal Medicine was led by Dr. Joann Elmore, UW professor of medicine and nationally recognized expert on mammography and breast cancer.
Each year in the United States, more than 100,000 women are diagnosed with atypia and 60,000 women with DCIS, Elmore said. Elmore recommends that women with a diagnosis of atypia and DCIS get a second opinion and get educated on these diagnoses. For more on the story, see article on HSNewsBeat. Also coverage on Tech Times.
More research stories involving UW Medicine:
Sexual assault nurse examiner on call at UWMC
SANE Program Coordinator Terri Stewart.
UW Medical Center's Emergency Department now offers comprehensive evaluation and treatment for victims of sexual assault. The care is provided by an on-call sexual assault nurse examiner (SANE) who is specially trained to conduct a forensic examination, provide emergency contraception and treat potential sexually transmitted infection. The goal is to make the level of care consistent across all UW Medicine facilities and more accessible across the city, said Terri Stewart, SANE program coordinator.
Data from the Centers for Disease Control and Prevention indicate that nearly one in five women and one in 71 men will be raped at some point in their lives. Additionally, in a study of undergraduate women, 19 percent reported experiencing sexual assault since entering college. For more on the story, see article on HSNewsBeat. Also coverage on KIRO-TV.
Airlift Northwest brings new plane to Yakima base; helicopter next
Henry German, 3, of Ellensburg, exits a Pilatus PC-12, the newest aircraft to go into service for Airlift Northwest. (Photo by Shawn Gust/Yakima-Herald Republic.)
Airlift Northwest, the region's sole medical air service, is upgrading its fleet for eastern Washington. Its Yakima base at McAllister Field now has a new turboprop plane and will get its first helicopter in May. The new plane seats up to six passengers – one pilot, two nurses, two patients and one family member – and allows Airlift Northwest to transfer patients weighing up to 450 pounds. The plane can go up to 1,100 miles on one trip.
Airlift Northwest, a nonprofit affiliate of UW Medicine, is a 24/7 service that has about 90 medical staff who care for patients in the air out of six bases: Arlington, Bellingham, Olympia, Seattle and Yakima, Washington, and Juneau, Alaska. Airlift Northwest made about 3,300 transports in 2015, 300 of which came from the Yakima base. For more on this story see the Puget Sound Business Journal and Yakima Herald, among others.
More clinical stories involving UW Medicine:
Medicine, nursing programs earn top spots in national rankings
Dr. Nan Smith teaches first-year medical students how to perform vitals on their first day of instruction at UW School of Medicine-Spokane. (Photo by Clare McClean/UW Medicine.)
For the 25th consecutive year, the UW School of Medicine maintained the No. 1 ranking in family-medicine and rural-medicine training in U.S. News & World Report's lists of the nation's top graduate and professional-school programs. The school was also ranked No. 1 for primary-care training and has for 22 out of the past 23 years.
The UW School of Nursing also achieved a No. 1 ranking for its Doctor of Nursing Practice program – the first year this category was ranked. The school's master's program was ranked No. 4 nationally. The School of Social Work, meanwhile, was ranked No. 3, and the School of Pharmacy earned a No. 9 ranking. For more on the story, see HSNewsBeat.
Mini-Medical School: Another big success
Dr. Wes VanVoorhis helped deliver the session on "Modern maladies."
The 16th year of Mini-Medical School, a six-week program that brings thought-provoking lectures to the public, ended March 8. More than 1,200 people attended during the six-week session. A post-event survey showed that the most popular sessions were focused on infectious diseases (malaria and Ebola) and palliative care. Nearly 70 percent of attendees would strongly recommend this series to a friend.
The series included the following topics and UW faculty: Creating a cancer care map (Renato Martins, the Stephen H. Petersdorf endowed chair in cancer care, and Douglas Wood, interim chair, Department of Surgery); What's bugging your gut? (Anita Afzali, director of Inflammatory Bowel Diseases Program; Chris Surawicz, professor medicine (gastroenterology), and Ingrid Swanson Pultz, senior research fellow at the Institute for Protein Design); Modern maladies (Wes Van Voorhis, professor of allergy and infectious disease, and Angela Rasmussen, research assistant professor in microbiology); Getting patients and docs on the same page (Joann Elmore, professor of medicine/oncology) and John Scott, medical director of UW Telehealth); Coping with the most serious illness (J. Randall Curtis, director of the Cambia Palliative Care Center of Excellence, and Anthony Back, professor of medicine/oncology); and Rural medicine: Tailoring WWAMI care to the Northwest's rural populations (Suzanne Allen, vice dean for Regional Affairs, UW School of Medicine).
"The series continues to be an opportunity for students and the community to learn something new about UW Medicine," said Liani Swingle, outreach manager for UW Medicine Strategic Marketing & Communications. To view videos of the sessions, go to the Mini-Med page on UWTV.
Match Day madness: Lots of happy tears, hugs
Josephine Garcia and Tom Wright celebrate their couples match to the University of Utah. (Photo by Jake Siegel/UW Medicine.)
The moment of truth arrived at 9 a.m. March 18 when 202 students from the UW School of Medicine's graduating class of 2016 gathered with friends, family, faculty and peers during the annual Match Day celebration to learn where they would go for their residencies and start building their careers.
Several students shared some thoughts about their pasts and futures. Ashley Dixon, who accepted a pediatric urology research fellowship at University of Tennessee-Memphis, said she went into medicine after being inspired by a surgeon who helped her mom who had breast cancer. Elisabeth Bedolla Rocha, who matched at Sutter Medical Center of Santa Rosa, California, said she looks forward to helping the next generation of underrepresented students as a mentor. Tom Wright celebrated a couple's match with Josephine Garcia to the University of Utah. They met at a medical school swing dancing outing. For more on their stories and a slideshow, see article on HSNewsBeat.
Meet Adam Wilcox - UW Medicine's chief anayltics officer
Adam Wilcox, Ph.D.: "I feel Washington state has a role to play in demonstrating what's possible, and UW Medicine is going to be a leader in doing that."
By Bobbi Nodell
UW Medicine
As UW Medicine undergoes a transformation in patient care, it is investing heavily in metrics -- looking at the best way to spend money and measure progress. The 2013 biomedical informatics strategic plan called for using data more effectively, and the 2014 UW Medicine analytics strategic plan created a new position: chief analytics officer for UW Medicine. On Jan. 1, 2016 Adam Wilcox, who has broad experience in both applied and research informatics from Columbia University and Intermountain Healthcare in Utah, filled that role and joined UW as professor of biomedical informatics and medical education.
Wilcox leads a team of about 60 and ultimately sees his job as finding the best way to take care of a population.
"I feel Washington state has a role to play in demonstrating what's possible, and UW Medicine is going to be a leader in doing that," he said.
In September 2015, UW received a $30 million award from the U.S. Department of Health and Human Services' "Transforming Clinical Practice Initiative" to improve the health of nearly 2 million people across the five-state WWAMI region. As a Practice Transformation Network, UW Medicine will support nearly 7,000 clinicians to expand their quality-improvement capacity. Wilcox is serving as the senior informatics faculty on this award. (David Flum, UW professor of surgery, is the principal investigator.)
Wilcox sees his job as partnering with leadership, clinicians and analysts throughout UW Medicine to efficiently : 1) use data to develop an informed health strategy for healthcare transformation. 2) use measures and data to support real-time process and quality improvement. 3) provide data and analytics to drive research and discovery.
"The variety and volume of data within the healthcare system is growing," Wilcox said. "Now we need to make it useful to people throughout the organization."
Peter Tarczy-Hornoch, chair of the UW Department of Biomedical Informatics and Medical Education, said Wilcox's goals are well-aligned with the UW Medicine mission.
"These endeavors will allow informatics to serve as the central and peripheral nervous system for UW Medicine as we move toward the vision of a learning healthcare system," he said.
Wilcox completed a double major in physics and mathematics at the University of Utah and obtained his Ph.D. in medical informatics at Columbia University in 2000. Wilcox worked with the informatics group at Intermountain Healthcare from 2001-2006 and 2013-2015. He was also faculty at the University of Utah, teaching courses in research design and decision support. From 2006-2013, he was faculty at Columbia University, where he directed the clinical information system, clinical data repository and data warehouse, and was also principal investigator of the Washington Heights/Inwood Informatics Infrastructure for Comparative Effectiveness Research project, one of the country's first population health research databases.
In 2015, Wilcox was appointed a member of the Patient-Centered Outcomes Research Institute (PCORI) Methodology Committee. He also serves on the Clinical Informatics Subcommittee for the American Board of Preventive Medicine, which administers the board examination for the clinical informatics subspecialty.
Giving begins at home: A jump start for OB/GYN
Dr. David Eschenbach
David A. Eschenbach, chair of the UW Department of Obstetrics and Gynecology, thought long and hard about how best to make an impact and help his department. Then came the day a developer appraised his Mercer Island property. Eschenbach promptly called his fundraising officer at UW Medicine Advancement — David Chow.
"Dr. Eschenbach asked if the University might be interested in benefiting from that land," said Chow. "Needless to say, we said yes!"
Using the proceeds from the property, a second cash contribution, and a match from the UW's fall matching program, Eschenbach and his wife, Ann, decided to create the department's first endowed professorship. It will rotate among faculty researchers every three to five years, helping jump start the careers of junior scientists.
Eschenbach is also using his gift to start conversations with other donors. "It's easier to talk to other people about giving after you've taken the leap yourself," he said.
To learn more about how you can make an impact, contact David Chow at 206.543.3527 or chowd@uw.edu.
5 UW neighborhood clinics receive highest ranking
UW Neighborhood Clinic in Factoria among five UW clinics to receive Level 3 Patient-Centered Medical Home Recognition from the National Committee for Quality Assurance.
Five UW Neighborhood Clinics – Factoria, Kent/Des Moines, Ravenna, Shoreline and Woodinville – have received Level 3 Patient-Centered Medical Home Recognition from the National Committee for Quality Assurance (NCQA).
A patient-centered medical home helps patients reach healthcare goals through a proactive approach that includes care coordination, coaching, electronic reminders and feedback. Achieving Level 3 recognition under the stringent 2014 guidelines requires effective processes, training and strong evidence of the consistent use of best practices through audits and reviews, said Debra Gussin, executive director of UW Neighborhood Clinics.
Gussin said the recognition demonstrates that these clinics are prepared to provide primary care that meets broader patient needs.
"It reassures patients they are getting the best care and coordination in planning for their health needs," she said. "We are helping them to manage their overall health in the most proactive patient-centered way possible."
Gussin said the clinics don't just want to treat hypertension; they want to coach patients on a plan to get better.
Margaret E. O'Kane, president of NCQA, a private nonprofit dedicated to improving healthcare quality, said this recognition raises the bar in defining high-quality care.
"Recognition shows that these five UW Neighborhood Clinics have the tools, systems and resources to provide patients with the right care, at the right time," she said.
Of the 12 UW Neighborhood Clinics, 10 were eligible to apply for Level 3 recognition. Applications for the other five clinics will be submitted this year, Gussin said.
Kelsen Caldwell, third from right, is one of the nominees for UW Distinguished Staff 2016. Winners will be announced in April.
This year's nominees for UW Distinguished Staff Awards 2016 were announced at a reception in the HUB Ballroom on March 1. Please join us in congratulating the following UW Medicine staff for their nominations:
Individuals:
Kelsen Caldwell, Service Learning Manager, Regional Affairs, School of Medicine

Kellie Engle, Director of Curriculum, Academic Affairs, School of Medicine

Kateri Schlessman, Associate Director, Department Finance, Department of Pediatrics

Quan Tan, Senior Financial Analyst, Department of Medicine

Carol Weigand, Administrator – Program Operations, Spokane – WWAMI
Team: UW Medicine Specialty Pharmacy Implementation Committee
Shabir Somani, Chief Pharmacy Officer, UW Medicine; Assistant Dean, School of Pharmacy

Michael Alwan, Health Services Manager, UWMC Pharmacy Services

Maureen Broom, Interim Chief Financial Officer, UW Medicine

Michele Fisher, Chief Contracting & Payer Relations Officer, UW Medicine

Lori Oliver, Director of Business & Legal Affairs, UW Medicine

Kim Donnelly, Director of Operations, Purchasing Pharmacy, UWMC Pharmacy Services

Kimberly Harrison, Project Lead Pharmacist, UW Medicine Pharmacy Services

Steve Fijalka, Director of Operations, UWMC/SCCA Pharmacy; Affiliate Associate Professor, Department of Pharmacy
The UW's Distinguished Staff Award program is the highest honor professional staff can achieve at the UW. Nominees are chosen for providing extraordinary service beyond their basic job description and demonstrating the University of Washington values of integrity, diversity, excellence, collaboration, innovation and respect.
---
In the News
Articles that involve UW Medicine and Health Science faculty staff, students and trainees.
If you would like to offer feedback or subscribe, please write Bobbi Nodell, the editor of UW Medicine Insight, at bnodell@uw.edu.