BRIDGES CENTER EVENTS
---
Save the date! Saturday, October 5
Labor Archives Founder's Circle Plaque Dedication
1:00pm-3:00pm. Lobby, Suzzallo Library, UW Seattle. Free.
The Labor Archives of Washington is truly a community institution. Since 2008, over 260 individuals and organizations have donated the funds that make the Archives possible.
Join us as we honor donors to the Labor Archives with a special plaque displayed with the statue of Harry Bridges in the main entrance to the University of Washington's Suzzallo Library. The plaque includes four categories: Silver ($500 up), Gold ($1,000 up), Platinum ($3,000 up), and Legacy ($5,000 up).
For more information on adding your own name to the plaque, or to RSVP for the reception, contact the Bridges Center at (206) 543-7946, or e-mail hbcls@uw.edu. All donations are tax-deductible.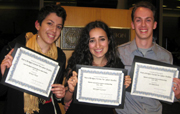 Save the date! Sunday, November 24
2013 Bridges Center Annual Awards Celebration
5:00pm-8:00pm. Lobby, Suzzallo Library, UW Seattle. Free.
Join the Harry Bridges Center for Labor Studies for dinner and drinks as we honor the accomplishments of our faculty, students and community supporters and raise funds for the Labor Archives of Washington State.
More information will become available as the event approaches. In the meantime, if you have any questions, please contact the Bridges Center at hbcls@uw.edu or call 206-543-7946.
EVENTS OF INTEREST
---
Monday, September 2
Labor Day: Ralph Chaplin Memorial
Pierce County Central Labor Council
10:00am. Calvary Cemetery, 5212 70th St W, Tacoma, WA 98467, just off S Orchard Street. Free.
Every year the Pierce County Central Labor Council and friends gather at the graveside of Ralph Chaplin, Industrial Workers of the World labor activist, and his wife Vera to honor his work and his memory.
Feel welcome to bring a guitar or other musical instruments as we will sing "Solidarity Forever" (and even supply a copy of the lyrics ). Other regalia, mementos, etc. are also usual. There is no seating on site so if you are not able to stand we suggest you bring your own.
Monday, September 2
Labor Day: M. L. King County Labor Council Celebration
11:00am-3:00pm. Lower Woodland Park — Shelters 1, 2 & 3 (N. 50th Street & Woodland Park Avenue N, Seattle). Free.
Join the M. L. King County Labor Council in celebrating Labor Day. Featuring live music by The Haggis Brothers, Ice Cream, Hot Dogs, Soda, Popcorn & Kettlecorn, Clowns, Games, Face Painting, Raffle Prizes, and more. It's all free!
For more information call (206) 441-8510 or e-mail office@mlkclc.org.
NEWS & ANNOUNCEMENTS
---
---
New Models of Worker Representation
Special Issue of Labor Studies Journal in conjunction with the 2014 United Association for Labor Education conference, March 27-29, 2014
The Labor Studies Journal invites paper proposals on the theme of New Models of Worker Representation. Is the basic system of worker representation is failing to meet the needs of America's working men and women? By every critical measure labor unions have become increasingly vulnerable. However, this vulnerability also presents an opportunity to innovate. The AFL-CIO for example, along with its affiliate unions, community partners and allies, is embarking on a deep evaluation of the future for working people and the labor movement and exploring innovations for the future of worker organizing.
Across the United States workers are engaging in forms of collective action, advocacy and resistance that are at the same time familiar and new approaches. Retail and fast food workers in several large cities are rallying and striking for higher hourly pay rates. Wal-Mart warehouse workers are protesting exploitive working conditions. Carwash workers are joining unions and domestic workers and taxi drivers are forming worker associations. Working America is engaging nonunion workers on policy issues. Low wage, largely immigrant workers are joining worker centers to organize against wage theft and winning back pay settlements from employers, and worker centers and unions are building collaborative organizing relationships and partnering on workforce empowerment initiatives.
With few exceptions what is striking about these efforts is that they are not traditional union organizing campaigns. In fact, while labor support is sometimes present the way that these workers are acting collectively to alter their workplace relationships is largely outside of conventional union structures while still inside the protections of the NLRB. These worker actions are also intriguing because they do not immediately profess union formation as a goal nor are they restricted to workers at a particular employer.
In the spirit of the labor movement's embrace of exploratory forms of worker representation and recognizing the activity that is happening on the ground, LSJ invites paper proposals that critically address the phenomena of "New Models of Worker Representation."
Paper proposals should engage with hard questions such as:
Are these worker campaigns really forms of organizing?
If a collective bargaining agreement is not the immediate goal, then to what ends are these efforts?
How are these efforts to be financially sustained?
What is or should be the role of unions in these campaigns?
What, if any gains or victories, have been achieved?
In what way are these efforts replicable? Can they be recreated on a larger, national scale?
How should observers theorize these efforts?
What are the barriers to greater experimentation?
What is the likelihood of success? What would success look like?
We welcome papers on all workers in all industries as case studies from a contemporary and/or historical vantage point, as well as theoretical analysis that inform the idea of alternative forms of worker representation. Papers submitted will be considered for presentation at the United Association for Labor Education Conference to be held in Los Angeles, March 27 to 29, 2014. Papers accepted and presented at the conference will then be eligible to undergo a peer review process for possible publication in a special conference issue of Labor Studies Journal.
Please send electronic copy of 1000 word manuscript proposals by November 2, 2013 to the guest editor listed below. Full-length manuscripts are expected by the time of the conference in April 2014. Manuscripts will be peer reviewed following the conference.
Robert Bruno, bbruno@illinois.edu
Professor of Labor and Employment Relations
School of Labor and Employment Relations
University of Illinois
The Labor Movement and Social Movements
Alberta Labor History Institute (ALHI) Conference, June 18-21, 2014
The Labor Movement has a long history of working alongside or against a wide variety of other social and political movements: from the anti-Fascist popular front to the Latin American solidarity campaigns of the 1970s and 1980s, from the women's movement to LGBTQ movement today, from anti-nukes to environmental movements, from human rights campaigns in the 1940s and 1950s to Idle No More today. The Alberta Labor History Institute (ALHI) conference of 18-21 June, 2014, wants to investigate this past, present and future of labor's interaction with other social movements.
ALHI seeks to share academic and people's own histories with the broader community. It draws its members from organized labor, activist communities and the academy, and its conferences seek to build links between academic and non-academic history. Panels featuring "traditional" academic papers will be interspersed with group oral histories featuring people on-stage and in the audience telling their own stories. All of the presentations are filmed in high definition video and transcribed for archival purposes, with low-res versions uploaded onto our YouTube channel (search "Alberta Labor History" on YouTube).
Our last conference included a concert by Maria Dunn and friends, a film festival, museum displays and keynote addresses from both historians and labor leaders. About one third of the conference participants were academics, and two thirds current and retired trade unionists and other activists. The 2014 conference will be similarly structured and seek a similar audience.
We are looking for people or groups interested in taking part in one of four categories on the theme labor's interaction with other social movements, past, present and future. We encourage papers and presentations from any perspective, including those that may be critical of labor in the past or present. We also encourage potential presenters to take a broad view of social movements, defining them as you like.
Academic presentations of 15-20 minutes of length by students, established academics or others.
Oral history participants who want to tell their own story on the theme in 10 minutes.
Films up to 20 minutes in length.
Museum-style displays that can be shipped to Edmonton and put up for public display during the length of the conference.
Interested presenters should send a statement of interest or abstract and brief bio or c.v. to ALHI@labourhistory.ca by 15 September, 2013 (to be considered for any possible travel funding) or by 15 November, 2013 for inclusion in the program. All proposals will be peer-reviewed by a panel of academics and labor activists, and selected presenters will be informed by either the end of September or the end of November.
In the past we received grants and donations sufficient to subsidize many of our presenters. We will be fundraising again, but cannot promise support at this time.
LABOR STUDIES JOB OPPORTUNITIES
---
WA State Labor Education and Research Center Seeks Labor Educator
Due to changes in staff configuration, the Washington State Labor Education and Research Center are beginning the search for a new labor educator.
The Labor Educator will work with Labor Center staff to plan and implement trainings and workshops with unions, community organizations, and campus programs. These trainings and workshops will provide education and skills development for and about workers and their organizations. Some of the workshops the Labor Educator may be asked to facilitate include classes about basic workplace rights, economics, for union stewards, on collective bargaining, leadership and communication, immigrant workers, women workers, young workers, community-labor alliances, and organizing. The Labor Educator will do strategic outreach to the labor community to develop programs, and be a resource to faculty and staff within the Seattle Community Colleges. | Read more
WSLC seeks Legislative and Policy Director
The Washington State Labor Council, AFL-CIO is the largest labor organization in Washington State, representing some 400,000 trade unionists in 600 local unions. Focusing primarily on political, legislative, policy, and organizing support the WSLC serves as the voice of labor and the locus of the labor movement in the state. The WSLC is currently looking to fill the position of Legislative and Policy Director.
The Legislative and Policy Director is part of the WSLC lobby team that is directed by the President, the chief administrative officer of the Council. Working with the Government Relations Director, who also serves as the lead lobbyist for the Council, the Legislative and Policy Director will help develop the WSLC's biennial legislative agenda. As part of the legislative development process, the Director will chair, co-chair, or serve on a number of internal and external policy committees, work with affiliated unions and community partners on policy goals, draft convention resolutions, conduct workshops, and represent the Council by speaking at various union, legislative and community functions. As part of the lobby team, the Director will be responsible for meeting with legislators, legislative and agency staff, testifying at legislative and administrative hearings, writing testimony, talking points and position papers and helping our affiliates and community allies navigate the legislative process. The Director will also be responsible for other policy assignments made by the President. | Read more
SEIU Seeks Union Organizer-in-Training
Important opportunity to work on innovative campaigns to empower workers in the 99 percent to take on the power of the 1 percent. We need creative electoral campaigners, social and environmental activists, community organizers, labor organizers, students interested in starting social justice careers to work alongside low-wage workers as they speak out together for good jobs. Must be willing to work in stressful, hectic campaign environment and bring strong field and relational skills. Candidate should have a track record of working or volunteering for underdogs and overlooked causes.
Are you ready to fight for what you believe in? Do you want to do something to make a difference? Are you looking to work in the social and economic justice movement? If you answered 'Yes' to any of the questions above then union organizing is for you!
For more than 75 years, SEIU has been helping working families stand up for their rights, fighting for dignity and respect in the workplace. With a membership of 2.2 million strong, SEIU is the fastest-growing union in the labor movement. Our diverse staff of organizers helps janitors, home care aids, mental health workers, office workers, school bus drivers, public employees, nurses, and other hospital workers join forces to bring democracy to the workplace.
The SEIU--WAVE (Organizer-In-Training) Program is a 12-month training program. As an Organizer-in-Training with the SEIU WAVE Program you will be learning from a dynamic union that is committed to giving a voice to thousands of workers and helping to provide lasting social change for the working class. | Read more
Labor Education Service, University of Minnesota Seeks Labor Educator
The Labor Education Service at the University of Minnesota is seeking a full-time labor educator to join our teaching staff.
Job responsibilities include leading labor education courses for working adults, designing customized curriculum, and coordinating and implementing educational programs, often in collaboration with other staff. The position requires teaching expertise using diverse methodologies, substantial experience with labor unions and organizing, and effectiveness at relating with a wide variety of worker organizations.
LES is the only educational program in the state specifically focused on the needs of Minnesota workers and their organizations. Our mission is to equip workers, union officials and labor organizations with the knowledge-based tools to protect and advance their rights and responsibilities in a changing global socio-economic environment. An integral component of this mission is the use of media such as video production and web initiatives like WorkdayMinnesota.org. Through these efforts, we foster economic vitality, ethical relations and social justice in the workplace, at home and in the community. | Read more