Labor's Next Generation:
Our 2013-2014 award winners!
Each year, the Harry Bridges Center for Labor Studies awards thousands of dollars in scholarships and grants to University of Washington students, the next generation of the labor movement.
This year we received an incredibly strong pool of applicants. In all, we are awarding eight awards to undergraduates and graduates. Together, they are a remarkable group of activists and scholars, passionate about the study and practice of labor. Read on below for a full list of names. | Read more
BRIDGES CENTER EVENTS
---
Save the date! Saturday, October 5
Labor Archives Founder's Circle Plaque Dedication
1:00pm-3:00pm. Lobby, Suzzallo Library, UW Seattle. Free.
The Labor Archives of Washington is truly a community institution. Since 2008, over 260 individuals and organizations have donated the funds that make the Archives possible.
Join us as we honor donors to the Labor Archives with a special plaque displayed with the statue of Harry Bridges in the main entrance to the University of Washington's Suzzallo Library. The plaque includes four categories: Silver ($500 up), Gold ($1,000 up), Platinum ($3,000 up), and Legacy ($5,000 up).
For more information on adding your own name to the plaque, or to RSVP for the reception, contact the Bridges Center at (206) 543-7946, or e-mail hbcls@uw.edu. All donations are tax-deductible.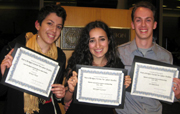 Save the date! Sunday, November 24
2013 Bridges Center Annual Awards Celebration
5:00pm-8:00pm. South Ballroom, Husky Union Building, UW Seattle. Free.
Join the Harry Bridges Center for Labor Studies for dinner and drinks as we honor the accomplishments of our faculty, students and community supporters and raise funds for the Labor Archives of Washington State.
More information will become available as the event approaches. In the meantime, if you have any questions, please contact the Bridges Center at hbcls@uw.edu or call 206-543-7946.
EVENTS OF INTEREST
---
Monday, September 2
Labor Day: Ralph Chaplin Memorial
Pierce County Central Labor Council
10:00am. Calvary Cemetery, 5212 70th St W, Tacoma, WA 98467, just off S Orchard Street. Free.
Every year the Pierce County Central Labor Council and friends gather at the graveside of Ralph Chaplin, Industrial Workers of the World labor activist, and his wife Vera to honor his work and his memory.
Feel welcome to bring a guitar or other musical instruments as we will sing "Solidarity Forever" (and even supply a copy of the lyrics ). Other regalia, mementos, etc. are also usual. There is no seating on site so if you are not able to stand we suggest you bring your own.
Monday, September 2
Labor Day: M. L. King County Labor Council Celebration
11:00am-3:00pm. Lower Woodland Park — Shelters 1, 2 & 3 (N. 50th Street & Woodland Park Avenue N, Seattle). Free.
Join the M. L. King County Labor Council in celebrating Labor Day. Featuring live music by The Haggis Brothers, Ice Cream, Hot Dogs, Soda, Popcorn & Kettlecorn, Clowns, Games, Face Painting, Raffle Prizes, and more. It's all free!
For more information call (206) 441-8510 or e-mail office@mlkclc.org.
NEWS & ANNOUNCEMENTS
---
---
2013-2014 Bridges Center Award Winners
Each year, the Harry Bridges Center for Labor Studies awards thousands of dollars in scholarships and grants to University of Washington students.
This year we received an incredibly strong pool of applicants. In all, we are awarding nine awards to undergraduates and graduates. Together, they are a remarkable group of activists and scholars, passionate about the study and practice of labor. This year's winners are:
Martin & Ann Jugum Scholarship
Cesar Garcia
Jacqueline Wu


Gundlach Scholarship in Labor Studies
Sigolene Ortega


Silme Domingo & Gene Viernes Scholarship
Isaura Jiménez


Martha H. Duggan Fellowship in Caring Labor
Annie Menzel


Samuel Bassett/LERA Scholarship
Alyson Dimmitt Gnam


Graduate Research Grant
Anne Greanleaf, "We Are Not Machines: Labor Disputes and Insurgency Among Chinese Migrant Workers"
Michael Reagan, "New York City in the 1975 Fiscal Crisis" Jiwoon Yu-Lee, "New Laboring Subjects under the New Labor Regime: An Exploratory Study of Female Janitorial Workers in South Korea"
Congratulations to this year's award winners. Full profiles of each student will appear in our upcoming Building Bridges newsletter, due in Fall 2013.

---
PLNHA Announces 2014 Labor History Calendar
The Pacific NW Labor History Association is now taking orders for its popular annual labor history calendar for 2014.
The calendar features full color photographs of labor history from throughout the Pacific Northwest, and lists important labor history events and dates. It is available at the following prices:
(1) @ $15.00
(2 - 49) @ $11.00 each
(50 - 149) @ $6.95 each
(150 - 299) @ $5.90 each
(300 - 449) @ $5.50 each
(450 - 699) @ $5.20 each
(700+) @ $5.00 each
To order or for more information, call 206-406-2604, email PNLHA1@aol.com.

---
Histories of Domestic Labor: Resistance and Organization

International Labor and Working-Class History

This special issue of International Labor and Working-Class History (ILWCH) will bring together historical research and writing on paid private household labor and conditions under which domestic workers in different locations and in different time periods were able to resist and organize around the conditions of their work.

We are interested in the ideological constructions of this form of labor, especially in relation to the politics of race, gender, ethnicity, class, nation, and culture. The issue will explore the resistance and organizing strategies of domestic workers in the context of the history of labor organizing and the ways in which their organizing has intersected with, overlapped with, or contrasted with other models of labor resistance. We are interested in how the contours and character of the job over time and space generate both general and particular challenges and opportunities for worker resistance, organizing and mobilization. We further wish to understand what constructions of domestic workers reveal about attitudes toward the worth of workers and the value of their labor. Particularly salient are affective, spacial, legal, and economic factors, including intimacy, ideologies of privacy, cultures of servitude, location, isolation, informal contracts, lack of regulation, and legal barriers.

We seek empirical, interpretative, and creative essays that address national, comparative, and transnational efforts to improve the conditions of paid domestic work, with particular attention to changing patterns of resistance and action. We are looking for both case studies and broad theoretical and interpretative work from all periods and places, including ancient societies, colonial contexts, under slavery and industrialization, and in different political and economic systems, including Communism, post-colonialism, and Neo-liberalism that address individual and collective strategies of resistance and forms of organizing. In this way, we can historicize current formations: ethnic associations, unions, worker centers, coalitional politics, and social movements.

Authors might ask: how do rural versus urban settings influence organizing? In what ways did the rise of wage labor and industrialization influence worker resistance? How do work settings with a single employee compare to settings with a large staff of workers? In what ways has government action, law, and social policy facilitate or discourage worker movements? To what degree has the labor process, degree of worker specialization, demands by employers, and basic expectations about the work shape worker perceptions of their labor? How have abuses on the job—physical, sexual or emotional—shape the ability to resist? And how do patterns of migration contribute to either worker isolation or formation of associations by domestics? How do external interests—employer organizations, civic groups, benevolent associations, religious societies and institutions, or moral reformers--prompt workers into action?

Possible themes for articles related to resistance, mobilization, and organization include, but are not limited to:
The role of allies, support networks, and patterns of political mobilization
Spatial politics and geography, including regional, local and transnational migration
Domestic work as embodied labor, which includes employers' demands for dress, hygiene, and specific kinds of bodies
Domestic work as relational and emotional labor
The Law and legal strategies for change
Domestic space and the household as a site of labor
Occupational health and welfare as sites of struggle
Cultures of service and servitude
The labor of social reproduction and ideologies of the gender division of labor
Ideologies of home and family, care work, love and money
The othering and construction of workers as different based on race, culture, class, ethnicity, and nationality
Connections between child labor, human trafficking and/or forms of unfree labor with domestic work
Prospective authors should submit a letter, an abstract of no more than 500 words, and a two-page cv. Editors will determine whether the proposed work fits thematically in the theme issue. The deadline for abstracts is May 15, 2014. The deadline for first drafts of articles is November 15, 2014. The issue will go for copyediting May 15, 2015. Style and submission guidelines will be sent to authors whose work the editors wish to review. Send correspondence to:
Eileen Boris, Department of Feminist Studies
University of California, Santa Barbara
boris@femst.ucsb.edu
Premilla Nadasen, Department of History
Barnard College
premillanadasen@gmail.com
LABOR STUDIES JOB OPPORTUNITIES
---
SEIU Seeks Union Organizer-in-Training
Important opportunity to work on innovative campaigns to empower workers in the 99 percent to take on the power of the 1 percent. We need creative electoral campaigners, social and environmental activists, community organizers, labor organizers, students interested in starting social justice careers to work alongside low-wage workers as they speak out together for good jobs. Must be willing to work in stressful, hectic campaign environment and bring strong field and relational skills. Candidate should have a track record of working or volunteering for underdogs and overlooked causes.
Are you ready to fight for what you believe in? Do you want to do something to make a difference? Are you looking to work in the social and economic justice movement? If you answered 'Yes' to any of the questions above then union organizing is for you!
For more than 75 years, SEIU has been helping working families stand up for their rights, fighting for dignity and respect in the workplace. With a membership of 2.2 million strong, SEIU is the fastest-growing union in the labor movement. Our diverse staff of organizers helps janitors, home care aids, mental health workers, office workers, school bus drivers, public employees, nurses, and other hospital workers join forces to bring democracy to the workplace.
The SEIU--WAVE (Organizer-In-Training) Program is a 12-month training program. As an Organizer-in-Training with the SEIU WAVE Program you will be learning from a dynamic union that is committed to giving a voice to thousands of workers and helping to provide lasting social change for the working class. | Read more