HAPPY LABOR DAY!
For Labor Day events today in Tacoma and Seattle, see below. For a full list of events in Washington State, visit The Stand.
Big thanks to the ILWU!
$120,000 gift to the Labor Archives
From 2009 to 2011, the International Longshore and Warehouse Union (ILWU) Coast Longshore Division provided $150,000 in matching grant funds to establish the Labor Archives of Washington.
At the Longshore Division's recent 2013 caucus, they unanimously voted to contribute an additional direct gift of $120,000 over the next two years while the Labor Archives continues to operate and seek long-term funding.
An enormous thank you to the ILWU, whose dedication to historical preservation and education continues to serve as an example to the labor movement!
BRIDGES CENTER EVENTS
---
Save the date! Saturday, October 5
Labor Archives Founder's Circle Plaque Dedication
1:00pm-3:00pm. Lobby, Suzzallo Library, UW Seattle. Free.
The Labor Archives of Washington is truly a community institution. Since 2008, over 260 individuals and organizations have donated the funds that make the Archives possible.
Join us as we honor donors to the Labor Archives with a special plaque displayed with the statue of Harry Bridges in the main entrance to the University of Washington's Suzzallo Library. The plaque includes four categories: Silver ($500 up), Gold ($1,000 up), Platinum ($3,000 up), and Legacy ($5,000 up).
For more information on adding your own name to the plaque, or to RSVP for the reception, contact the Bridges Center at (206) 543-7946, or e-mail hbcls@uw.edu. All donations are tax-deductible.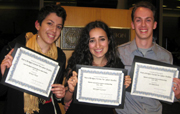 Save the date! Sunday, November 24
2013 Bridges Center Annual Awards Celebration
5:00pm-8:00pm. South Ballroom, Husky Union Building, UW Seattle. Free.
Join the Harry Bridges Center for Labor Studies for dinner and drinks as we honor the accomplishments of our faculty, students and community supporters and raise funds for the Labor Archives of Washington State.
More information will become available as the event approaches. In the meantime, if you have any questions, please contact the Bridges Center at hbcls@uw.edu or call 206-543-7946.
EVENTS OF INTEREST
---
Monday, September 2
Labor Day: Ralph Chaplin Memorial
Pierce County Central Labor Council
10:00am. Calvary Cemetery, 5212 70th St W, Tacoma, WA 98467, just off S Orchard Street. Free.
Every year the Pierce County Central Labor Council and friends gather at the graveside of Ralph Chaplin, Industrial Workers of the World labor activist, and his wife Edith to honor his work and his memory.
Feel welcome to bring a guitar or other musical instruments as we will sing "Solidarity Forever" (and even supply a copy of the lyrics ). Other regalia, mementos, etc. are also usual. There is no seating on site so if you are not able to stand we suggest you bring your own.
Monday, September 2
Labor Day: M. L. King County Labor Council Celebration
11:00am-3:00pm. Lower Woodland Park — Shelters 1, 2 & 3 (N. 50th Street & Woodland Park Avenue N, Seattle). Free.
Join the M. L. King County Labor Council in celebrating Labor Day. Featuring live music by The Haggis Brothers, Ice Cream, Hot Dogs, Soda, Popcorn & Kettlecorn, Clowns, Games, Face Painting, Raffle Prizes, and more. It's all free!
For more information call (206) 441-8510 or e-mail office@mlkclc.org.
Thursday, September 26
UW Disorientation 2013: University of Washington Radical History Walking Tour
2:00pm-3:00pm. Meet at the "W" Sign at 17th Ave NE and NE 45th Street. Free.
You've been on campus tours to learn about how to get around—but what did you miss? On this tour, we will explore UW's founding on occupied Duwamish land, student Civil Rights, labor rights and anti-war movements, and the struggle to instate a diversity credit requirement. Come on a walking tour (with trivia and prizes) to reimagine our university and help build this counter-history towards local and global human rights, social justice, and solidarity.
This tour is part of Disorientation, a radical and progressive introduction to past and present student activism on campus and in Seattle. This tour is wheelchair accessible.
Wednesday, October 2
UW Disorientation 2013: Un-Conference
6:00pm-8:00pm. Ethnic Cultural Cetner. 3940 Brooklyn Ave. NE, Seattle, WA (on the corner of Brooklyn Ave. and NE 39th St.) Free.
Join a variety of social justice oriented student groups, students and community members for an engaging event to collaborate on solutions to the problems facing students today.
From its founding on occupied Duwamish land, to the passage of a diversity credit requirement, the University has always been a part of the larger landscape in both destructive and generative ways. The history of campus is shaped by militarism, departments founded and funded in the service of a litany of wars. Today we see corporate models of management imported into University life. We see the reduction of students to "consumers" of a degree, and big banks profiting off student debt. We see academic salaries stagnate and working conditions degenerate.
But we also remember histories of struggle, and we recognize that the University space can cultivate resistance. Disorientation is a place to challenge oppressive structures by expressing our creativity, diversity and curiosity around the themes of social justice, decolonization, and liberatory education. A decolonized university is a place where we can learn to "write back" to imperial powernot do research in its service. A liberatory education questions the gatekeeping that claims classrooms as the only spaces where knowledge can be cultivated. By looking at our histories and sharing stories, we can begin to shake off the dominant narrative of privilege and exceptionalism.
As students, faculty, and community members connected to the University of Washington, we have the power to reorient the University's path toward justice. So we ask, how has our university been radically repurposed in the past? How do we reclaim those histories now? What might this look like?
By sharing this space, we begin to write a counter-history. We have a whole room to fill with ideas today, and a year of possibility ahead of us.
NEWS & ANNOUNCEMENTS
---
---
Michael Honey: "Decent Jobs, Housing, and Education: MLK's Still Elusive Dream"
*Michael Honey served as Harry Bridges in Chair in Labor Studies from 2000-2004*
A quarter of a million people rallied "For Jobs and Freedom" at the Lincoln Monument in Washington, D.C., on August 28, 1963, and tens if not hundreds of thousands will do so again at this year's fifty-year commemorations of the event.
The March for Jobs and Freedom came one hundred years after President Lincoln's Emancipation Proclamation. Recognizing the unfulfilled promises facing African Americans, King wanted President John F. Kennedy to issue a second proclamation to open the way to full civil and voting rights. But he demanded more than that: King and March organizers could not separate civil rights from people's economic needs, and we should not do so today. | Read more
Michael Honey quoted in article on the 50th anniversary of the the March on Washington
*Michael Honey served as Harry Bridges in Chair in Labor Studies from 2000-2004*
Commemoration of the 50th anniversary of the historic March on Washington is sure to reproduce the artful phrasings of one of America's greatest speeches: "the table of brotherhood," "the content of their character," and "I have a dream."
But there's another King, just as eloquent, largely missing from the popular culture image of the slain Civil Rights leader. That's the post-1963 King and what he said after voting rights and rights to public accommodation had been secured in federal law. He continued to speak about the next phase in the freedom struggle: the fight for economic justice, labor rights, an end to poverty, and an end to war.
That's the King, as one media watchdog group puts it, "you don't see on television." | Read more
James Gregory quoted in look back at the 1960s open housing movement in Seattle
*James Gregory served as Harry Bridges in Chair in Labor Studies from 2008-2012*
Fifty years ago today, a quarter-million people gathered in Washington, D.C., to hear Dr. Martin Luther King Jr.'s "I Have a Dream" speech. But the summer of 1963 marked a critical point in Seattle history as well, as young activists staged the city's first sit-ins of the civil rights movement.
The issue that galvanized them was housing discrimination. And in a place that likes to think of itself as progressive, segregation was rampant. | Read more
---
Labor: Studies in Working-Class History of the Americas Seeks Papers on "Food and Work"
Food studies has become an important field for research as well as for activist-oriented students and faculty. A spate of new literature looks at foodways and identity, agricultural policy and the industrialization of the food system, commodity chains and globalization. What is missing from this new work is a historical look at food and agriculture as sites of work.
The classic labor histories of meat-packing, restaurant work, or food boycotts, for example, have yet to be up-dated in response to this new research.
Labor will be editing a special volume of Labor focusing on the history of food work broadly defined. Possible topics include:
Cooking as domestic labor (slaves, servants, maids)
Agricultural labor in the context of globalization
The impact of fair trade on local agricultural labor
Food workers as political actors eg, the anti-GMO movement in Mexico; the role of food workers in the Civil Rights Movement
Restaurant/food-service worker organizing
Working class diets nutrition, malnutrition, and obesity as class issues
The work and industrialization in food service corporations
Agricultural policy (eg, the Green Revolution) as labor policy
Military rations keeping soldiers healthy
Food politics boycotts, food-strikes
Home Economics gender and professional work/the de-skilling of cooks
Prospective authors should send abstract (300 words) and short CV to slevine@uic.edu and striffler@hotmail.com by October 1, 2013. The editors will determine whether the proposed work fits thematically in the special issue. Articles will be due June 1, 2014. The special issue will appear as the Spring 2015 volume of Labor.
Papers Sought for Specialized Theme on "Commodifying Home Labor: Domestic Work Over Time"
International Committee of Historical Sciences (CISH) 22nd Congress, Jinan, China, August 2015
Cooking, cleaning, and caring are not naturally the work of women, but rather emerged as central components of household labor assigned to most women and to men from subordinate groups. This specialized theme historicizes the development of home labor. It asks: who does domestic labor, what are its components, and how does domestic labor relate to structures of production and reproduction within and beyond the household in various places and over time?
It will consider the movement of such labor from unpaid to paid work, from home to other spaces (such as public and private institutional settings like hospitals and child care centers and for-profit companies for cleaning and food) and back to the home with the expansion of "the maid trade" and increase in the labor force participation of women who require others to perform home labors. It also will address the various forms that social or political movements, transnationally as well as within nations, have taken to improve the conditions of such labor, both for the housewife and those who perform domestic work for pay, such as home economics, cooperatives, labor standards, and unionization.
What alternatives to the private organization of such work were proposed or attempted? What impact has feminist thought and practice had on home labors? The goal is to continue the historical conversation through crossing boundaries of intellectual, social, cultural, and political history, integrating women's and gender, ethnic/race, and labor history, to understand the development of power and inequality in ways that connect the micro and intimate to the national and global.
This session seeks both case studies and broad theoretical and interpretative work from all periods and places, including ancient societies, colonial contexts, under slavery and industrialization, and in different economic systems, including Communism and Neo-liberalism.
Organizer:
Eileen Boris
Hull Professor and Chair Professor of History, Black Studies, and Global Studies Department of Feminist Studies
University of California, Santa Barbara
Santa Barbara, California 93106 USA
boris@femst.ucsb.edu
Proposals should be a maximum of 2500 characters 350 words and should be sent with a short biographical note to the organizers and to the Secretary General Robert Frank: sgcish1@gmail.com by the 30th November 2013.
---
SEIU Healthcare 1199NW Seeks Union Organizer
SEIU Healthcare 1199NW is looking for people who want to fight alongside our members for better working conditions, dignity on the job and improvements in healthcare for all working families.
SEIU Healthcare 1199NW is a bold, democratic labor organization with an activist tradition going back to our founding in 1983 by Group Health Cooperative nurses. Today we are the largest healthcare union in Washington state, with 24,000 members united for quality patient care and good careers in the healthcare facilities and agencies where we work.
Job Description:
SEIU Healthcare 1199NW organizers work with our members to build and exercise power in the workplace and to advocate for a better healthcare system.
SEIU Healthcare 1199NW organizers work to raise standards for healthcare workers by identifying, recruiting, developing and motivating leaders in the workplace.
Organizers also build power by organizing non-union workers with a focus on one on one recruiting, house-visiting, and developing organizing committees.
Organizer-In-Training (OIT) Apprenticeship program available for applicants with passion and commitment to justice for working people but without labor organizing experience. OIT Apprenticeship positions are contingent upon successful completion of 1-day training. | Read more