Working Democracy:
Labor and Politics in an Era of Inequality
New Bridges Center Project for the 2013-2014 Year
A new academic year begins at the University of Washington next week, and the Bridges Center is excited to announce our latest project.
On Friday and Saturday, April 24-25, 2014 the Bridges Center will convene Working Democracy, a conference discussing labor's response to growing inequality and the contemporary crisis of democracy.
Anticipating the conference, we are launching a new website for updates on the event, reading lists on the conference themes, commentary from Bridges Chair George Lovell, and more.
Bringing together activists, scholars, labor and community leaders, the April conference seeks to build the capacity of our political institutions to provide meaningfully democratic response to the growing inequalities in income, wealth, and opportunity.
Please visit the website, leave a comment, and join the conversation!
BRIDGES CENTER EVENTS
---
Saturday, October 5
Labor Archives Founder's Circle Plaque Dedication
1:00pm-3:00pm. Lobby, Suzzallo Library, UW Seattle. Free.
The Labor Archives of Washington is truly a community institution. Since 2008, over 260 individuals and organizations have donated the funds that make the Archives possible.
Join us as we honor donors to the Labor Archives with a special plaque displayed with the statue of Harry Bridges in the main entrance to the University of Washington's Suzzallo Library. The plaque includes four categories: Silver ($500 up), Gold ($1,000 up), Platinum ($3,000 up), and Legacy ($5,000 up).
For more information on adding your own name to the plaque, or to RSVP for the reception, contact the Bridges Center at (206) 543-7946, or e-mail hbcls@uw.edu. All donations are tax-deductible.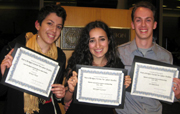 Save the date! Sunday, November 24
2013 Bridges Center Annual Awards Celebration
5:00pm-8:00pm. South Ballroom, Husky Union Building, UW Seattle. Free.
Join the Harry Bridges Center for Labor Studies for dinner and drinks as we honor the accomplishments of our faculty, students and community supporters and raise funds for the Labor Archives of Washington State.
More information will become available as the event approaches. In the meantime, if you have any questions, please contact the Bridges Center at hbcls@uw.edu or call 206-543-7946.
EVENTS OF INTEREST
---
Thursday, September 26
UW Disorientation 2013: University of Washington Radical History Walking Tour
2:00pm-3:00pm. Meet at the "W" Sign at 17th Ave NE and NE 45th Street. Free.
You've been on campus tours to learn about how to get around—but what did you miss? On this tour, we will explore UW's founding on occupied Duwamish land, student Civil Rights, labor rights and anti-war movements, and the struggle to instate a diversity credit requirement. Come on a walking tour (with trivia and prizes) to reimagine our university and help build this counter-history towards local and global human rights, social justice, and solidarity.
This tour is part of Disorientation, a radical and progressive introduction to past and present student activism on campus and in Seattle. This tour is wheelchair accessible.
Saturday, September 28
Tacoma: Labor History Walking Tour
1:00pm. 1717 Pacific Ave, Union Depot (Now known as the Federal Courthouse). Free.
This guided walking tour of Tacoma's Labor History will focus only on Downtown sites on the flat elevation near Pacific Avenue. Union members, families, students and anyone interested in labor history are welcome.
We recommend that participants park at the Tacoma Dome Station at 424 East 25th Street, Tacoma, take the Link Light Rail to the second stop and walk to the Union Depot. Return to the parking garage via light rail is one block uphill from the end of the tour.
Guides include Dr. Ron Magden; Brian Kamens, Supervisor of the Northwest Room at the Tacoma Public Library; and Patty Rose, Secretary/Treasurer of the PCCLC.
Wednesday, October 2
UW Disorientation 2013: Un-Conference
6:00pm-8:00pm. Ethnic Cultural Cetner. 3940 Brooklyn Ave. NE, Seattle, WA (on the corner of Brooklyn Ave. and NE 39th St.) Free.
Join a variety of social justice oriented student groups, students and community members for an engaging event to collaborate on solutions to the problems facing students today.
From its founding on occupied Duwamish land, to the passage of a diversity credit requirement, the University has always been a part of the larger landscape in both destructive and generative ways. The history of campus is shaped by militarism, departments founded and funded in the service of a litany of wars. Today we see corporate models of management imported into University life. We see the reduction of students to "consumers" of a degree, and big banks profiting off student debt. We see academic salaries stagnate and working conditions degenerate.
But we also remember histories of struggle, and we recognize that the University space can cultivate resistance. Disorientation is a place to challenge oppressive structures by expressing our creativity, diversity and curiosity around the themes of social justice, decolonization, and liberatory education. A decolonized university is a place where we can learn to "write back" to imperial powernot do research in its service. A liberatory education questions the gatekeeping that claims classrooms as the only spaces where knowledge can be cultivated. By looking at our histories and sharing stories, we can begin to shake off the dominant narrative of privilege and exceptionalism.
As students, faculty, and community members connected to the University of Washington, we have the power to reorient the University's path toward justice. So we ask, how has our university been radically repurposed in the past? How do we reclaim those histories now? What might this look like?
By sharing this space, we begin to write a counter-history. We have a whole room to fill with ideas today, and a year of possibility ahead of us.
October 23 - November 13
Lecture Series: Slavery and Freedom in the Making of America
6:00pm-8:00pm. Kane Hall, University of Washington, Seattle. Tickets: $10, $5 for students.
As the United States marks the 150th anniversary of the Emancipation Proclamation in 2013, the History Lecture Series returns this fall with four presentations by nationally recognized historians on the theme "Slavery and Freedom in the Making of America."
The speakers will consider the imagined roots of slavery in Greco-Roman antiquity, the origins and development of racial slavery across the Americas and its centrality to the creation of the United States, and the continued legacies of slavery in post-emancipation American life.
October 23rd
Sandra Joshel: Ancient Roman Slavery and American History
October 30th
Stephanie Smallwood: Slavery, Race, and the Origins of American Freedom
November 6th
Stephanie Camp: Slavery, Antebellum America's National Institution
November 13th
Moon-Ho Jung: Race, Empire, and Post-Emancipation Struggles for Freedom
Tickets are on sale right now via Ticketleap. For questions about the History Lecture Series, or to purchase tickets over the phone, please call 206.543.5790.

NEWS & ANNOUNCEMENTS
---
---
Bridges Center Faculty Featured in Scholars Strategy Network Spotlight, "The Challenging Future of the U.S. Labor Movement"
With rates of unionization steeply declining in the United States, inequality is soaring. Meanwhile, organized labor is faced with finding new ways of building its strength.
The Scholars Strategy Network, a nation-wide organization of academics, recently published a special collection of articles focusing on this crisis, "The Challenging Future of the U.S. Labor Movement."
The spotlight features an article by Margaret Levi (Harry Bridges Chair, 1996-2000) and the feature itself was organized by Jake Rosenfeld, a Faculty Associate of the Bridges Center. | Read more
Jake Rosenfeld Quoted on New York Times Blog, Cited by The Columbian, Published in LA Times
Jake Rosenfeld, UW Associate Professor of Sociology and a Faculty Associate of the Bridges Center, was recently quoted in a New York Times Blog article about the recent wave of fast-food strikes, "In New Wave of Walkouts, Fast-Food Strikers Gain Momentum".
Additionally, Clark County's newspaper The Columbian recently cited Rosenfeld's work on the economic costs of declining rates of unionization in an editorial, "Strictly Business: Decline of unions has steep price".
Meanwhile, Rosenfeld himself recently published an editorial with Meredith Kleykamp in the Los Angeles Times, "Lost unions and lost ground".

---
UALE Seeks Applications for Research Grants
The United Association for Labor Education (UALE) is pleased to continue awarding grants to fund research related to workers, unions, and employment policy. Preference will be given to UALE members in determining award recipients. UALE has allocated $5,000 for this purpose. We will select a maximum of two award recipients.
A subcommittee comprised of three UALE executive board members (one union, one university, one community-based) will review applications and make a recommendation to the entire UALE board, which will have final approval.
Applications for the 2013 awards are due by November 15, 2013. The recipients will be announced by December 15, 2013. The total number of awards for 2013 will be determined by the UALE executive board.
UALE requests that successful applicants present the results of their research at a UALE conference. | Read more