A New School Year Begins!
A busy new school year at the University of Washington is under way. Accordingly, this issue of Labor Talks is packed with events, news, and more.
Labor Archives plaque to be dedicated this Saturday
Join us this Saturday, October 5 from 1:00pm to 3:00pm as we honor donors to the Labor Archives with a custom-made plaque, designed and assembled in a union shop.
The plaque will be displayed with the statue of Harry Bridges at the main entrance to the University of Washington's Suzzallo Library. A short ceremony will be followed by a reception. | Read more
Fall 2013 Newsletter Now Available!
The Fall 2013 edition of Building Bridges, the Bridges Center's annual print newsletter, arrives in mailboxes this week.
This issue contains the latest news from the Bridges Center, including a full report from the Labor Archives of Washington, information on our upcoming Working Democracy conference, a look back at the founding of the Bridges Chair, and more.
Not on our mailing list? Contact us at hbcls@u.washington.edu with your mailing address, and we will have a copy off to you in no time. The newsletter can also be previewed on the Bridges Center website.
Former Bridges Chair publishes new book on ILWU, other activist unions
The Bridges Center is proud to announce the publication of a new book co-authored by former Bridges Chair Margaret Levi and John Ahlquist, a former Bridges Center graduate student.
The result of a decade of research funded in part by the Bridges Center, In the Interest of Others develops a new theory of organizational leadership and governance to explain why some organizations expand their scope of action in ways that do not benefit their members directly.
The book documents eighty years of such activism by the International Longshore and Warehouse Union in the United States and the Waterside Workers Federation in Australia, among others. | Read more
BRIDGES CENTER EVENTS
---
Saturday, October 5
Labor Archives Founder's Circle Plaque Dedication
1:00pm-3:00pm. Lobby, Suzzallo Library, UW Seattle. Free.
The Labor Archives of Washington is truly a community institution. Since 2008, over 260 individuals and organizations have donated the funds that make the Archives possible.
Join us as we honor donors to the Labor Archives with a special plaque displayed with the statue of Harry Bridges in the main entrance to the University of Washington's Suzzallo Library. The plaque includes four categories: Silver ($500 up), Gold ($1,000 up), Platinum ($3,000 up), and Legacy ($5,000 up).
For more information on adding your own name to the plaque, or to RSVP for the reception, contact the Bridges Center at (206) 543-7946, or e-mail hbcls@uw.edu. All donations are tax-deductible.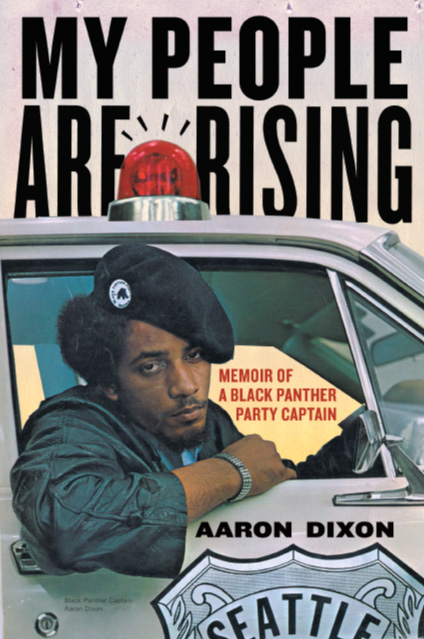 Thursday, October 10
Book Talk: Aaron Dixon, "My People Are Rising: Memoir of a Black Panther Party Captain"
6:00pm, reception. 7:00pm, book talk and signing. Lyceum Auditorium (first floor), Student Union Building (HUB), UW Seattle.
Free and open to the public, but due to limited space, RSVP for the Reception.
"My People Are Rising: A Memoir of a Black Panther Party Captain, is the most authentic book ever written by a member of the Black Panther Party. Aaron Dixon does a superb job of presenting life in the party from the perspective of a foot soldier—a warrior for the cause of revolutionary change and black power in America. He pulls no punches and holds nothing back in writing honestly about those times (late 1960s and during the 1970s) as he successfully presents a visual picture of the courage, commitment, and sometimes shocking brutality of life as a Panther activist. This is an unforgettable must read book!" —Larry Gossett, Chair, Metropolitan King County Council
To RSVP or for more information, contact cec23@uw.edu.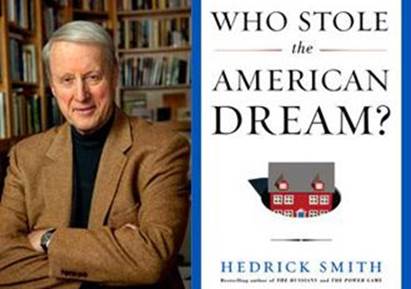 Thursday, November 14
Book Talk: Hedrick Smith, "Who Stole the American Dream?"
6:30-9:30 p.m. William W. Philip Hall, UW Tacoma, 1918 Pacific Avenue, Tacoma, WA 98402. Free, with RSVP.
Hedrick Smith, a former New York Times reporter, has published best-selling books, The Russians, The Power Game: How Washington Works,, and others.
The University of Washington Tacoma is pleased to help him launch his new book, an acclaimed analysis of the causes and consequences of economic inequality: Who Stole the American Dream? (Random House).
What happened to the dream of a good job and a secure future? Who is responsible for the disproportionate power and wealth that almost brought down the American economic system? His new book is required reading for understanding our economy and political system and to think about how we might reclaim the dream.
Hedrick Smith will also be available to faculty and students who want to read and discuss his book with him in more detail on Friday, Nov. 15. For more details on the seminar contact Prof. Michael Honey, mhoney@uw.edu.
For more information and RSVP, visit http://tinyurl.com/hedricksmith.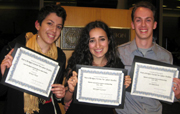 Sunday, November 24
2013 Bridges Center Annual Awards Celebration
5:00pm-8:00pm. South Ballroom, Husky Union Building, UW Seattle. Free.
Please join us for the Harry Bridges Center for Labor Studies annual awards banquet as we honor student and faculty achievements and raise funds for the Labor Archives.
Reserve your ticket today! Tickets are free, but due to annual high attendance we ask that you please RSVP in advance by contacting the Bridges Center at (206) 543-7946 or hbcls@uw.edu.
Support the Archives! To raise funds for the Labor Archives, we are offering the chance to sponsor the banquet at two levels:
$500 — Table Sponsor: Reserves a table seating 8.
$1000—Event Sponsor: Reserves a table seating 8; also receive a half-page ad in the banquet program; and special recognition at the event.
All donations are tax-deductible. For more information, contact the Harry Bridges Center for Labor Studies at (206)543-7946 or email hbcls@uw.edu.
EVENTS OF INTEREST
---
Tuesday, October 1
Roundtable Discussion: The Middle East
7:00pm-9:00pm. Thomson Hall, Room 101, UW Seattle. Free.
Four UW faculty will participate in "The Middle East: A Roundtable Discussion." The event will feature:
Ellis Goldberg, Professor of Political Science
Resat Kasaba, Stanley D. Golub Professor of International Studies, Jackson School
Joel Migdal, Robert F. Philip Professor of International Studies, Jackson School
Arbella Bet-Shlimon, Assistant Professor of History
This event is presented by the Henry M. Jackson School of International Studies and the Middle East Center. Questions? Please email mecuw@uw.edu.
The Middle East Centers sponsorship of an event does not imply that the Center endorses the content of the event.
To request disability accommodation contact the Disability Services Office at least ten days in advance at: (206) 543-6450/V, (206) 543-6452/TTY, (206) 685-7264 (FAX), or dso@u.washington.edu.
Through Thursday, October 3
Film: Inequality for All
Times vary. Harvard Exit Theater, 807 East Roy at Harvard, Seattle, WA 98102 .
In the wake of the U.S. economic crisis, the widening gap between the rich and the poor has gained unprecedented public awareness. Our narrator and guide, UC Berkeley professor and noted economic policy expert Robert Reich, helps us understand how the extreme inequality we are now facing has roots in economic and policy changes that began over 30 years ago.
Through newly shot and archival footage and innovative graphics, we learn how we got here and where we are headed if we don't act soon. Punctuated by moments that allow us to know Reich personally, we also see his unwavering passion to return our society to one in which the American dream is possible for everyone.
Wednesday, October 2
UW Disorientation 2013: Un-Conference
6:00pm-8:00pm. Ethnic Cultural Center. 3940 Brooklyn Ave. NE, Seattle, WA (on the corner of Brooklyn Ave. and NE 39th St.) Free.
Join a variety of social justice oriented student groups, students and community members for an engaging event to collaborate on solutions to the problems facing students today.
From its founding on occupied Duwamish land, to the passage of a diversity credit requirement, the University has always been a part of the larger landscape in both destructive and generative ways. The history of campus is shaped by militarism, departments founded and funded in the service of a litany of wars. Today we see corporate models of management imported into University life. We see the reduction of students to "consumers" of a degree, and big banks profiting off student debt. We see academic salaries stagnate and working conditions degenerate.
But we also remember histories of struggle, and we recognize that the University space can cultivate resistance. Disorientation is a place to challenge oppressive structures by expressing our creativity, diversity and curiosity around the themes of social justice, decolonization, and liberatory education. A decolonized university is a place where we can learn to "write back" to imperial power, not do research in its service. A liberatory education questions the gatekeeping that claims classrooms as the only spaces where knowledge can be cultivated. By looking at our histories and sharing stories, we can begin to shake off the dominant narrative of privilege and exceptionalism.
As students, faculty, and community members connected to the University of Washington, we have the power to reorient the University's path toward justice. So we ask, how has our university been radically repurposed in the past? How do we reclaim those histories now? What might this look like?
By sharing this space, we begin to write a counter-history. We have a whole room to fill with ideas today, and a year of possibility ahead of us.
October 23 - November 13
Lecture Series: Slavery and Freedom in the Making of America
6:00pm-8:00pm. Kane Hall, University of Washington, Seattle. Tickets: $10, $5 for students.
As the United States marks the 150th anniversary of the Emancipation Proclamation in 2013, the History Lecture Series returns this fall with four presentations by nationally recognized historians on the theme "Slavery and Freedom in the Making of America."
The speakers will consider the imagined roots of slavery in Greco-Roman antiquity, the origins and development of racial slavery across the Americas and its centrality to the creation of the United States, and the continued legacies of slavery in post-emancipation American life.
October 23rd
Sandra Joshel: Ancient Roman Slavery and American History
October 30th
Stephanie Smallwood: Slavery, Race, and the Origins of American Freedom
November 6th
Stephanie Camp: Slavery, Antebellum America's National Institution
November 13th
Moon-Ho Jung: Race, Empire, and Post-Emancipation Struggles for Freedom
Tickets are on sale right now via Ticketleap. For questions about the History Lecture Series, or to purchase tickets over the phone, please call 206.543.5790.
Through Sunday, May 4
Exhibit: Hands At Work: Portraits & Profiles of People Who Work With Their Hands
Times vary. Washington State History Museum, 1911 Pacific Avenue, Tacoma, WA 98402.
This beautiful exhibit features the photography by Summer Moon Scriver and the stories of Iris Graville as collected from master craftsmen, musicians, artists, and workers from around the Pacific Northwest. Derived from the book "Hands At Work: Portraits & Profiles of People Who Work With Their Hands," this show includes photographs, short writings, and objects from the people featured in the photographs and stories.
The larger-than-life images displayed show the hands of people who earn their living with them. Images include the hands of a midwife, a fisherman, a gardener, a boat builder, and even a sign language interpreter, allowing the artist, author, and onlooker to connect with these and many more professions pursued by people throughout Washington.
The book "Hands at Work" has won numerous awards, including the National Best Books 2009 Award in Photography: People Category, an Outstanding Book award by Independent Publishers, and a gold Nautilus Book Award.
NEWS & ANNOUNCEMENTS
---
---
John Ahlquist & Margaret Levi Publish New Book, In the Interest of Others: Organizations and Social Activism
Margaret Levi (UW Political Science) served as Harry Bridges Chair in Labor Studies from 1996-2000
The result of a decade of research funded in part by the Harry Bridges Center for Labor Studies, In the Interest of Others develops a new theory of organizational leadership and governance to explain why some organizations expand their scope of action in ways that do not benefit their members directly. John Ahlquist and Margaret Levi document eighty years of such activism by the International Longshore and Warehouse Union in the United States and the Waterside Workers Federation in Australia. They systematically compare the ILWU and WWF to the Teamsters and the International Longshoremen's Association, two American transport industry labor unions that actively discouraged the pursuit of political causes unrelated to their own economic interests.
Drawing on a wealth of original data, Ahlquist and Levi show how activist organizations can profoundly transform the views of members about their political efficacy and the collective actions they are willing to contemplate. They find that leaders who ask for support of projects without obvious material benefits must first demonstrate their ability to deliver the goods and services members expect. These leaders must also build governance institutions that coordinate expectations about their objectives and the behavior of members.
In the Interest of Others reveals how activist labor unions expand the community of fate and provoke preferences that transcend the private interests of individual members. Ahlquist and Levi then extend this logic to other membership organizations, including religious groups, political parties, and the state itself. | Read more
John Ahlquist & Margaret Levi: "AFL-CIO takes a big, but necessary, leap of faith" (Detroit Free Press)
Last week, thousands of union members, organizers, and leaders from across the U.S. met in Los Angeles and embraced AFL-CIO President Richard Trumka's plan to recruit millions of non-union members — including members of environmental, immigrant, civil rights and other advocacy groups. It's a bold plan. But organizational details may well determine success or failure. Michigan, long the home of some of America's strongest unions, has much at stake.
Like a fishery that crashes when its population is too small to effectively reproduce itself, labor unions find themselves in a downward spiral. Membership is declining. Political attacks on unions have become fierce, even as employers circumvent or ignore labor laws with near-impunity. Matters have reached the point where it is effectively impossible for existing unions to reverse their decline — if we imagine that workers must be organized into conventional unions for the sole purpose of collective bargaining.
The labor movement needs new kinds of action. | Read more
---
Pacific Northwest Labour History Association Call for Presentations, Workshops, and Papers
PNLHA Annual Conference
June 13-15, 2014
Cumberland, British Columbia
The 44th Annual Conference of the Pacific Northwest Labour History Association (PNLHA) takes place in the historic village of Cumberland, B.C., June 13-15, 2014. The conference is held in conjunction with Cumberland's own Miners Memorial Weekend, which commemorates the thousands of miners who were killed and injured in the coal fields of Vancouver Island, while celebrating the spirit of resistance of labour leaders like Ginger Goodwin and Joe Naylor.
The PNLHA Conference is hosted by the Cumberland Historical Society (Cumberland Museum) and sponsored by the Campbell River, Courtenay and District Labour Council, and of course the PNLHA. Cumberland's colorful and rich history dovetails nicely with the theme of the conference "Mining Our Past: Conflict and Solidarity in a Resource Economy." As an old coal-mining town where immigrants from across Europe, Japan, China, and the USA came to make a life, Cumberland is typical of the hundreds of small towns and villages that sprang up in the Canadian and American West in the exploitive rush for minerals, fish and timber. That rush led to many conflicts along with many great acts of solidarity. The local PNLHA committee is seeking proposals for workshops and presentations that both illuminate the past and help us learn how to organize and mobilize for the future.
Coal mining in Cumberland began in the 1880's with the Union Colliery Company, owned by the Dunsmuir family who were rabidly anti-union. Cumberland's diverse workers found themselves in a very exploitative and dangerous workplace. This led to a struggle for a union; a goal that was not achieved until the 1930's. The miners of Cumberland were part of the Big Strike of 1912-14. Cumberland was also the home of Ginger Goodwin, a labour organizer who was shot in 1918 by special police, and home also to Joe Naylor - a major mover for the One Big Union. The last mine closed in the 1960's with many workers shifting to jobs in the timber industry.
An important thematic thread within the conference is "Indigenous Workers, a Hidden History". It is our goal to feature presentations around the role of Indigenous workers in the resource economy over the past 200 years, and the past and present relationship between Indigenous workers and labour unions. Given the increased awareness of the historical and systematic racism Indigenous people faced, and still face, many people are unaware of the important work First Nations did in the economic growth of the USA and in Canada. Papers and presentations illuminating this area would be most welcome.
Other areas of interest from the organizing committee include:
The First World War began 100 years ago in Europe. What effect does the political atmosphere of war time have on working people and their struggle for economic and political justice? How did the nationalism of that period impact international solidarity building, and what lessons are applicable to the 21st Century?
Art, whether music, poetry or visual arts, is often treated as a luxury or a marginal part of the political life of trade unions and activists. What role has art played in past struggles, and how can we use music, poetry and visual arts today in reaching the rank and file?
From Wisconsin to British Columbia to Europe, public sector unions are under an unprecedented attack on their very existence. What have we learned over the past 70 years of building public sector union organizations, and how can this knowledge be used to fend off these assaults?
Digital and social media are powerful tools for engagement. How can union activists best utilize these tools to reach union members and the general public with their stories?
The 44th Annual Conference of the PNLHA will be a rich and illuminating (and I daresay unique!) three or four days in a perfect setting, where history is alive and respected. Below are details for submissions. We look forward to hearing from you.
Proposals for workshops and presentations should include:
1 to 2 page summary of your workshop or presentation
Presenter(s) name(s) and contact information
A short bio and vitae of presenter(s)
Audio / Visual requirements
Although there is no guarantee, we will attempt to fit your presentation in. Acceptance is based on relevance to the theme and topics outlined above, and scheduling considerations. The deadline for proposals is December 13, 2013. We will notify you as to the status of your proposal by Jan. 13, 2014.
Submit your proposals via e-mail to Brian Charlton, for the Local Organizing Committee at: bcharlton@shaw.ca.
Labor: Studies in Working-Class History of the Americas Seeks papers on "Labor and Empire"
The journal Labor: Studies in Working-Class History of the Americas invites paper submissions for its upcoming conference tentatively slotted for November 13-15, 2014 in Santa Barbara, California on working people and imperial history.
The conference defines imperial history broadly, encompassing not only the history of "classic" colonial-imperial settings, but of projects to reproduce state and corporate power through their extension across space. It will be interested in both the labor of empire—the work that it took to build large-scale power systems—and the roles of workers, peasants and indigenous people in challenging and enabling these systems in both core and periphery.
Suggested themes include: the military and labor (from soldiers to contractors to sex workers); the militarization of "civilian" labor regimes; the relationship between organized labor and US global power; working-class imperial and anti-imperial politics; the tourist industry as a site of imperial labor; the imperial organization of labor migration and restriction systems; indigenous politics and labor regimes in colonial settings; the racializing and gendering of imperial labor relations; the environment and the work of imperial extraction; and the globalizing of labor organizing and resistance politics. We anticipate a primary focus on the U.S. empire, in whatever global region its power is felt, but we also encourage comparative perspectives with a labor focus.
Please send proposals consisting of a one-paragraph paper description and a brief CV to Paul Kramer (paul.a.kramer@vanderbilt.edu) and Julie Greene (jmg@umd.edu) and CC LABOR (labor@uic.edu). Proposals are due by November 1, 2013.
Papers on Workers and Animals in the Food System Sought for Edited Volume
The past decade has brought tremendous and much needed attention to the connections between food choices, health, and environmental sustainability. Despite this exposure, however, several foundational aspects of the contemporary food system have remained at the margins of most mainstream debates. Notably, concerns related to the rights of food system workers, as well as considerations for the interests of non-human animals, have often been overlooked. Rather than confronting significant ethical questions about the often intersecting exploitation of working people and animals, the topics tend to be handled separately from larger questions about health, equity, and sustainability in the food system.
In light of this, we are seeking contributions for an edited volume that aims to bridge theory and practice by highlighting the connections between workers and animals in the food system. Contributions should strive to push the dialogue on food systems toward an intersectional, inclusive and actionable approach. We are open to scholarship from any number of social science and humanist disciplines, as well as from diverse philosophical and methodological perspectives, including engaged and participatory action research. Works that interrogate these intersectional issues across any level of food production, distribution, or consumption are welcome. | Read more