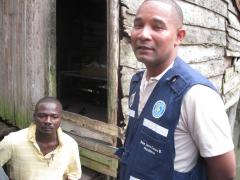 Colombian Dockworker Leader To Visit UW on October 24th
Join us at the University of Washington Seattle campus next Thursday, October 24 for an evening with Colombian union leader Jhon Jairo Castro, President of the Buenaventura chapter of the Portworkers Union
Castro has worked as a longshoreman and organized for labor rights for over eleven years, despite receiving death threats in a country that has the highest rate of murder for trade unionists in the world, and that has a 90% impunity rate for cases of violence against unionists. | Read more
BRIDGES CENTER EVENTS
---
Thursday, October 24
Talk: The Struggle for Labor and Racial Justice in Colombia's Ports
Jhon Jairo Castro, President, Buenaventura Portworkers Union
6:30pm-8:00pm. Savery Hall, Room 264, UW Seattle. Free.
Jhon Jairo Castro will share his experience as an Afro-Colombian labor leader in one of the deadliest countries in the world to exercise labor rights, explaining what privatization and free trade have meant in a drastically unequal country. The recently-passed Colombia-US Free Trade Agreement has increased economic activity in Colombia, yet 80% of people in Buenaventura live in poverty.
Castro is the President of the Buenaventura chapter of the Portworkers Union in Colombia's principal port city, through which 60 percent of Colombian imports and exports pass.
Sponsored by Witness for Peace Northwest, Washington Fair Trade Coalition, UW Harry Bridges Center for Labor Studies, UW Center for Human Rights, and UW Latin American and Caribbean Studies.
For more information, contact Amy Truax at 206-787-0657 or amy@witnessforpeace.org.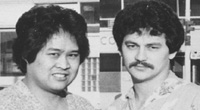 Thursday, October 31
Film Screening: One Generation's Time: The Legacy of Silme Domingo and Gene Viernes
6:00pm doors, 6:10pm screening. Discussion to follow. Museum of History and Industry, 860 Terry Ave N Seattle, WA 98109. Free.
One Generation's Time: The Legacy of Silme Domingo and Gene Viernes tells the story of Silme Domingo and Gene Viernes, two Filipino American cannery worker activists who were murdered in Seattle in June 1981.
Speakers:
Shannon Gee, who wrote, directed, photographed and edited the documentary.
Ron Chew, documentary co-producer, author of the companion book Remembering Silme Domingo and Gene Viernes: The Legacy of Filipino Labor Activism, published earlier this year by University of Washington Press.
Conor Casey, Labor Archivist from the Labor Archives of Washington, will speak about some of the archival collections that were used in the documentary and to talk about the new Cannery Worker Unions section of the Labor Archives Digital Collections Portal.
Domingo and Viernes, two reform officers in Seattle's Alaska Cannery Workers' Union, Local 37 of the International Longshore and Warehouse Union (ILWU), were gunned down as they worked in the union offices near Pioneer Square. The men were attempting to reform the union and were calling for better working conditions in the canneries. On the surface, their murders were meant to look like just another gang-related slaying, but later were revealed to be a hit originating from the Marcos regime.
The documentary details the murders, the fight for fair labor conditions, the civil rights movement the murdered men helped foster and the ensuing efforts to seek justice for their killings.
Chew will sign copies of his book, which will be available for purchase, at the screening.
Sponsored by the Labor Archives of Washington, the Pacific Northwest Historians Guild, Seattle Channel, Inlandboatmen's Union of the Pacific, the Museum of History and Industry, and the Harry Bridges Center for Labor Studies.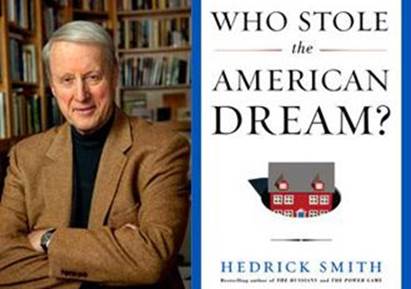 Thursday, November 14
Book Talk: Hedrick Smith, "Who Stole the American Dream?"
6:30-9:30 p.m. William W. Philip Hall, UW Tacoma, 1918 Pacific Avenue, Tacoma, WA 98402. Free, with RSVP.
Hedrick Smith, a former New York Times reporter, has published best-selling books, The Russians, The Power Game: How Washington Works,, and others.
The University of Washington Tacoma is pleased to help him launch his new book, an acclaimed analysis of the causes and consequences of economic inequality: Who Stole the American Dream? (Random House).
What happened to the dream of a good job and a secure future? Who is responsible for the disproportionate power and wealth that almost brought down the American economic system? His new book is required reading for understanding our economy and political system and to think about how we might reclaim the dream.
Hedrick Smith will also be available to faculty and students who want to read and discuss his book with him in more detail on Friday, Nov. 15. For more details on the seminar contact Prof. Michael Honey, mhoney@uw.edu.
For more information and RSVP, visit http://tinyurl.com/hedricksmith.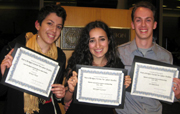 Sunday, November 24
2013 Bridges Center Annual Awards Celebration
5:00pm-8:00pm. South Ballroom, Husky Union Building, UW Seattle. Free.
Please join us for the Harry Bridges Center for Labor Studies annual awards banquet as we honor student and faculty achievements and raise funds for the Labor Archives.
Reserve your ticket today! Tickets are free, but due to annual high attendance we ask that you please RSVP in advance by contacting the Bridges Center at (206) 543-7946 or hbcls@uw.edu.
Support the Archives! To raise funds for the Labor Archives, we are offering the chance to sponsor the banquet at two levels:
$500 — Table Sponsor: Reserves a table seating 8.
$1000—Event Sponsor: Reserves a table seating 8; also receive a half-page ad in the banquet program; and special recognition at the event.
All donations are tax-deductible. For more information, contact the Harry Bridges Center for Labor Studies at (206)543-7946 or email hbcls@uw.edu.
EVENTS OF INTEREST
---
Friday, October 18
Fundraiser: 10th Annual A. Philip Randolph Institute Banquet
6:00pm. Mcgavick Center, 4500 Steilacoom Blvd. SW, Lakewood, WA.
The Pierce County Central Labor Council is proud to support the Tacoma Chapter of the A. Philip Randolph Institute (A.P.R.I.). As one of our affiliated constituency groups, the Labor Council has worked closely with the leadership of APRI as they reach out to high school students who are at risk of not graduating because they did not receive a passing grade in a required class and cannot attend summer school to retrieve those credits because their families are unable to pay the cost of their tuition.
Each fall, APRI hosts a dinner to raise the funds to pay the tuition and provide bus passes for the following year's students. The members of APRI monitor the kids' progress and assist them in earning community service credits all aimed at keeping them connected to school and their peers.
Please consider purchasing a ticket for the dinner. $65 per seat or a table for 8. Call 253-473-3810 for tickets or other questions. You will enjoy a wonderful catered meal and hear powerful words from a renowned national speaker, Clayola Brown, while helping to make a difference in a young person's life.
October 23 - November 13
Lecture Series: Slavery and Freedom in the Making of America
6:00pm-8:00pm. Kane Hall, University of Washington, Seattle. Tickets: $10, $5 for students.
As the United States marks the 150th anniversary of the Emancipation Proclamation in 2013, the History Lecture Series returns this fall with four presentations by nationally recognized historians on the theme "Slavery and Freedom in the Making of America."
The speakers will consider the imagined roots of slavery in Greco-Roman antiquity, the origins and development of racial slavery across the Americas and its centrality to the creation of the United States, and the continued legacies of slavery in post-emancipation American life.
October 23rd
Sandra Joshel: Ancient Roman Slavery and American History
October 30th
Stephanie Smallwood: Slavery, Race, and the Origins of American Freedom
November 6th
Stephanie Camp: Slavery, Antebellum America's National Institution
November 13th
Moon-Ho Jung: Race, Empire, and Post-Emancipation Struggles for Freedom
Tickets are on sale right now via Ticketleap. For questions about the History Lecture Series, or to purchase tickets over the phone, please call 206.543.5790.
Through Sunday, May 4
Exhibit: Hands At Work: Portraits & Profiles of People Who Work With Their Hands
Times vary. Washington State History Museum, 1911 Pacific Avenue, Tacoma, WA 98402.
This beautiful exhibit features the photography by Summer Moon Scriver and the stories of Iris Graville as collected from master craftsmen, musicians, artists, and workers from around the Pacific Northwest. Derived from the book "Hands At Work: Portraits & Profiles of People Who Work With Their Hands," this show includes photographs, short writings, and objects from the people featured in the photographs and stories.
The larger-than-life images displayed show the hands of people who earn their living with them. Images include the hands of a midwife, a fisherman, a gardener, a boat builder, and even a sign language interpreter, allowing the artist, author, and onlooker to connect with these and many more professions pursued by people throughout Washington.
The book "Hands at Work" has won numerous awards, including the National Best Books 2009 Award in Photography: People Category, an Outstanding Book award by Independent Publishers, and a gold Nautilus Book Award.
NEWS & ANNOUNCEMENTS
---
---
Labor community comes together for archive dedication (UW Daily)
Members from Washington's labor community and the university community gathered Saturday inside Suzzallo Library for a formal dedication of the Labor Archives of Washington (LAW) and to honor its most generous donors.
The LAW project is a result of the collaborative effort by the Harry Bridges Center for Labor Studies, UW Libraries, and the labor community. Since the project's founding in 2010, it has raised more than half a million dollars from approximately 270 different individuals and organizations.
The short ceremony featured speakers who discussed the importance of the archives and the Bridges Center. The ceremony was followed by the unveiling of a commemorative plaque for the archives' Founder's Circle, which includes the names of every donor that has given $500 or more to the effort. | Read more
Telling the whole story (UW Daily)
For many students, orientation is a first exploration of the university and its stories. This year, a group of students are using orientation to tell the stories that are often left untold.
Disorientation 2013 is a series of events and activities created by UW students, faculty, and community members who seek to provide students with a student-led social justice supplement to traditional orientation.
Central to its vision is providing a "people's history" of the UW. The group examines the history of the UW and its people and various social justice issues, past and present, to see how they all overlap. According to the Disorientation 2013 website, they also aim to critique the UW's role in militarism, imperialism, and structural racism. | Read more
Threads of global manufacturing tie UW apparel back to Indonesia (Seattle Globalist)
The goal: to track down the person who made one Huskies sweatshirt, in hopes of narrowing the gap between U.S. consumers and the lives of garment workers.
Anissa folds back the cuff of the purple Huskies hoodie, and runs a finger over the inside stitches.
In the brief moment she holds the sweatshirt, her expression flashes from smiling twenty-four year-old to engaged professional and back again.
The deftness of her inspection hints at her skill as a seamstress who handles 120 of these sweatshirts every hour at the factory where she works.
The shirt, bearing quarterback Keith Price's number 17, was on discount at The University Bookstore on "The Ave" in Seattle.
In July it made its homecoming via yellow DHL shipping bag to here, where it was made.
My goal was to track down the person who made it, in the hope of highlighting her connection with consumers in Seattle and the clothes on our retail store racks. | Read more
---
Seattle Union UNITE-HERE Local 8 Seeks Interns
UNITE HERE! is a labor union leading the fight to organize hundreds of thousands of low wage workers - many of them African-Americans, Latino and Asian immigrants, and women in hotels, casinos, laundries, institutional cafeterias,airport concessions, and apparel manufacturing, distribution, and retail facilities throughout North America. Our union is at the forefront of battles for workers rights, immigrants' rights and living wages.
About the Internship
Our internship program strives to link up the workers' rights movement with the student movement, the LGBTQ movement, the immigrants' rights movement and all other movements that struggle and work for social justice. Interns will learn the basics of worker organizing, corporate research, and running an effective consumer boycott. Hours and schedules are flexible, though we ask for a minimum of 5-10 hours per week.
For more information on applying, contact UNITE-HERE organizer Eunice How, (206) 305-0561 eunice@unitehere8.org.
---
United Association of Labor Educators Seeks Proposals for 2014 Conference
"Organizing for Power: A New Labor Movement for the New Working Class"
June 13-15, 2014
Los Angeles, California
Diverse. Engaged. Unafraid. There is a new working class whose presence is undeniable; a new working class which is looking for a new labor movement. Labor education is the crux of a new labor movement. Labor education is defined as education to advance the collective needs and interests of working people, and over the last decade labor educators have facilitated significant growth and change in the labor movement.
The United Association for Labor Education (UALE) invites labor educators, community organizers, organizers based in worker centers, and others committed to worker education to unite together in Los Angeles for a conference dedicated to educating, empowering, and organizing the new working class. UALE seeks proposals on how labor education can contribute to a new labor movement which empowers the new working class. Specifically, we invite proposals which demonstrate how modern labor education can help working people assert their fundamental right to organize proudly, bargain collectively, and work safely in a neoliberal climate which relies on systematic inequality.
Proposals may draw from all disciplines and take many forms, including strategic or academic reports or posters; qualitative or quantitative analyses; teaching demonstrations; labor history research, curriculum for adults or K-12; union membership training tools; case studies; workshops; general curriculum design; strategy sessions and performances; music, art, including public art, and theater. | Read more
PERLA/Global WACh Symposium: "Global Health for Women, Children and Adolescents: Making a Difference Across the Lifespan"
Abstract Deadline: 5pm October 17th
Symposium Date: November 7, 3:00-4:30 PM
UW Global Center for Integrated Health of Women, Adolescents and Children (Global WACh) and the Program for Education and Research in Latin American (PERLA) have organized a symposium, co-sponsored by the Latin American and Caribbean Studies Program, to discuss woman, child and adolescent health-related research, service and training projects and foster multidisciplinary, interdepartmental and international collaboration.
We are pleased to announce a call for abstracts regarding woman, child, and adolescent health research, service, training projects and programs. Faculty, students and professionals involved in research, training or service activities aimed at improving the health and well-being of women, children and adolescents globally, are urged to participate. Abstracts may discuss completed work, work-in-progress, or planned projects.
The symposium is part of a larger Washington Global Health Discovery Series Event: "Maternal Health: Achievements So Far and Challenges Ahead." | Read more
Labor Research and Action Network - Graduate Student & Faculty Research Grants
The Labor Research and Action Network (LRAN) connects workers' rights organizations, academics and students with the shared goal of building workplace and economic power for working people in the United States. One of the organization's key objectives is to help develop the next generation of labor academics and scholars.
LRAN is pleased to announce a competition for research grants for graduate students working on labor-focused projects, defined broadly. Proposals will be judged on the basis of overall quality, but projects with direct relevance to workers and their organizations may be given priority. Applicants must be currently enrolled in a graduate program, and students in all academic disciplines are encouraged to apply.
LRAN is further pleased to announce a competition for research grants for academic faculty members and other Ph.Ds who are working on labor-focused projects, defined broadly. Proposals will be judged on the basis of overall quality, but projects with direct relevance to workers and their organizations and/or those undertaken by applicants early in their careers may be given priority. Postdoctoral researchers and other academics not on the tenure track are especially encouraged to apply; applicants must have completed a Ph.D or equivalent.
LRAN will make one or more grants totaling $6,000. | Read more
How Class Works - 2014 Conference Call for Presentations
Center for the Study of Working Class Life
June 5-7, 2014
Stony Brook University, NY
The Center for Study of Working Class Life is pleased to announce the How Class Works 2014 Conference, to be held at the State University of New York at Stony Brook, June 5-7, 2014. Proposals for papers, presentations, and sessions are welcome until December 11, 2013.
The conference seeks to explore ways in which an explicit recognition of class helps to understand the social world in which we live, and ways in which analysis of society can deepen our understanding of class as a social relationship. Presentations should take as their point of reference the lived experience of class; proposed theoretical contributions should be rooted in and illuminate social realities. Presentations are welcome from people outside academic life when they sum up social experience in a way that contributes to the themes of the conference. Formal papers will be welcome but are not required. All presentations should be accessible to an interdisciplinary audience. | Read more