BRIDGES CENTER EVENTS
---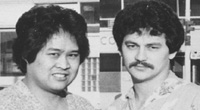 Thursday, October 31
Film Screening: One Generation's Time: The Legacy of Silme Domingo and Gene Viernes
6:00pm doors, 6:10pm screening. Discussion to follow. Museum of History and Industry, 860 Terry Ave N Seattle, WA 98109. Free.
One Generation's Time: The Legacy of Silme Domingo and Gene Viernes tells the story of Silme Domingo and Gene Viernes, two Filipino American cannery worker activists who were murdered in Seattle in June 1981.
Speakers:
Shannon Gee, who wrote, directed, photographed and edited the documentary.
Ron Chew, documentary co-producer, author of the companion book Remembering Silme Domingo and Gene Viernes: The Legacy of Filipino Labor Activism, published earlier this year by University of Washington Press.
Conor Casey, Labor Archivist from the Labor Archives of Washington, will speak about some of the archival collections that were used in the documentary and to talk about the new Cannery Worker Unions section of the Labor Archives Digital Collections Portal.
Domingo and Viernes, two reform officers in Seattle's Alaska Cannery Workers' Union, Local 37 of the International Longshore and Warehouse Union (ILWU), were gunned down as they worked in the union offices near Pioneer Square. The men were attempting to reform the union and were calling for better working conditions in the canneries. On the surface, their murders were meant to look like just another gang-related slaying, but later were revealed to be a hit originating from the Marcos regime.
The documentary details the murders, the fight for fair labor conditions, the civil rights movement the murdered men helped foster and the ensuing efforts to seek justice for their killings.
Chew will sign copies of his book, which will be available for purchase, at the screening.
Sponsored by the Labor Archives of Washington, the Pacific Northwest Historians Guild, Seattle Channel, Inlandboatmen's Union of the Pacific, the Museum of History and Industry, and the Harry Bridges Center for Labor Studies.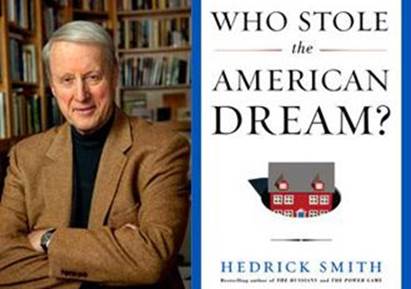 Thursday, November 14
Book Talk: Hedrick Smith, "Who Stole the American Dream?"
6:30-9:30 p.m. William W. Philip Hall, UW Tacoma, 1918 Pacific Avenue, Tacoma, WA 98402. Free, with RSVP.
Hedrick Smith, a former New York Times reporter, has published best-selling books, The Russians, The Power Game: How Washington Works,, and others.
The University of Washington Tacoma is pleased to help him launch his new book, an acclaimed analysis of the causes and consequences of economic inequality: Who Stole the American Dream? (Random House).
What happened to the dream of a good job and a secure future? Who is responsible for the disproportionate power and wealth that almost brought down the American economic system? His new book is required reading for understanding our economy and political system and to think about how we might reclaim the dream.
Hedrick Smith will also be available to faculty and students who want to read and discuss his book with him in more detail on Friday, Nov. 15. For more details on the seminar contact Prof. Michael Honey, mhoney@uw.edu.
For more information and RSVP, visit http://tinyurl.com/hedricksmith.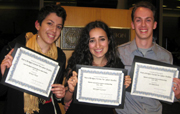 Sunday, November 24
2013 Bridges Center Annual Awards Celebration
5:00pm-8:00pm. South Ballroom, Husky Union Building, UW Seattle. Free.
Please join us for the Harry Bridges Center for Labor Studies annual awards banquet as we honor student and faculty achievements and raise funds for the Labor Archives.
Reserve your ticket today! Tickets are free, but due to annual high attendance we ask that you please RSVP in advance by contacting the Bridges Center at (206) 543-7946 or hbcls@uw.edu.
Support the Archives! To raise funds for the Labor Archives, we are offering the chance to sponsor the banquet at two levels:
$500 — Table Sponsor: Reserves a table seating 8.
$1000—Event Sponsor: Reserves a table seating 8; also receive a half-page ad in the banquet program; and special recognition at the event.
All donations are tax-deductible. For more information, contact the Harry Bridges Center for Labor Studies at (206)543-7946 or email hbcls@uw.edu.
EVENTS OF INTEREST
---
October 30 - November 13
Lecture Series: Slavery and Freedom in the Making of America
6:00pm-8:00pm. Kane Hall, University of Washington, Seattle. Tickets: $10, $5 for students.
As the United States marks the 150th anniversary of the Emancipation Proclamation in 2013, the History Lecture Series returns this fall with presentations by nationally recognized historians on the theme "Slavery and Freedom in the Making of America."
The speakers will consider the imagined roots of slavery in Greco-Roman antiquity, the origins and development of racial slavery across the Americas and its centrality to the creation of the United States, and the continued legacies of slavery in post-emancipation American life.
October 30th
Stephanie Smallwood: Slavery, Race, and the Origins of American Freedom
November 6th
Stephanie Camp: Slavery, Antebellum America's National Institution
November 13th
Moon-Ho Jung: Race, Empire, and Post-Emancipation Struggles for Freedom
Tickets are on sale right now via Ticketleap. For questions about the History Lecture Series, or to purchase tickets over the phone, please call 206.543.5790.
Thursday, October 31
Talk: Litigation and Political Movements: Challenging Prolonged Solitary Confinement in American Prisons
Jules Lobel, University of Pittsburgh
3:30pm-5:00pm. Allen Library, Auditorium, UW Seattle. Free.
Jules Lobel (Law, University of Pittsburgh) discusses litigation and political movents, and challenges prolonged solitary confientment in American prisons.
Lobel is the co-author with David Cole of Less Safe, Less Free: Why America is Losing the War on Terror (2007), which won the first Roy C. Palmer Civil Liberties Prize for exemplary scholarship exploring the tension between civil liberties and national security. He is also the author of Success without Victory: Lost Legal Battles and the Long Road to Justice in America (2003), and editor of several books on civil rights litigation as well as the U.S. Constitution.
Sponsored by the Center for Human Rights; the Hilen Endowment for American Literature and Culture; the Law, Societies & Justice Program; the Program on Values in Society; the UW School of Law; and the Simpson Center for the Humanities.
Thursday, November 5
Read-In: We Stand with Howard Zinn
6:00pm-8:00pm. Savery Hall, Room 264, UW Seattle. Free.
Join the UW International Socialist Organization, UW SUPER, and UW Disorientation on the birthday of labor activist Eugene Debs for an eventing commemorating the life and work of Historian, Author and activist Howard Zinn and in support of Academic Freedom for the faculty at Purdue University.
Purdue University faculty will be taking part in a Howard Zinn "read-in" in response to Purdue University president Mitch Daniels' statements condemning Howard Zinn, and his attempts to remove his works from curricula in Indiana. The read-in will take place on Eugene Debs birthday, Nov. 5th, and Universities across the country are hosting solidarity events to show support.
Here at the University of Washington we will be sharing readings from Howard Zinn's Voices of a People's History, as well as learning about the history of censorship here UW. Food and Drinks will be provided. | Read more
Saturday, November 9
to Sunday, November 10
Training: United Students Against Sweatshops - West Coast Organizer Boot Camp
UW Seattle. Free w/registration.
This November students from across the West Coast will come together at the University of Washington-Seattle for a weekend of organizing training, strategizing, and taking action for workers rights. As thousands of fast food and Walmart workers take a stand against corporate greed, it's time to students to step up our game.
This November 9-10th at the West Coast Organizer Boot Camp, we will develop the skills we need to mobilize in larger numbers of students, train new young organizers, and win campaigns alongside campus workers. We'll spend two full days practicing one-on-one conversations to move our peers to action, swapping campaign skills, and learning from the recent student victories over tuition hikes, worker exploitation and corporate greed.
Step up your organizing game! Join us at the USAS West Coast Organizer Boot Camp from November 9-10th.
These student-organized and student-run weekends will focus on training effective student organizers from different communities and of different identities to lead the fight against unaccountable corporations and billionaires who fund political attacks on the 99%.
Join us, and together we'll develop the skills we need to mobilize larger numbers of students, train new young organizers, and win campaigns for immigration justice, labor rights, education affordability and access, international solidarity, and more.
During the weekend long Boot Camp we will:
Practice concrete organizing skills, including one-on-one conversations to move our peers from apathy to action.
Share ideas on how to build campaigns to win concrete victories and how to escalate with creative, effective actions.
Build a stronger, broader, more coordinated movement, and build plans that will lead to VICTORY.
Learn how to get your message out loud and clear through mainstream and alternative media.
Learn how students mobilized hundreds of their peers to take direct action.
Are YOU ready to FIGHT BACK?! Contact Garrett Strain at 817-964-9836 or garrett@usas.org if you want more information about the boot camp.
NEWS & ANNOUNCEMENTS
---
---
Jhon Jairo Castro Speaks with KSVR's "We Do the Work" radio show
Colombian union leader Jhon Jairo Castro, President of the Buenaventura chapter of the Portworkers Union, recently visited the Seattle area to speak about labor rights in Colombia.
While in town, Castro spoke with KSVR's "We Do the Work" labor news program about his experiences. To listen to the show, visit the KSVR audio archives and select "We Do the Work" from the weekly program list.
Tune in to KSVR 91.7 the next three Tuesdays at 4:30pm, beginning October 29, to learn what we must do to organize the unorganized from Peter Olney, Organizing Director of the International Longshore and Warehouse Union. You can live stream it here: http://ksvr.org/ by clicking "Listen now!"
---
Seattle Union UNITE-HERE Local 8 Seeks Interns
UNITE HERE! is a labor union leading the fight to organize hundreds of thousands of low wage workers - many of them African-Americans, Latino and Asian immigrants, and women in hotels, casinos, laundries, institutional cafeterias,airport concessions, and apparel manufacturing, distribution, and retail facilities throughout North America. Our union is at the forefront of battles for workers rights, immigrants' rights and living wages.
About the Internship
Our internship program strives to link up the workers' rights movement with the student movement, the LGBTQ movement, the immigrants' rights movement and all other movements that struggle and work for social justice. Interns will learn the basics of worker organizing, corporate research, and running an effective consumer boycott. Hours and schedules are flexible, though we ask for a minimum of 5-10 hours per week.
For more information on applying, contact UNITE-HERE organizer Eunice How, (206) 305-0561 eunice@unitehere8.org.
Field Intern Opportunity with Puget Sound Maritime Trades Department, AFL-CIO
Position Description:The Maritime Trades Department of the Washington State Labor Council is now seeking Field Interns through the fall quarter and possibly the winter quarter as well. The Labor Council is an organization dedicated to the advancement of working families in Puget Sound and Washington State.
Description of Work: Interns would work directly with the Port Agent and President of the MTD, and other community economic partners to help develop a union density mapping project for the industrial area of Seattle, and enlist the assistance of affiliate unions and allied organizations to start. The internship would provide interested interns the exposure and insight into progressive policies and planning through the unique lens of the labor community; an experiential learning opportunity fortified by guidance from current professional staff.
Working directly with local allies, the Field internship would be an opportunity for students to work on local issues that will help sustain a healthy middle class and advance an agenda of attaining a more equitable distribution of economic benefits in an increasingly stratified society. | Read more
---
United Association of Labor Educators Seeks Proposals for 2013 Research Grants
Deadline: November 15, 2013
UALE is pleased to continue awarding grants to fund research related to workers, unions, and employment policy. Preference will be given to UALE members in determining award recipients. UALE has allocated $5,000 for this purpose. We will select a maximum of two award recipients.
A subcommittee comprised of three UALE executive board members (one union, one university, one community-based) will review applications and make a recommendation to the entire UALE board, which will have final approval.
Applications for the 2013 awards are due by November 15, 2013. The recipients will be announced by December 15, 2013. The total number of awards for 2013 will be determined by the UALE executive board. UALE requests that successful applicants present the results of their research at a UALE conference. | Read more
United Association of Labor Educators Seeks Student Papers for 2014 Conference
"Organizing for Power: A New Labor Movement for the New Working Class"
June 13-15, 2014
Los Angeles, California
The United Association for Labor Education is the professional organization that brings together people committed to workers' education. UALE's ranks include labor educators from unions, worker centers, colleges, universities, and community-based organizations. We also welcome the involvement of students interested in the critical role that unions and related organizations play in improving the lives of working people. And we seek to encourage students to consider the field of labor education as a possible career.
The theme of our 2014 conference revolves around the emergence of a "new working class" that has generated considerable excitement with its well-publicized demands for justice, respect, and equality. This development provides significant opportunities for unions, labor educators, community activists, and scholars to come together in support of a revitalized working-class movement.
We especially invite student papers that address some aspect of the conference theme. At the same time, we are receptive to contributions that consider other issues relevant to unions, workers, and labor education.
We will accept papers from a wide variety of academic disciplines. A UALE committee selects 3-5 papers among the submissions and invites those selected to present their papers at the annual conference.
UALE is able to pay the conference registration fees and lodging costs for those whose papers are selected. In the event of proposals with multiple authors, UALE will pay these costs for the principal author. Co-authors may attend the conference at the student rate. | Read more
2014 Midwest Labor and Working-Class History (MLWCH) Colloquium Seeks Proposals
"Resistance and Remembrance: Collective Identities and the Uses of History"
Friday, February 28 and Saturday, March 1, 2014
University of Illinois at Chicago
Proposals Due: Friday, November 15, 2013
Completed Papers Due: Monday, January 27, 2014
In this neo-liberal era, some scholars have noted an ascendant individualism and the decline of traditional solidarities. Yet in many settings, collective identities—based in class, race, nation, faith, sexuality, etc.—retain enormous significance for both defenders and critics of capitalism. These identities are often rooted in a sense of shared history. With this in mind, this year's colloquium will explore collective identities and their relation to historical memory. We ask, what kinds of solidarities have been forged by working people, and how have these solidarities been challenged and reconfigured? How have actors across the political spectrum deployed collective identities and linked them to ideas about the past? How do acts of remembering and forgetting shape working people's struggles? And what can the practice of history contribute to today's progressive social movements?
MLWCH is designed to give graduate students, activists, and educators an opportunity to learn about new avenues of research and to network with one another in a collegial atmosphere. MLWCH is built around panels with pre-circulated papers in order to encourage discussion and audience participation. We welcome proposals from scholars working in any discipline and whose work examines any geographical area or historical period. We hope to include a wide variety of topics and approaches. A keynote panel featuring scholars and Chicago-area activists will be held on the evening of Friday, February 28. Others panels will be held throughout the day on Saturday, March 1.
Submissions for both individual papers and panels of two to three papers are accepted. For individual papers, please send an abstract of no more than 250 words and a short CV. For panels, please send a panel proposal of no more than 250 words, abstracts of no more than 250 words for each paper, and CVs for each presenter. Submissions are due Friday, November 15, 2013. Completed papers will be due Monday, January 27, 2014.
Please direct submissions and queries to mlwch2014@gmail.com.
Call for Submission of Articles to Class, Race and Corporate Power
Class, Race and Corporate Power is an open-access, online academic journal examining the politics of corporate power. This includes an analysis of capital, labor, and race relations within nation-states and the global economy. We encourage contributions that explore these issues within holistic frameworks that borrow from a range of scholarly disciplines.
To contribute, click on the title above, which will take you to the journal website. Then click on the "submit article" link on the right-hand margin of the journal homepage.
We will be publishing three issues each year, and are now accepting contributions for the current special issue as well as next year's issues, focused on themes of corporate power (March 2014), labor and social justice movements (July 2014), and race and class (November 2014). We want broad conceptualizations of these themes that engage important theoretical debates, as opposed to narrow case studies.
Our "Articles" section includes contributions that go through a double-blind peer review process with a month turnaround for reviews. We recommend submission of 25-35 page articles for this section, although alternative lengths are also acceptable (see the submission guidelines link at our journal homepage for more details).
In addition, we encourage shorter contributions to our non-peer-reviewed sections titled "The Politics of Culture" (review essays) and "Perspectives" (short opinion pieces). The editor-in-chief reviews these submissions and determines if they are suitable for publication.
If you have questions, please review our journal home page for more information. Or contact Editor-In-Chief: Ronald W. Cox, Associate Chair and Associate Professor of Politics and International Relations, Florida International University, at coxr@fiu.edu.