University of Washington
Labor Studies Courses
for Winter 2014
In Winter 2014, nearly twenty Labor Studies-related courses will be offered on all three UW campuses.
All the courses count towards a Minor in Labor Studies, including the core course "Introduction to Labor Studies."
For a full listing complete with course details, visit the Labor Studies Minor website.
Winter 2014 registration began Friday, November 8 and continues until January. Plan now and register early!
BRIDGES CENTER EVENTS
---
Wednesday, November 13
Discussion: Who Stole the American Dream? And What Can Labor Do To Get It Back?
An evening with Hedrick Smith, labor leaders, activists and scholars
6:30pm. Hall One, Seattle Labor Temple, 2800 First Avenue, Seattle, WA 98121.
Award-winning journalist Hedrick Smith's new book, Who Stole the American Dream?, is a panoramic and detailed account of the erosion of the American middle class over the past three decades.
Join Hedrick Smith and a panel of labor leaders, activists and scholars in a discussion of how our present economic crisis of inequality came to be, and the central role organized labor has to play in reestablishing the American Dream.
Co-sponsored by M.L. King County Labor Council and UW Harry Bridges Center for Labor Studies. For more information, call 206-441-8510 or e-mail office@mlkclc.org.
Free and open to the public. Free parking is available in the garage at the north end of Post Alley (between Western Ave and First Ave) just south of Broad Street. Use entry code *011209#.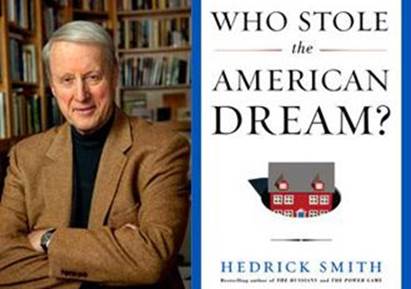 Thursday, November 14
Book Talk: Hedrick Smith, "Who Stole the American Dream?"
6:30-9:30 p.m. William W. Philip Hall, UW Tacoma, 1918 Pacific Avenue, Tacoma, WA 98402. Free, with RSVP.
Hedrick Smith, a former New York Times reporter, has published best-selling books, The Russians, The Power Game: How Washington Works,, and others.
The University of Washington Tacoma is pleased to help him launch his new book, an acclaimed analysis of the causes and consequences of economic inequality: Who Stole the American Dream? (Random House).
What happened to the dream of a good job and a secure future? Who is responsible for the disproportionate power and wealth that almost brought down the American economic system? His new book is required reading for understanding our economy and political system and to think about how we might reclaim the dream.
Hedrick Smith will also be available to faculty and students who want to read and discuss his book with him in more detail on Friday, Nov. 15. For more details on the seminar contact Prof. Michael Honey, mhoney@uw.edu.
For more information and RSVP, visit http://tinyurl.com/hedricksmith.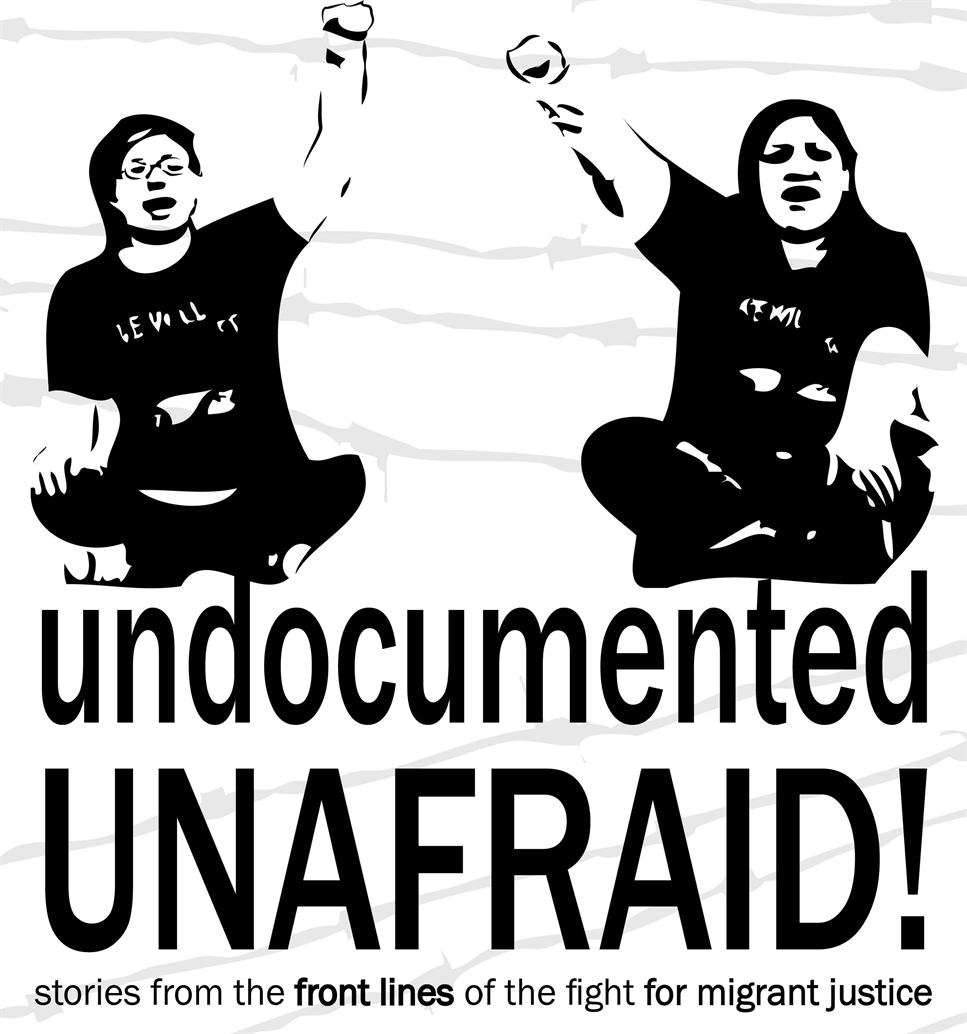 Wednesday, November 20
Presentation: Undocumented and Unafraid: Stories from the Front Lines of the Fight for Migrant Justice
6:30-8:30 p.m. UW Kelly Ethnic Cultural Center, Unity Room, 3931 Brooklyn Ave NE, Seattle, WA 98105. Free.
Join Santiago Garcia, Luis Leon, and Dulce Guerrero, members of the National Immigrant Youth Alliance (NIYA) and DreamActivist.org, as they speak about their cutting edge social justice work and the use of direct action by undocumented immigrants.
Both the NIYA and DreamActivist.org were recently featured on the June 21st episode of This American Life. They will be discussing how our broken immigration system has personally impacted them, and their efforts to organize and work for immigrants' rights. The main speakers have experience helping organize detention center infiltrations and one speaker was a member of the "Dream 9" and was detained after attempting to cross the border demanding to be let in on humanitarian grounds.
For more information, call 206-543-7946, or e-mail hbcls@uw.edu.
Sponsored by the Harry Bridges Center for Labor Studies; the Office of Minority Affairs and Diversity; the UW Diversity Research Institute; UW Latin American and Caribbean Studies; UW Law, Societies and Justice; and UW American Ethnic Studies.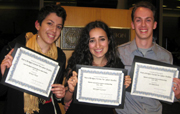 Sunday, November 24
2013 Bridges Center Annual Awards Celebration
5:00pm-8:00pm. South Ballroom, Husky Union Building, UW Seattle. Free.
Please join us for the Harry Bridges Center for Labor Studies annual awards banquet as we honor student and faculty achievements and raise funds for the Labor Archives.
Reserve your ticket today! Tickets are free, but due to annual high attendance we ask that you please RSVP in advance by contacting the Bridges Center at (206) 543-7946 or hbcls@uw.edu.
Support the Archives! To raise funds for the Labor Archives, we are offering the chance to sponsor the banquet at two levels:
$500 — Table Sponsor: Reserves a table seating 8.
$1000—Event Sponsor: Reserves a table seating 8; also receive a half-page ad in the banquet program; and special recognition at the event.
All donations are tax-deductible. For more information, contact the Harry Bridges Center for Labor Studies at (206)543-7946 or email hbcls@uw.edu.
EVENTS OF INTEREST
---
Tuesday, November 12
Seminar: Fresh Fruit, Broken Bodies: Migrant Farmworkers in the Pacific Northwest
Seth Holmes, University of California, Berkeley
12:00pm-1:00pm. Denny Hall, Room 401, UW Seattle.
The Medical Anthropology and Global Health Speaker Series present: Seth Holmes, MD, PhD, University of California, Berkeley, School of Public Health and Human Development. Dr. Holmes is a cultural anthropologist and physician.
Based on five years of research in the field (including berry-picking and traveling with migrants back and forth from Oaxaca up the West Coast), this paper (and new book by the same name) explores how market forces, anti-immigrant sentiment, and racism undermine health and health care. The paper examines structural and symbolic violence, medicalization, and the clinical gaze as they affect the experiences and perceptions of a vertical slice of indigenous Mexican migrant farmworkers, farm owners, doctors, and nurses. This work analyzes the ways in which socially structured suffering comes to be perceived as normal and natural in society and in health care, especially through imputations of ethnic body difference.
Wednesday, November 13
Forum: Human Trafficking and Supply Chains
3:45-5:30pm. William H. Gates Hall, Room 133, UW Seattle. Free with RSVP.
The Women's Center, School of Law, and Center for Global Studies present: "Human Trafficking and Supply Chains," a forum inviting policy makers, the legal community, scholars, advocates, and students to learn how public policy/laws can both promote a thriving business environment and help ensure consumers are receiving ethically sourced goods, free from unscrupulous labor practices, such as human trafficking.
Human Trafficking is a global problem that manifests itself in various forms including sex trafficking and forced labor in various industries such as agriculture, textiles/garment, hospitality, etc. The supply of vulnerable people to be trafficked is endless and trafficked labor is increasingly sought after to fulfill the global demand for inexpensive labor and products. Unregulated and convoluted supply chains inherently encourage contractors to use and promote trafficked labor. Fortunately , the aforementioned model is not the only way for businesses to flourish. Panelists will discuss the development and implementation of the CA Supply Chain Transparency Act and the benefits of passing a similar policy in Washington State.
Panelists include: Kristin Beifus, Executive Director, Washington Fair Trade Coalition; Detective Michael Garske, King County Sheriff's Office; and Dick Meyers, Owner, Traditions Fair Trade and Member, South Sound Clean Cloths Campaign.
Wednesday, November 13
Lecture Series: Slavery and Freedom in the Making of America
6:00pm-8:00pm. Kane Hall, University of Washington, Seattle. Tickets: $10, $5 for students.
As the United States marks the 150th anniversary of the Emancipation Proclamation in 2013, the History Lecture Series returns this fall with presentations by nationally recognized historians on the theme "Slavery and Freedom in the Making of America."
The speakers will consider the imagined roots of slavery in Greco-Roman antiquity, the origins and development of racial slavery across the Americas and its centrality to the creation of the United States, and the continued legacies of slavery in post-emancipation American life.
November 13th
Moon-Ho Jung: Race, Empire, and Post-Emancipation Struggles for Freedom
Tickets are on sale right now via Ticketleap. For questions about the History Lecture Series, or to purchase tickets over the phone, please call 206.543.5790.
Wednesday, November 20
Fundraiser: Washington Fair Trade Coalition Breakfast
7:30am-9:00am. IAM District 751 Hall, 9125 15th Pl S, Seattle WA. Tickets: $50/seat or $400/table.
Rosalinda Guillen from Community to Community will be the guest speaker at the Washington Fair Trade Coalition Breakfast, a fundraiser to kick-off the WFTC Education Fund and further the work of organizing and advocating for trade justice in Washington State.
The Washington Fair Trade Coalition (WFTC) is a coalition of over 60 Washington labor, faith, environmental, farmer, and social justice groups that are committed to creating a fair, balanced, and sustainable global trading system.
The WFTC believes trade between countries plays a critical role in helping to create a just, prosperous, and sustainable world economy. We also believe trade policy should treat all sectors of society fairly, and that benefits of trade should be shared widely across communities and countries.
Want to be a table captain? Need more information? Contact Kristen Beifus at Kristen@washingtonfairtrade.org or 206-227-3079.
Wednesday, November 20
Presentation: Mesoamerica Resiste! Graphic Story-Telling about Resistance to Corporate Colonialism in Mexico and Central America
Sakura Saunders, Beehive Collective
7:00pm. Common Good Café 1415 43rd St NE, Seattle, Washington 98105.
Mesoamerica Resiste is the long awaited final installment in the Beehive's graphic trilogy about globalization in the Americas! This collaboratively produced educational illustration was created through an intensive process of grassroots research that started in 2004, when an initial team from the US, Canada, and Mexico traveled together from Mexico to Panama to meet with communities organizing against the mega-infrastructure projects of a regional integration plan then known as Plan Puebla Panama.
9 years in the making, the Mesoamérica Resiste graphic reflects the Beehive's efforts to document and share diverse stories of communities defending their sovereignty and building alternatives to top-down development plans - especially organizing led by Indigenous peoples, who have fought back against colonialism and genocide for centuries.
The Beehive Design Collective is a wildly-motivated, all volunteer, activist-art collective dedicated to "cross-pollinating the grassroots" by creating collaborative, anti-copyright images for use as educational and organizing tools. We work anonymously as word-to-image translators of complex global stories, gathered and shared through first hand conversations with affected communities.
The presenter, a member of the Collective, is Sakura Saunders. She is also Editor of protestbarrick.net and a member of the Mining Injustice Solidarity Network and Rising Tide Toronto.
Friday, November 22
Film Screening: Harvest of Empire: The Untold Story of Latinos in America
2:00pm-3:50pm. Health Sciences Building, Turner Auditorium (Room D209), UW Seattle. Free.
Film screening and post-film discussion led by Dr. Gino Aisenberg, Associate Professor of UW School of Social Work.
Based on the groundbreaking book by award-winning journalist and Democracy Now! co-host Juan Gonzalez, Harvest of Empire takes an unflinching look at the role that U.S. economic and military interests played in triggering an unprecedented wave of migration that is transforming our nation's cultural and economic landscape.
More importantly, history can offer an explanation of why chronic stress conditions, which are associated with other chronic health and mental health conditions, are highly prevalent among these communities today.
Co-sponsored by Global Health Resource Center, Latin American & Caribbean Studies, World Health Cinema, American Ethnic Studies and School of Social Work. For more information, contact the Global Health Resource Center at ghrc@uw.edu.
NEWS & ANNOUNCEMENTS
---
---
Mayor, legislators urge UW to settle labor dispute with language teachers (Seattle Times)
Five Democratic state legislators and Seattle Mayor Mike McGinn are calling on the University of Washington to settle a long-running contract dispute with the university's International English Language faculty.
The 70 faculty members, who are represented by the American Federation of Teachers, teach English language skills to international and non-native English speakers who are enrolled in a variety of UW programs, including academic and professional certificate programs. It serves about 3,500 students. | Read more
---
Margaret Levi and John Ahlquist, Editorial: "The decline of union membership and what it means for politics" (Washington Post)
Margaret Levi (UW Political Science) served as Harry Bridges Chair in Labor Studies from 1996-2000
Our book is about how organized groups define their scope of action. Can members be persuaded to take actions on behalf of others outside the group? This is a surprisingly difficult question to answer. Political parties, religious congregations, and civic associations all mange to coordinate behavior on behalf of others. But they also screen actively for like-minded people based on shared political or religious perspectives. Similarly, individuals regularly sort themselves into groups reflecting their preexisting preferences. What room is there for persuasion and inspiration? What leeway is there for organizational leaders to expand the organization's mandate? | Read more
Margaret Levi and John Ahlquist, Editorial: "What are the implications of the AFL-CIO's expanding membership criteria?" (Washington Post)
Margaret Levi (UW Political Science) served as Harry Bridges Chair in Labor Studies from 1996-2000
At its recent convention the AFL-CIO passed a series of resolutions that will pave the way for nonunionized workers and even environmental, immigrant, and civil-rights groups to join the labor federation. The organizational details for incorporating these nontraditional members are presumably the subject of furious debate. Will traditional unions be able to find common cause with these new groups? Will the labor movement broaden its scope of action? Will existing members come to view their unions as avenues for acting on behalf of a broader community of fate? | Read more
---
Call for Papers: "New Frontiers for Citizenship at Work"
2014 International CRIMT Conference
May,12-14 2014
HEC Montreal, Montreal (Canada)
Deadline: November 25, 2013
As part of its Major Collaborative Research Initiatives Project, funded by the Social Sciences and Humanities Research Council of Canada, the Interuniversity Research Centre on Globalization and Work (CRIMT) will host an international conference on the new frontiers for citizenship at work. This conference will take place at HEC Montreal (Montreal, Canada), from Monday May 12th to Wednesday May 14th, 2014.
The notion of citizenship at work has traditionally underpinned much of the thinking about work and employment policy. In countries of the North, it has typically corresponded to a vision of full-time, permanent work, with workers being able to secure civil and political rights and benefiting from an expanding range of labour and social rights ensured by the state and/or their employer. These workers were also able to construct their particular employment regime and the meaning of their work through forms of direct and indirect participation, notably union membership and collective bargaining. The idea of citizenship at work has also depended on a Keynesian social state protected by tariffs.
Globalization, deregulation, financialization, new technology, the reorganization of firms across borders, economic crises, labour market transformations, and the fragmentation of labour law and declining levels of unionization have all led to a profound shift in the traditional frontiers of citizenship at work in countries of both the South and the North. These processes have also revealed an exclusionary side of the traditional frontiers of citizenship at work as gendered, racialized, and other historically marginalized workers often could not enjoy its benefits.
This conference builds upon and extends previous work on the theme of citizenship at work, notably the importance of migrant status, social reproduction, inequality, life cycle, and social location as part of a larger examination of citizenship as a platform for delivering entitlements and distributing risks relating to work. The conference will facilitate comparative analysis of existing public policies and implementation mechanisms in order to respond more effectively to contemporary normative concerns and risks associated with the new faces of work and employment and to promote organizational efficiency and worker well-being in the world of work. | Read more