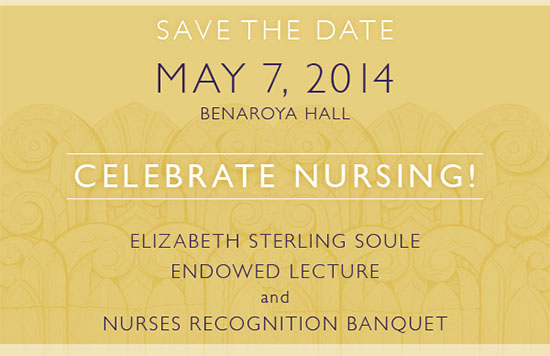 Join the University of Washington School of Nursing and Azita Emami, PhD, MSN, RNT, RN, FAAN, the Robert G. and Jean A. Reid Dean of Nursing, for our annual Nurses Recognition Banquet and Elizabeth Sterling Soule Endowed Lecture on Wednesday, May 7, 2014 at Benaroya Hall in downtown Seattle.
Schedule of events:
Elizabeth Sterling Soule Endowed Lecture 4:30–6 p.m.
Reception and Poster Session 5:30–7 p.m.
Nurses Recognition Banquet 7–8:30 p.m.
Formal invitations will be mailed in late March. For banquet sponsorship information or any questions about the event, contact UW School of Nursing Advancement Office at 206-543-3019 or gvisario@uw.edu.
We also encourage you to nominate nurses for four of our awards: Distinguished Alumni (must be UW School of Nursing alumni), Distinguished Researcher, Distinguished Practitioner, Distinguished Diversity Advocate Award. Nominations are due January 31, 2014. Download the nomination form.
We look forward to seeing you on May 7!