In Memory of Bob "Swanny" Swanson,
1923 - 2014
Bob Swanson, known as "Swanny" to his many friends, passed away Saturday, June 14 at the age of 91. A proud 40-year member of ILWU Local 19, Bob was one of the very first donors to the Harry Bridges Chair in Labor Studies.
In 1990, Bob gave $1,000 towards establishing the Harry Bridges Chair, kicking off a campaign that would ultimately raise over one million dollars. Bob would go on to serve seven years on the Harry Bridges Center's Visiting Committee from 1997 to 2004.
At the Bridges Chair's 20th anniversary dinner in 2012, Bob was recognized as the last surviving of the twelve initial donors to the Harry Bridges Chair. He will be sorely missed.
A memorial service is planned for today at noon at Evergreen Washelli, 11111 Aurora Ave. N., Seattle. | Read More
BRIDGES CENTER EVENTS
---
Thursday, June 26
Course: Health & Safety Trainers' Exchange: New Tools, Technologies, and Emerging Issues for Health and Safety Trainers
8:00am-5:00pm. South Seattle College, Georgetown Campus, 6737 Corson Avenue South. $60 early registration; $110 after June 2.
Health and safety trainers face tremendous challenges as they educate workers about how to stay healthy and safe on the job and how to speak up about workplace dangers. During this full-day course, trainers will learn about new studies and effective tools for addressing emerging issues in the workplace including whistle blower protection, safety culture, and bullying among workers. They will participate in interactive, small-group workshops focusing on training tools and methods to improve the trainer's health and safety knowledge. This course also will help health and safety trainers meet goals of reducing injuries and illnesses at work.
TOPICS:
Rooting Out the Confusion Over Safety Culture and Climate
Whistleblower Protection Laws
How to Motivate and "Activate" Workers about Health & Safety
Technology Tools of the Trade: Safety Mobile Apps and YouTube Videos
Training Techniques to Raise Health and Safety Awareness
Among Young Workers
Strategies to Prevent Workplace Mistreatment and Bullying
Supported by the Washington State Labor Council. Co-Sponsored by Washington State Labor Education and Research Center, South Seattle College and UW Harry Bridges Center for Labor Studies.
To register, or for more information, visit the event website.
Tuesday, July 22 - Thursday, July 24
Washington State Labor Council 2014 Convention
Coast Wenatchee Center Hotel, 201 N Wenatchee Ave, Wenatchee, WA 98801.
The Harry Bridges Center for Labor Studies will be at the annual WSLC Convention in Wenatchee, WA.
Whether you are attending the Convention as a delegate for your union or just an interested observer, stop by our table in the main hall and say hello!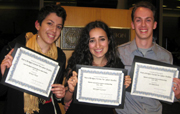 Save the date! Saturday, November 15
2014 Bridges Center Annual Awards Celebration
5:00pm-8:00pm. HUB South Ballroom, UW Seattle. Free.
Join the Harry Bridges Center for Labor Studies for dinner and drinks as we honor the accomplishments of our faculty, students and community supporters and raise funds for the Labor Archives of Washington State.
More information will become available as the event approaches. In the meantime, if you have any questions or suggestions, please contact the Bridges Center at hbcls@uw.edu or call 206-543-7946.
EVENTS OF INTEREST
---
Friday, August 1 to Sunday, August 3, 2014
Training: AFL-CIO 2014 Summer School
Labor Education and Research Center, University of Oregon
Global Scholars Hall, University of Oregon, Eugene OR. $290-$345. Registration required.
The 2014 AFL-CIO Summer School will be held on the University of Oregon campus, in the Global Scholars Hall — located at the corner of East 15th Avenue and Moss Street, on the UO campus.
Throughout the Summer School weekend, participants meet to share insights and ideas in educational core courses, workshops, and small group discussions, with lots of opportunities to connect with union members from around the state.
Classes include:
Everything You Always Wanted to Know About Unions
Rethinking Our Fast Food Futures: Strategic Approaches to Taking on Inequality and the Low-Wage Economy
Waging Effective Contract Campaigns and Getting the Public On Our Side
Gearing Up: A Guide to What's at Stake in the 2014 Election
All in the Family: Orienting, Welcoming and Involving New Members
And more!
For more information, visit the Summer School website.

NEWS & ANNOUNCEMENTS
---
BRIDGES CENTER GRANTS & SCHOLARSHIPS
---
2014-2015 Labor Studies Research Grants
Research grants available to UW faculty
The Bridges Center supports ground-breaking labor studies research through our annual grant funding program. For a look at past sponsored projects, visit our Featured Research website.
This year's grants include:
For more information, visit the Bridges Center website or contact program coordinator Andrew Hedden at hbcls@uw.edu.
---
Talks Break Down: UW Lecturers Still Fighting for Fair First Contract (AFT Washington)
English Language Faculty at the University of Washington (UW) today announced talks have broken down again on their negotiations for a fair contract with the UW administration. After two weeks of progress, the sides are stuck over what amount of compensation will recompense these workers for the years of underpayment they have experienced. These faculty teach classes at the UW's Educational Outreach International English Language Program.
Historically this group's starting salaries were less than the UW's published minimum salary scale. Sometimes they did not receive the same raises as other employees. Their low wages subsidized their program by as much as $200,000 a year.
According to AFT Washington president Karen Strickland, "It is unconscionable that after more than two years at the table, the UW is unwilling to recognize and act on the value of these faculty, especially the most senior faculty." | Read More
Kshama Sawant Rips "Abomination" of Unpaid Internships at UW Social Work Graduation Ceremony (The Stranger)
Now that the $15 an hour movement has forced the passage of a higher minimum wage, City Council Member Kshama Sawant is turning her attention to another facet of worsening economic inequality: the rise of unpaid internships. On Thursday evening at a University of Washington graduation ceremony, she seized the opportunity to denounce "practicums"—essentially unpaid internships that are required for graduation—at the School of Social Work.
"When she got to that part about organizing at the school of social work, everybody cheered and clapped," Ivan Cuevas, a masters social work student who just graduated, told me by phone. "There were a lot of people who thought that it wasn't going to happen."
In her keynote address, Sawant said Social Workers Stand Up, a group of students campaigning against unpaid internships, "have taken responsibility to not only fight for institutional change in broader society, but also here at UW... I hope you are inspired by the work of your peers, and I urge all of you"—she turned towards the deans of the school at this point—"especially the faculty, advisors and administration, to join me in supporting these students who are actively fighting for justice." | Read More
UW Bargaining update (WFSE Local 1488)
The University of Washington Bargaining Team met yesterday (June 16). They want to assure members that the team has not yet made any proposals regarding wages OR changes to pay tables YET. Those will come as part of the economic package.
At the latest bargaining session, UW management essentially proposed nothing but takeaways. | Read More
---
Robert E. Swanson, 1923 - 2014 (Seattle Times)
Robert (Bob) grew up in Aberdeen, WA. He served in the South Pacific during WWII. He was a proud member of ILWU Local 19 for 40 years. Bob enjoyed cruised and travel with Patricia during retirement. He was a good husband, father, neighbor and friend.
Bob is survived by his wife of 65 years, Patricia; daughter Lesley (Dennis McGuire) and family of Seattle; brother Bill (Linda) of Riverside, WA; many nieces and nephews.
Memorial service at Evergreen Washelli, 11111 Aurora Ave. N., Seattle on Monday, 6/23 at 12:00 Noon. Donations in Bob's name may be made to the Salvation Army. | Read More
JOB & INTERNSHIP OPPORTUNITIES
---
Seattle Union UNITE-HERE Local 8 Seeks Interns
UNITE HERE! is a labor union leading the fight to organize hundreds of thousands of low wage workers - many of them African-Americans, Latino and Asian immigrants, and women in hotels, casinos, laundries, institutional cafeterias,airport concessions, and apparel manufacturing, distribution, and retail facilities throughout North America. Our union is at the forefront of battles for workers rights, immigrants' rights and living wages.
About the Internship
Our internship program strives to link up the workers' rights movement with the student movement, the LGBTQ movement, the immigrants' rights movement and all other movements that struggle and work for social justice. Interns will learn the basics of worker organizing, corporate research, and running an effective consumer boycott. Hours and schedules are flexible, though we ask for a minimum of 3-5 hours per week.
For more information on applying, contact UNITE-HERE organizer Eunice How, (206) 305-0561 eunice@unitehere8.org.
SEIU Seeks Organizers for Positions in Seattle
SEIU is currently seeking to hire organizers in Seattle.
Union Organizer - Growth Department. APPLY HERE
SEIU Healthcare 775NW is the long-term care workers union, representing more than 40,000 home care and nursing home workers across Washington State and Montana. We are committed to uniting long-term care workers, to improving the lives of working people and leading the way to a more just and humane world.
Organizers in our Growth (new organizing) Department help workers form unions by identifying and developing worker leaders, by supporting worker action, and by mobilizing members and the community to support a pro-worker agenda. Growth organizers work in coalitions with other unions and community groups to support low-wage worker organizing across industries and across the region and country. Women and people of color are strongly encouraged to apply. Bilingual fluency is a plus. Deadline to apply is June 27, 2014.
Organizer In Training. APPLY HERE
The SEIU Organizer-in-Training (OIT) Program is a 12-month training program. As an Organizer-in-Training with the SEIU, you will be assigned to organizing campaigns, trained on the fundamentals of union organizing and will have the opportunity to learn the skills needed to help workers build power in the workplace. Candidates must have a demonstrated commitment to social and economic justice; ability to work long and irregular hours. Possession of a valid U.S. driver's license, proof of auto insurance, and an automobile for business use are required. Deadline to apply is July 10, 2014.
---
Call for Papers and Proposed Workshops for April 2015 Annual Conference of the National Center for the Study of Collective Bargaining in Higher Education and the Professions
April 19-21, 2015
CUNY Graduate Center, New York, NY
Deadline: October 17, 2014
The National Center for the Study of Collective Bargaining in Higher Education and the Professions at Hunter College, CUNY has issued a Call for Papers and Proposed Workshops for its 2015 annual conference that will take place in New York City on April 19-21, 2015. The theme of next year's conference will be "Thinking about Tomorrow: Collective Bargaining and Labor Relations in Higher Education."
The National Center seeks abstracts for conference papers related to the conference theme as well as proposals for interactive workshop trainings. The deadline for submissions is October 17, 2014. | Read More
2015 Business History Conference/Inequalities: Winners and Losers in Business
Business History Conference and European Business History Association
June 24-27, 2015
Miami, Florida
Deadline: October 1, 2014
What does business have to do with inequality? Contemporary answers have ranged from "everything" to "nothing." The call for proposals for the 2015 joint meeting of the Business History Conference (BHC) and European Business History Association (EBHA) challenges business historians of all stripes to historicize the economic, political, cultural and social processes by which inequality has taken hold, ebbing and flowing over time. Business is central to those processes. The very word "inequality" suggests injustice and unfairness, subjugation and lack of opportunity. But in fact, there are many different inequalities, and their historical significance depends upon how societies have regarded and valued difference. Men and women of various racial and ethnic populations, the rich and poor, dominant and subordinate, leaders and laggards, have been praised and derided, advantaged and disadvantaged in various ways by different societies in different time periods. By inviting a broad historical exploration of the many inequalities that affected and have been affected by business, both positively and negatively, the conference hopes to illuminate more clearly the complexities involved in distinguishing winners from losers.
This will be the fourth joint meeting of the Business History Conference and the European Business History Association, The Program Committee is head by BHC President Mary Yeager (University of California Los Angeles) and EBHA President Raymond Stokes (University of Glasgow). In keeping with longstanding BHC and EBHA policy the Program Committee will also consider submissions not directly related to the conference theme.
The program committee will consider both individual papers and entire panels. Individual paper proposals should include a one-page (300 word) abstract and one-page curriculum vitae (CV). Panel proposals should include a cover letter stating the rationale for the panel and the name of its contact person; one-page (300 word) abstract and author's CV for each paper; and a list of preferred panel chairs and commentators with contact information. Graduate students and recent PhDs (within 3 years of receipt of degree) whose papers are accepted for the meeting may apply for funds to partially defray their travel costs; information will be sent out once the program has been set. Everyone appearing on the program is required to register for the meeting. | Read More