Welcome Michael McCann, New Director of the Harry Bridges Center for Labor Studies
Please join us in welcoming Michael McCann as the new Director of the Harry Bridges Center for Labor Studies, effective July 1, 2014.
McCann has served numerous terms on the Bridges Center's Standing Committee and has been active in programming and other Center activities for many years. As a Professor of Political Science, he holds the title of Gordon Hirabayashi Chair for the Advancement of Citizenship, and is a nationally known scholar, and very experienced university administrator.
McCann's 1994 study of the pay equity movement, Rights at Work, is a path breaking study of legal mobilization around workplace issues that highlights the important role of labor unions in sustaining litigation and social movement campaigns. The book won numerous awards, as did his more recent book on media and public perceptions of tort litigation, Distorting the Law. He is currently working with Bridges Chair George Lovell on a book on workplace and legal activism by Filipino cannery workers in the Pacific Northwest.
Michael's administrative experience includes being chair of the political science department, the founder and long-time director of the Law, Societies and Justice program, and his current service on the elected College Council that oversees the College of Arts and Sciences.
With Michael becoming Director of the Center, George Lovell steps down from his administrative leadership role in the Bridges Center. In his time overseeing the Center, Lovell's achievements included marking the Bridges Chair's 20th Anniversary in 2012 and hosting this year's timely Working Democracy conference. We thank George for his hard work, and wish him the best in his new role as Chair of the Department of Political Science.
BRIDGES CENTER EVENTS
---
Tuesday, July 22 - Thursday, July 24
Washington State Labor Council 2014 Convention
Coast Wenatchee Center Hotel, 201 N Wenatchee Ave, Wenatchee, WA 98801.
The Harry Bridges Center for Labor Studies will be at the annual WSLC Convention in Wenatchee, WA. Look out for our labor archivist Conor Casey, who will be providing a workshop on labor history and records management.
Whether you are attending the Convention as a delegate for your union or just an interested observer, stop by our table in the main hall and say hello!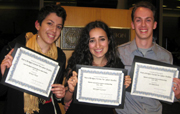 Save the date! Saturday, November 15
2014 Bridges Center Annual Awards Celebration
5:00pm-8:00pm. HUB South Ballroom, UW Seattle. Free.
Join the Harry Bridges Center for Labor Studies for dinner and drinks as we honor the accomplishments of our faculty, students and community supporters and raise funds for the Labor Archives of Washington State.
More information will become available as the event approaches. In the meantime, if you have any questions or suggestions, please contact the Bridges Center at hbcls@uw.edu or call 206-543-7946.
EVENTS OF INTEREST
---
Sunday, July 20 - Monday, July 21
2014 Young Leaders Summit: A Fighting Chance
21 Progress and WA YELL
Sunday, 12:15pm-8pm. Monday, 8am-1pm. IBEW 191 Hall, 27 N Chelan Ave, Wenatchee, WA 98801. $65. Registration required.
Community and Labor come together to bring you an amazing educational offering in sunny Wenatchee in just a few weeks!
The Young Leaders Summit will support development of the skills and knowledge needed to give young people a fighting chance against oppressive institutional powers. This year's Summit will include engaging, hands-on workshops, interesting panels, and motivational speakers from all over Washington State.
$65 registration includes 2 awesome panels, 2 awesome workshops, a community service project, exciting keynote, meals, and entrance to the kickoff of the brand new WENATCHEE YELL CHAPTER. | Read More
Friday, August 1 to Sunday, August 3, 2014
Training: AFL-CIO 2014 Summer School
Labor Education and Research Center, University of Oregon
Global Scholars Hall, University of Oregon, Eugene OR. $290-$345. Registration required.
The 2014 AFL-CIO Summer School will be held on the University of Oregon campus, in the Global Scholars Hall — located at the corner of East 15th Avenue and Moss Street, on the UO campus.
Throughout the Summer School weekend, participants meet to share insights and ideas in educational core courses, workshops, and small group discussions, with lots of opportunities to connect with union members from around the state.
Classes include:
Everything You Always Wanted to Know About Unions
Rethinking Our Fast Food Futures: Strategic Approaches to Taking on Inequality and the Low-Wage Economy
Waging Effective Contract Campaigns and Getting the Public On Our Side
Gearing Up: A Guide to What's at Stake in the 2014 Election
All in the Family: Orienting, Welcoming and Involving New Members
And more!
For more information, visit the Summer School website.
NEWS & ANNOUNCEMENTS
---
---
Editorial: The Supreme Court Did Not Just Kill Public Sector Unions (Politico)
Jake Rosenfeld, UW Sociology
*Professor Jake Rosenfeld is a faculty associate of the Harry Bridges Center for Labor Studies*
Union opponents and supporters finally seem to agree on something: Monday's Supreme Court ruling in Harris v. Quinn means the death of unions representing home health-care aides. The court struck down "fair share" or "agency fee" provisions in the public sector for home health-care providers. Writing for the majority in the 5-4 decision, Justice Alito argued, "The First Amendment prohibits the collection of an agency fee from Rehabilitation Program PAs who do not want to join or support the union." | Read More
---
Local 1488 and UW tower of power (WFSE Local 1488)
University of Washington Local 1488 took their call for a fair contract to the front door of UW President Michael Young Tuesday (July 1).
Members rallied outside the tower housing the UW's top administrators. Their message: The top dawgs should come down from their tower and respect the employees who make the UW work.
It was the latest in their rolling series of contract solidarity events. | Read More
UW sanguine as medical residents' union looms (Puget Sound Business Journal)
As doctors-in-training move forward with efforts to organize, officials at UW Medicine say they're not opposed to these medical residents forming a union — they just don't think it's necessary.
"There's not a whole lot of value for you to have a third party (negotiating employment issues) because we've been able to achieve so much together," said Peter Denis, assistant vice president of labor relations at the University of Washington. "It can prolong discussions and take away some of the progress we've made."
Residents have sought to form a union so they could negotiate for more competitive salaries. It's an idea with the potential to rock the health care world, because low-paid residents are a tremendous source of savings for hospitals across the country.
The resident leading the effort, Dr. Jacob Sunshine, has called for steep increases in pay that would be a huge additional cost for the health system. UW Medicine and other teaching hospital systems would have to upend their budgets to accommodate major raises for residents. | Read More
---
UALE Seeks Researcher to Investigate State of Labor Centers in the United States - $10,000 Available
The United Association for Labor Education Executive Board is seeking a researcher to investigate the political and financial status of labor studies and labor education programs within higher education in the U.S. The deadline to apply is 5:00pm on Friday, July 25. Submit to the UALE Executive Board University and College representative, Sarah Laslett at sarah.laslett@seattlecolleges.edu .
Funding Available
The successful applicant will receive $10,000 in research funds in three installments correlating to the three research stages described below. The specific amounts associated with each stage will be determined in the final agreement with the researcher. However, we are also seeking partners that can contribute towards this research fund. Applicants who have access to additional funding sources are encouraged to make inquiries on behalf of this project.
Application Materials
Please submit a letter of interest describing your qualifications to complete this research and your experience with the subject matter (no longer than 2 pages). You may also submit a Curriculum Vitae with your letter. Also, please submit a writing sample of no more than 5 pages (this can be excerpted from something longer) from which the committee can assess your writing style and how you approach both qualitative and quantitative data.
Research Objective: To investigate the status of labor education/labor studies programs within higher education and assess whether and how those programs may have been weakened since the 1980s. Areas of investigation may include funding (or lack thereof) by legislatures, donors, private entities, or the educational institutions themselves; public political commentary on specific programs or individuals; or other ways that these programs might had had their scope or effectiveness limited (e.g., taking away of tenure lines or other staffing, forcing merger with other programs, etc). | Read More
ROC United Seeks Restaurant Worker for Outreach and Research
The Restaurant Opportunities Center in Seattle, a nonprofit organization and worker center is recruiting current restaurant workers to help conduct a field research study.
Qualifications :
Currently employed in the restaurant industry - Full service and fast food, etc.
2. Willing to take a training on field research.
3. Preferably engaged with other workers in the restaurant industry (The more workers you know, the easier the project would be)
Compensation: You could earn $250.00 engaging other restaurant workers in the restaurant industry.
For more information or to apply, contact Maria Francisca Torres at mariafrancisca@rocunited.org.
Washington State Labor Education and Research Center Seeks Full-Time Labor Educator
The Washington State Labor Education and Research Center at South Seattle College is currently seeking a full-time labor educator. The position pays $51,000 per year, with medical coverage, retirement, and paid leave. The deadline to apply is July 31, 2014.
The Labor Educator works with Labor Center staff, South Seattle College faculty and staff, and community/union-based partners to plan and implement trainings and classes for union members and leaders, community organizations, and campus programs. These classes provide education and skills development for and about workers and their organizations.
Examples of classes the Labor Educator may be asked to develop and implement include: union steward training, collective bargaining training, leadership and organizational development, community-labor alliances, labor history, law, and economics, and organizing. Applicants with area-specific specialties (e.g. the global economy or immigrant workers) are encouraged.
The Labor Educator will do strategic outreach to the labor community and be a resource to faculty and staff at the Seattle Colleges, throughout the Washington State Community and Technical College system, and within the broader labor studies and labor education communities. | Read More
SEIU Seeks Organizers for Positions in Seattle
SEIU is currently seeking to hire organizers in Seattle.
Organizer In Training. APPLY HERE
The SEIU Organizer-in-Training (OIT) Program is a 12-month training program. As an Organizer-in-Training with the SEIU, you will be assigned to organizing campaigns, trained on the fundamentals of union organizing and will have the opportunity to learn the skills needed to help workers build power in the workplace. Candidates must have a demonstrated commitment to social and economic justice; ability to work long and irregular hours. Possession of a valid U.S. driver's license, proof of auto insurance, and an automobile for business use are required. Deadline to apply is July 10, 2014.