Dear Colleague,
I have some exciting news: Anyone with a "u.washington.edu" or "washington.edu" e-mail address now has the option to abbreviate it to "uw.edu".

This is significant not only because a shorter e-mail address is more practical and easy to use, but it also allows the University to stake firmer brand claim on the moniker "UW" (as opposed to it signifying the University of Wisconsin or Wyoming). The rollout of uw.edu for e-mail is a joint effort by UW Marketing and UW Technology as part of the Reputation Building Initiative (RBI).

To receive e-mail at "your_uwnetid@uw.edu" you do not need to do anything, except tell your colleagues that they can start using it to contact you. Both your old @u.washington.edu and your new @uw.edu e-mail addresses will work. However, sending e-mail from "your_uwnetid@uw.edu" will take some action on your part. You can find instructions on the UW Technology Web site. For more details, read the FAQ. For questions, contact help@uw.edu.

I hope you will take advantage of this opportunity.

Sincerely,

Tricia Thompson
Associate Vice President, UW Marketing
---
Featured Toolkits and Templates
Test-Drive Our New Interactive Campus Map
UW Marketing's Web team has been developing a brand-new way to navigate campus: an interactive online map! Now you can search and browse by category (libraries, computer labs, eateries, etc.), choose between views (satellite and hybrid) and see pop-up descriptions of University landmarks. When it goes live, this map will provide a dynamic alternative to (but not replace) the current online map, which has been around for more than a decade. Meanwhile, we want you to help us kick the tires and make sure everything works correctly! We're not sharing this URL with everyone yet, but we will as soon as we're sure everything is working flawlessly. Please send your comments to the Web team at uweb@uw.edu.
---
Best Practices
Featured Unit: Evans School
When their multiple e-mail distribution tools could no longer keep pace with their growing subscriber lists and increasing e-mail volume, the Evans School communications team needed something powerful enough to keep up. The solution? Adopting a single tool, Convio, to manage their e-mail marketing.

"Moving to Convio helped us reach specific audiences and reach out to new groups," said Vanessa Casavant, Evans School communications writer. "It also gave us the metrics to figure out what those segmented audiences really wanted to know. Ultimately, these folks are staying engaged."

The Evans School now carefully targets audiences using an array of electronic communications: invitations, cards, weekly internal newsletters, alumni and donor newsletters, and recruitment letters to prospective students. Working with their admissions colleagues, they sent a series of targeted recruitment and application-related e-mail messages, which helped boost fall applications for the Master of Public Administration program by 33 percent over the previous year.

Though the Evans School sends a lot of e-mail, Casavant and her team are careful to space out and streamline mailings to avoid overwhelming their recipients. That strategy seems to have paid off: During the past year, only eight people (out of almost 6,200 subscribers) elected to unsubscribe from their alumni e-newsletter. Across all 95 e-mail messages the Evans School has sent since adopting Convio, the average open rate stands at 23 percent and the average click-through rate at 7.5 percent -- which meets the industry standard for those metrics.

To get more details about the Evans School e-communications effort, contact Molly McCarthy, director of communications, at mollymm@uw.edu or Vanessa Casavant, communications writer, at vc6@uw.edu.
---
Question of the Month
Q: What types of content work best in an alumni e-newsletter?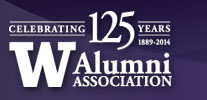 A: In her role as Web editor, UWAA's Robyne Curry regularly sifts through e-newsletter metrics and compiles cumulative statistics for e-newsletters sent to alumni through UWAA. Her analyses show that alumni e-newsletter readers gravitate toward four main types of news:
General-interest articles (hot issues, new programs)
Easy-to-read kernels of information (bulleted lists, fun facts, teasers and short captions)
Interesting photos (historical photos are especially enticing)
People, people, people (class notes, faculty, alumni, students)
"Newsletters from a specific college, school or department often resonate more with alumni than those with a broad reach," says Curry. "People want to see and find themselves in what they're reading and that doesn't happen when narrowly focused stories are front and center." What does not work as well? Steer clear of direct solicitations, event details (unless it's wildly popular or features a well-known speaker) and individual achievements.

Bottom line: Consider your reader with every decision about what to keep or exclude in the next issue. Have questions about this topic? Contact Robyne Curry at curryr@uw.edu.

Got a question for next month? Send it to mktg@uw.edu.