UW Labor Studies Courses for Summer and Autumn 2017
Register Now!
In Summer and Autumn 2017, over twenty-five Labor Studies-related courses will be offered at UW Seattle and UW Tacoma.
All courses listed count towards a Minor in Labor Studies, including HISTCMP 249/POL S 249/SOC 266: Introduction to Labor Studies, a foundational course for the Minor.
For a full listing complete with course details, click here for a PDF, or visit the Labor Studies Minor website.
Autumn 2017 registration began Friday, May 5 and continues through the summer. Plan now and register early!
Bridges Center Director Michael McCann Honored with Mentorship Awards
Professor Michael McCann, director of the Harry Bridges Center for Labor Studies, is being honored with two prestigious awards in recognition of his outstanding mentorship of graduate and undergraduate students.
The Marsha Landolt Distinguished Mentor Award is one of the University of Washington's highest honors. The award recognizes McCann's career spanning accomplishments as a mentor and teacher of graduate students, as well as his more general contributions to graduate education. | Read More
The Stanton Wheeler Mentorship Award, awarded by the Law and Society Association, recognizes a member of the Law and Society community who is regarded by his or her peers and students as an outstanding mentor for graduate, professional or undergraduate students. Michael will be recognized at a ceremony at the International Law and Society Meeting in Mexico City in June. | Read More
Now Seeking Applications for Labor Studies Scholarships and Grants
Deadline to Apply: Monday, June 12
Are you an undergrad passionate about social justice? A graduate student writing a dissertation on a labor-related topic? A faculty member conducting research on a labor issue in Washington State?
You are in luck! Each year, the Harry Bridges Center for Labor Studies awards over $50,000 in scholarships and grants to students and faculty at the University of Washington. The Bridges Center is currently seeking applicants from all three UW campuses and from students at all stages of education and experience. | Read More
BRIDGES CENTER EVENTS
---
Thursday, May 11
Panel and Reception: Working for Social Justice: UW Alumni Discuss Their Careers in the Labor Movement
4:00pm-6:00pm. HUB, Room 145, UW Seattle. RSVP requested.
University of Washington students—undergraduate and graduate: Come hear from UW Labor Studies alumni about their experiences fighting for social justice in labor unions, law practice, and non-profits.
Meet staff from local labor organizations. Learn about on-going opportunities, including paid internships and scholarships, that can prepare you for working in the labor movement. Hear how graduate students can apply their skills and education in non-academic settings. Refreshments will be provided!
Our Panelists
DANIEL CAIRNS
J.D., LAW, '15
Attorney, Kittleson Cairns PLLC, Injury and Employment Law Firm
NICOLE GRANT
B.A., POLITICS ECONOMY & LAW, '06
Executive Secretary-Treasurer, M..L. King County Labor Council, AFL-CIO
EUNICE HOW
B.A., PUBLIC HEALTH, '12
Organizer, UNITE-HERE Local 8
DEVIN KELLY
M.A., SOCIOLOGY, '09
Strategic Researcher, SEIU Local 925
JESSICA RAMIREZ
B.A., AMERICAN ETHNIC STUDIES, '15
Program Coordinator, Front and Centered
RSVPs requested, but not required. Please e-mail hbcls@uw.edu or call (206) 543-7946.
Interested but unable to attend? Visit the Harry Bridges Center for Labor Studies in Smith Hall, room M266 (mezzanine level). Appointments encouraged.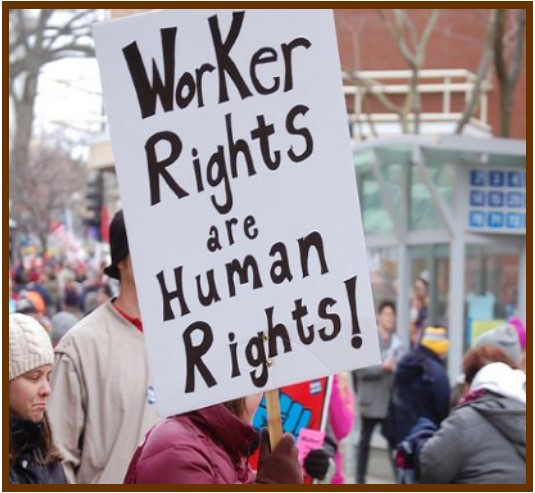 Friday, May 26
Labor Studies Workshare: Re-Stating Workers' Human Rights: Labor Cases Before the European Court of Human Rights
Filiz Kahraman, UW Political Science
12:00pm-1:30pm. Smith Hall, Room 306, UW Seattle. Cookies and coffee provided. RSVP required.
Abstract: Forthcoming.
Format: We will circulate the paper to the attendees a week in advance of the workshare. Participants will be expected to have read the paper before the meeting and be prepared for a discussion. Coffee and cookies will be served. Attendees encouraged to bring lunch.
RSVP: Please RSVP to kahraman@uw.edu.
Thursday, June 1
Panel and Workshop: Protecting Faculty Rights in the New Era
UW Faculty Forward
4:00pm-6:00pm. Smith Hall, Room 105, UW Seattle. Refreshments provided. RSVP requested.
The new political era in the United States is filled with uncertainty and anxiety for broad swaths of American society. For faculty, this ranges from concerns about our own and our students ability to travel freely, safety to speak our minds without harassment in the classroom and online, and guarantees of academic freedom, among many other things. Faculty of color, non-US citizens, and contingent faculty feel these things most acutely. There are some university resources available to address these issues, but they aren't applied consistently or equally between faculty.
Faculty Forward invites you to a panel discussion about these issues, followed by a clinic from the Electronic Frontier Foundation on digital privacy and rights. The panel will feature stories and Q&A from UW faculty members and other academics affected by and working on these issues, discussing strategies for addressing them. The clinic will offer an overview of the digital harassment landscape, then offer tools on how to best protect your online presence, security and anonymity.
Thursday, June 22 - Sunday, June 25
Conference: Scales of Struggle: Communities, Movements, and Global Connections
Labor and Working Class History Association
Times vary. Mary Gates Hall, UW Seattle. Registration required.
Registration is now open. It has been almost a decade since the Labor and Working Class History Association (LAWCHA) has met on the West Coast. The Scales of Struggle conference brings together more than 300 scholars, teachers, labor educators, and activists for three days of presentations, films, and discussion of class, labor, race, rights, and struggles of working people now and in the past, here and around the world. Never has it been more important that we address the challenges of activism and learn from the successes and failures of other times and places.
The program features five plenary panels and more than 90 concurrent sessions including five new documentary films.
Brief Schedule Overview
Thursday, June 22
5:30-6:30 Welcome reception
6:30-8:00 "Mass Incarceration and the Working Class" plenary with Heather Ann Thompson, Donna Murch, Kelly Lytle Hernandez, Julie Greene
Friday, June 23
8:30-11:45 Concurrent sessions (papers, roundtables, films)
12:00-1:45 Lunch and plenary: "The New Global Working Class and the Fight for Labor Rights" with Annelise Orleck and Marcel Van Der Linden 2:00-5:30 Concurrent sessions 7:30-9:00 Public session: Julia Reichert's forthcoming film about the 9 to 5 movement and the origins of SEIU 925
Saturday, June 24
8:30-10:00 "Thinking Globally, Resisting Locally: What Can Labor Learn from Seattle and Washington State?" plenary with Nicole Grant, Jeff Johnson, others
10:15-11:45 Concurrent sessions
12-1:45 Lunch and LAWCHA awards and members meeting
2:00-5:30 Concurrent Sessions
5:30-6:00 Reception and public session sponsored by Labor Archives of Washington
6:00-7:30 "Past Forward: The Legacy of Left Coast Militant Unionism and Lessons For Today's Struggles" plenary with Catherine Powell, Robin Walker, Conor Casey, Rich Austin Jr., Dean McGrath, Michael McCann
Sunday, June 25
8:30-11:45 Concurrent Sessions
LAWCHA is an international organization of scholars, teachers, students, labor educators and activists. Hosted by the Harry Bridges Center of Labor Studies, the Seattle meeting provides a chance to visit a city where labor has been winning important victories and pioneering new strategies. | View the Program and Register
EVENTS OF INTEREST
---
May 2017
MayWorks: Celebrating Labor Culture and History in Washington State
Dates, times, and locations to be announced.
MayWorks 2017, a series of events during the month of May celebrating the labor movement and the efforts of working people in the state of Washington, is right around the corner!
Stay in the know about MayWorks events on Facebook.
Have an event you'd like the MayWorks Planning Committee to publicize? Fill out the MayWorks Event Listing Form with all the details!
NEWS & ANNOUNCEMENTS
---
BRIDGES CENTER SCHOLARSHIPS & GRANTS
---
2017-2018 Silme Domingo & Gene Viernes Scholarship
$5,500 scholarship for graduate students or undergraduates entering or transferring into the University of Washington
Deadline to apply: Monday, May 29, 2017
The Domingo-Viernes Scholarship annually provides $5,500 in financial support to graduate students or undergraduate students entering or transferring into the University of Washington who are committed to the principles of justice and equality and have demonstrated financial need.
Founded through the efforts of the Inlandboatmen's Union, Region 37, this scholarship honors Silme Domingo and Gene Viernes, two inspiring leaders of the Seattle labor movement.
For more information, visit the Bridges Center website or contact Associate Director Andrew Hedden at hbcls@uw.edu.
2017-2018 Scholarships & Prizes
Over $35,000 to be awarded to graduate and undergraduate students in Labor Studies
Deadline to apply: Monday, June 12, 2017
Each year, the Bridges Center awards thousands of dollars to top students in Labor Studies.
This year's awards include:
For more information, visit the Bridges Center website or contact Associate Director Andrew Hedden at hbcls@uw.edu.
2017-2018 Washington State Labor Research Grant
Research grants available to UW graduate students and faculty
Deadline to apply: Monday, June 12, 2017
The Bridges Center supports ground-breaking labor studies research through our annual grant funding program. For a look at past sponsored projects, visit our Featured Research website.
The Washington State Labor Research Grant program makes funding up to $10,000 available to University of Washington faculty for policy-oriented research on aspects of labor directly relevant to policy makers in Washington State. UW graduate students may also apply if their project is sponsored by a faculty member. Funding includes a tuition waiver for graduate employees.
For more information, visit the Bridges Center website or contact Associate Director Andrew Hedden at hbcls@uw.edu.
---
Polly Meyers Interviewed on Aging Workforces and Labor Shortages (KUOW)
***Polly Myers, Full-Time Lecturer in UW Integrated Social Sciences and History, serves on the Harry Bridges Center for Labor Studies Standing Committee***
For years, manufacturers have been able to hire workers with skills and degrees — the kind of workers Boeing is laying off right now. Snapping up those workers might allow area manufacturers to hold off their own silver tsunamis a little longer. But it doesn't solve the problem long term.
"We really need to look at the larger, structural economic shifts," said Polly Myers, who teaches history and labor at the University of Washington. She said industry's talk about silver tsunamis, also called the "skills gap," distracts us from deeper issues that led to the crisis. | Listen
Devon Peņa on the March for Science: Why I will not be marching with the "liberal nerds" (Environmental and Food Justice Blog)
***UW Anthropology Professor Devon Peņa is a Faculty Associate of the Harry Bridges Center***
I consider myself an "ethno-scientist." The methods and practices I follow in the fields of agroecology, ethnoecology, and related areas reflect my grounding in millennia of indigenous knowledge and study of ecological processes in the human-nature interrelationship. The two cultures divide that C. P. Snow lamented because it separates the humanities from the natural sciences remains a central concern for me as a practitioner of community-based collaborative and interdisciplinary research.
Yet, I am not marching today. And it is not because I am anti-science. I am against continued widespread reductionism of and in science (e.g., the geneticization of all phenomena); I am against continued service of scientists in the capitalist control of knowledge production and the deployment of technologies that place our health, safety, and well-being at higher risk. I am certain many of the scientists marching today will feel the same way; but this is a minority worldview. | Read More
Aseem Prakash on the Lessons of the Rana Plaza Accident (The Monkey Cage)
***UW Political Science Professor Aseem Prakash is a Faculty Associate of the Harry Bridges Center***
On April 24, 2013, the Rana Plaza factory building collapsed in Bangladesh, killing more than 1,100 workers and injuring 2,500 others, most of them women. Structural problems caused the collapse of the building, which housed a number of factories in Savar, an industrial suburb of the capital, Dhaka.
The office building was not designed to hold heavy machinery for garment factories — but factory owners and the Bangladesh government had ignored the engineering limitations and ominous structural cracks. Four years later, what do we know about the economics and politics behind industrial accidents? | Read More
Former Bridges Chair Michael Honey keeps history alive with a digital library collection (UW Trends and Issues in Higher Ed)
***UW Tacoma Professor Michael Honey served as Harry Bridges Chair in Labor Studies from 2000-2004***
More than two decades of research by students in Professor Michael K. Honey's oral history courses was kept in a library storage room — a rich collection of untold stories of working-class Tacoma sadly out of sight and out of mind.
Honey knew the materials gathered by students supported first-person stories that deserved to be shared widely. So the humanities and history professor in the School of Interdisciplinary Arts and Sciences found a way. He collaborated with UW Tacoma Library and funding partners to digitize dozens of bulky 3-ring notebooks that make up the Tacoma Community History Project. | Read More
Former Bridges Chair James Gregory Interviewed on the History of May Day (KUOW)
***UW History Professor James Gregory served as Harry Bridges Chair in Labor Studies from 2008-2012***
University of Washington historian James Gregory explained that the movement to cut the length of the workday started in the 19th century, when 10- or 12-hour work days were the norm. Gregory said the labor movement tried to fix that:
"The celebration of May Day commemorates a general strike that started on May 1, 1886," he said. "Hundreds of thousands of workers across the United States walked out demanding shorter work days. This was the start of the eight-hour day movement, which years later resulted in legislation." | Listen
See also:
---
Guest Editorial: UW's United Students Against Sweatshops are back (UW Daily)
After a year and half of waiting for the UW administration to cut the university's licensing agreement with Nike, students in USAS act to educate students and garner support for their #JustCutIt anti-Nike campaign with a major action. Last Friday, USAS members crashed the Parent and Family Weekend Welcome Event with Sophorn Yang, the active President of the Cambodian Alliance of Trade Unions. Sophorn confronted President Cauce about the importance of USAS's demands to require full Workers Rights Consortium (WRC) access for UW licensees. This demand is essential to the safety of garment workers producing Husky apparel as the WRC is the only independent supplier factory monitor that the UW is affiliated with. | Read More
---
Intern for Social Change: Union Summer 2017
Six week paid internship with Seattle-area labor organizations
Are you or anyone you know interested in working for social change? Union Summer is a paid ($15/hour) summer internship program for people interested in getting involved in the labor movement.
Union Summer participants will spend six weeks, from June 20 to July 29, working full-time and hands-on with different campaigns - talking to the community, marching for justice, and gaining first-hand experience in the movement. The positions are based in and around Seattle, but campaigns may take place throughout the region.
Questions? Contact the Harry Bridges Center at hbcls@uw.edu or call (206) 543-7946. | Apply Now