April 2012
From the UWAA President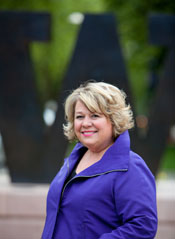 Sue Wilson Williams

In my travels across Husky Nation, it delights me to see that our alumni are leaders in their communities and at their workplaces. Huskies care about the future; they are eager to stay in touch with the UW and give support whenever needed. Loyal Huskies have started wonderful traditions that have endured for decades—and will continue for generations to come.

For instance, I recently attended the annual Dawg Days in the Desert. What started as an informal cookout 23 years ago has grown into... More
---
What's Happening—We're Celebrating You
Join the celebration at HuskyFest!
HuskyFest, a celebration of all things Husky, is taking over the UW campus April 19-21. There is going to be live music, giveaways, art exhibits, a scavenger hunt--the UW is going to be showing off the great work happening on campus in dozens of ways. At the heart of the festivities: an enormous, heated pavilion containing artworks by UW students, a top-of the line sound system, chandeliers, dining facilities--the works.
The UWAA has secured this party palace for our Member Celebration, Friday, April 20, starting at 5:30 p.m. The entire place will be turned over to celebrating you and your role in supporting the UW. President Young, Coach Sarkisian and esteemed UW Professor David Domke will be on hand to thank you for your support, and, of course there will be live music and great food, beer and wine for you to enjoy. UWAA staff members will also be circulating to hear from you. Have questions about what's going on at the UWAA? Just want to relax and enjoy a fun evening of great food, music, and camaraderie? Why not come and join us? Get all the details and register at UWalum.com/celebration.
---
Don't Miss This! UWAA Sports Travel Gets You to the Game
Join UWAA Sports Travel for three days of football fun down on the Bayou when the Huskies take on the LSU Tigers on Sep. 8! Enjoy three nights' stay in storied New Orleans, luxury motorcoach rides to and from the game in Baton Rouge, tickets to the Washington Warm Up, the official pre-game party of the Washington Huskies, and more! We've partnered with Premiere Global Sports, one of the largest, most experienced sports travel companies around, to make sure you don't have anything to worry about except packing. Group air and land only packages available. Get all the details and sign up here.
---
Member Benefits
New Dawg Deal: Jazz Alley
For 33 years, Dimitriou's Jazz Alley has brought the greatest names in jazz, blues, soul, funk, R&B, Latin and world music to the Northwest. Members can get in on the great music with 2-for-1 admission (half price on single tickets) for their Friday night sets at 9:30 p.m. Call the Jazz Alley ticket office at 206-441-9729 and mention UWAA promo code 4333 to get this great deal.
5th Avenue Theatre
UWAA Members save 20% on Tuesday-Friday performances and 10% on Saturday-Sunday performances at the 5th Avenue Theatre. Check out their current productions of First Date and Damn Yankees by visiting the 5th Avenue Theatre's website, or purchase tickets by phone at 206- 625-1900. Mention the member promo code "DAWGS" (by phone or when prompted online) to get the discount.
PNB's Backstage Bash
Join Pacific Northwest Ballet and Backstage Pass for Seattle's hottest afterparty— Backstage Bash.
PNB Company dancers will trade their tutus for their finest and meet you backstage for complimentary drinks, eats, and a Dilettante desert bar. Dance the night away on the McCaw Hall stage immediately following PNB's Apollo & Carmina! For more information and to purchase tickets by phone, call 206-441-2424 and mention the promo code uwalumni. To purchase tickets online at the member rate, visit www.pnb.org/promo/uwalumni
---
(Purple and) Golden Opportunity

Want to get in on some fantastic soccer action? Enter to win two club-level tickets to watch the Seattle Sounders take on the Columbus Crew on Wednesday, May 23, at CenturyLink Field. The Sounders are a preseason favorite to go to the MLS finals this year--come along for the ride!
Click here to enter to win Sounders tickets!
Even if you don't win the drawing, UWAA members still win! Members and their guests save on tickets to the Sounder's meeting against the Colorado Rapids on Saturday, April 14. Visit the special UWAA member order page and enter the offer code "Dawgs" to get your discount.
---
Alumni In the News
Congratulations to Pamela H. Mitchell, '62, '91, for being named interim dean of the UW School of Nursing. Before taking the helm of the nation's top-ranked nursing school, Professor Mitchell served as a professor in the Department of Biobehavioral Nursing and Health Systems. She joined the UW as an acting professor in 1969, and received her Ph.D. here in 1991. She is the recipient of many awards, and was selected by Sigma Theta Tau International as an inaugural member of the Nurse Research Hall of Fame. Best of luck in your new position!
Curious about what your fellow alumni and friends are up to? Check out the University of Washington Alumni Group on LinkedIn to connect with Huskies across the country!
---
Cruise the World with UW Alumni Tours
Explore the beauty and unique cultures of the Americas and the South Pacific on these two fantastic Oceania cruises with UW Alumni Tours. Book either of these itineraries by April 27 and enjoy special 2-for-1 cruise fares, free airfare and stateroom discounts.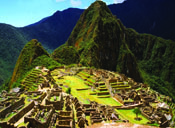 Machu Picchu
Marvel over ancient Maya ruins and artifacts while cruising in style on the Ancient Mysteries cruise. Embarking from Miami, this 18-night journey will bring you all the Caribbean and Northwest South America have to offer. On this extensive luxury cruise, you will visit a sea turtle sanctuary in the Cayman Islands, explore the ancient temple at Cozumel, transit the Panama Canal, and visit 11 distinctive and enchanting ports. Don't miss this incredible opportunity to witness the mysteries of the Americas! More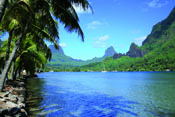 Polynesia
Tahiti! The name alone conjures images of swaying palms, pristine beaches, and crystal-clear turquoise waters. Our Tahitian Jewels cruise takes you among the spectacular islands of the South Pacific. From the striking beauty of Bora Bora to the windswept cliffs of Nuku Hiva to Paul Gaugin's beloved Hiva Oa, this cruise shows off the best of Polynesia's natural splendor. More
See these and many other exciting travel opportunities at UWalum.com/tours.