In memory of John Hammerback, 1939-2012
On May 9, the Bridges Center lost a dear friend in John Hammerback. A faculty member of the UW Department of Communication, John had served as a faculty associate to the Bridges Center since 2008. His scholarly work focused especially on the speeches of Cesar Chavez, Chicano rhetoric, and discourse that alters how audience members define themselves. His many publications included several books, including The Rhetorical Career of Cesar Chavez (1998) and The Words of Cesar Chavez (2002). As faculty associate, John collaborated frequently with the Center, sharing his own work on Cesar Chavez and helping to bring a special exhibit on Chavez to the UW in Spring 2011. He was also a generous early donor to the Labor Archives of Washington State. He is survived by his wife of 47 years, Jean, and two daughters. | Read more
BRIDGES CENTER EVENTS
---
Save the date!
Saturday, November 17
20th Anniversary of the Bridges Chair:
Conference & Banquet
Times and location TBA, UW Seattle.
2012 marks the 20th year since the establishment of the Harry Bridges Chair in Labor Studies. To honor the occasion, on Saturday, November 17 the Bridges Center will host a conference titled "Labor, Labor Studies and the Future." The conference will be followed by our annual awards banquet.
We're working hard to put together fun, dynamic events that give us a chance to look back on our achievements while looking forward to the challenges of the future. More information will be made available soon.
If you have any questions or suggestions, please contact the Bridges Center at hbcls@uw.edu or call 206-543-7946.
EVENTS OF INTEREST
---
Monday, June 18
Labor Book Group
MLKCLC Education Committee
5:30-7:00 pm. Seattle Labor Temple, 2800 1st Ave, Seattle, WA 98121. Room 208.
Join the MLK CLC Education Committee Book Group in reading chapters 3 -7 of the book The Rich and the Rest of Us: A Poverty Manifesto by Tavis Smiley and Dr. Cornel West. Come on down and bring a snack as well as book suggestions for the group's next reading!
For more information, contact Cheryl Coney at the Washington State Labor Education and Research Center at (206) 934-5350 or cheryl.coney@seattlecolleges.edu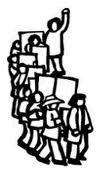 Saturday, June 23
LELO's Annual Domingo, Viernes and Jefferson Awards Luncheon
6:00pm. Jerry Brockey Center, South Seattle Community College, 6000 16th Ave SW, Seattle, WA 98106. Tickets: $60, available through Brown Paper Tickets.
This year's event honors hotel workers here in King County and hotel workers in the Philippines. The Domingo/Viernes/Jefferson Award will be presented to a group of workers at the Hyatt at Olive 8 hotel who are asking the Hyatt for neutrality while the workers deliberate forming a union. This is the first hotel to be organized from the bottom up in almost 30 years in Seattle.
In addition, two labor leaders from the Philippines will be LELO's special guests to continue the solidarity work began by Silme Domingo and Gene Viernes.
For further information, call LELO's office at 206-860-4091.
Tuesday, June 26 - Friday, July 20
Exhibition: Art and Migration: Takeda and His Disciples /Arte y Migración: Takeda y sus Discípulos
Jacob Lawrence Gallery, Art 132, UW Seattle Campus.
Opening Reception with Takeda, Lazo, Mena, and Montes at the Jacob Lawrence Gallery: Friday, June 29, 6:30 - 8:00 pm
This exhibition recognizes the contributions of Shinzaburo Takeda, a Japanese master painter and printmaker who has lived in Mexico for nearly fifty years and trained several generations of Mexican artists, many of them indigenous Zapotecs and Mixtecs, at University of Oaxaca.
This exhibition gathers 24 pieces by Shinzaburo Takeda and twelve of his most accomplished disciples, current and former students: Iván Bautista, Edith Chávez, Irving Herrera, Fulgencio Lazo, Francisco López Monterrosa, Jesús Mena Amaya, Ixrrael Montes, Israel Nazario, Fernando Olivera, Alberto Ramírez, Rolando Rojas, and Alejandro Santiago.
More information can be found on-line here.
Wednesday, June 27
Panel Discussion: Art, Indigenous Communities, and Migration in the Age of Globalization
7:00pm. UW Ethnic Cultural Theatre, 3940 Brooklyn Ave. NE, Seattle, WA 98105.
Featuring artist Shinzaburo Takeda (University of Oaxaca), filmmaker Yolanda Cruz, and scholars Erasmo Gamboa (American Ethnic Studies), and Agustín Jacinto Zavala (Colegio de Michoacán, México). Moderated by Lauro Flores (American Ethnic Studies).
More information can be found on-line here.
Thursday, June 28
Film: 2501 Migrants: The Journey
7:00pm. Henry Art Gallery Auditorium, UW Seattle Campus
2501 Migrants: A Journey is a full-length documentary that explores the impact of global migration on Indigenous communities. Daily, thousands of poor young Mexicans, many of them from Indigenous groups, journey north in search of job prospects, abandoning their native homes and cultures.
This film documents this phenomenon through the story of Alejandro Santiago, a renowned artist who returns from a sojourn in France to find his native Teococuilco emptied, a virtual "ghost town." In response, he undertakes a monumental project: the creation of 2,501 life-size sculptures—his homage to each individual migrant who has left his village to sell his or her labor in the United States. Filmmaker Yolanda Cruz will be present for a Q & A session after the screening.
More information can be found on-line here.
NEWS & ANNOUNCEMENTS
---
---
Announcing "Strikes! Labor History Encyclopedia for the Pacific Northwest"
The project assembles the most extensive online collection of materials about labor history for this, or any other, region. Here you will find detailed information and primary sources about key historical events, including the Seattle General Strike of 1919, the unemployed movements and labor crusades of the 1930s, farmworker campaigns from the 1930s to 1980s, timber worker unions, waterfront strikes, Filipino cannery worker unions, the Industrial Workers of the World, and the history-making WTO confrontation of 1999.
We have also compiled year-by-year chronicles of labor activism for certain decades. These Labor Yearbooks are a unique resource. In detail never before attempted we have sifted the key labor newspapers of Washington State creating a database of hundreds of strikes, boycotts, organizing campaigns, and other labor initiatives for each year. Digital copies of original news items are part of the Yearbook.
Another section surveys the labor press of the region. Here you will find digital newspaper pages from and detailed historical reports about more than 30 labor and radical newspapers including the Seattle Union Record, The Industrial Worker, The Socialist, The Agitator, Voice of Action, Portland Labor Press, Philippine-American Chronicle, Washington Teamster, and The Timber Worker.
One of the unique features of the site is the fact that much of the research has been done by undergraduates in History and Labor Studies courses taught by faculty and graduate students at the University of Washington. Students collected materials and produced historical essays, the best of which are included on the website. The project also benefits from the resources of the recently opened Labor Archives of Washington State.
"Strikes! Labor History Encyclopedia for the Pacific Northwest" joins the other Pacific Northwest Labor and Civil Rights Projects sponsored by the Harry Bridges Center for Labor Studies and directed by Professor James N. Gregory. | Read more
University of Washington, United Auto Workers reach new three-year agreement (UW Today)
The University of Washington Board of Regents on June 7 approved a new three-year contract between the university and the United Auto Workers Local 4121, which covers teaching assistants, research assistants, readers, graders, and tutors known collectively as academic student employees.
"The university's Key Leadership Initiative regarding wages demonstrates our commitment to recruiting and retaining the best academic student employees, and we are tremendously pleased to have reached this agreement with the United Auto Workers," said Mindy Kornberg, vice president for human resources. "Academic student employees are an integral part of the undergraduate experience, and we are glad we can provide stability for them during these challenging economic times." | Read more