Congrats to Best Labor Studies Paper Prize Winners for 2012-2013
Each year, hundreds of students enroll in Labor Studies courses at the University of Washington. To award students for high quality work, the Harry Bridges for Labor Studies holds an annual competition to determine the best Labor Studies paper written during the previous academic year.
We are proud to announce this year's winners:
Winners each receive a cash prize of $250, and their work is made available on the Bridges Center's Featured Research Website.
Bridges Center seeks student work study assistant
Are you a University of Washington student who received a work study award for 2012-2013? Are you interested in the labor movement or other social justice movements? Come work with the Harry Bridges Center for Labor Studies!
Working for the Bridges Center is a great way to gain first-hand experience with the labor movement. It is a unique opportunity to network with students, faculty and the labor community while acquiring office experience useful for future employment opportunities.
For more information, contact the Bridges Center at 206-543-7946, or by e-mail at hbcls@uw.edu. | Read more
Deadline extended for WA State Labor Research Grants
Deadline: September 28, 2012
Due to a lack of applications, the deadline to apply for the Washington State Labor Research Grant has been extended to September 28, 2012.
The grant provides $7,500 in funding to UW faculty members for projects related to labor and policy in our state. | Read more
BRIDGES CENTER EVENTS
---
Saturday, September 29
Workshop: National History Day Teacher Workshop
Labor Archives of Washington State
9:00am-12:45pm. Allen Library, UW Seattle.
National History Day and its state affiliate, Washington History Day, provides leading-edge training and curriculum materials to help educators meet and exceed education standards. Annual workshops help educators learn how to adopt National History Day in their classrooms, while also offering strategies that make history education interesting, exciting and fun for students.
This workshop is free of charge to participating teachers, librarians and administrators. It includes 3 clock hours free of charge and teaching materials. Learn how to use the History Day program to develop students' ability to find, process and present information and to improve their reading comprehension, writing skill and critical thinking. This workshop is for teachers that are already active in NHD and looking to enhance their program.
Participants may register with University of Washington History Librarian, Theresa Mudrock, at https://catalyst.uw.edu/webq/survey/mudrock/175577. Get further information by e-mail at mvessey@wshs.wa.gov.
Save the dates!
Friday, November 16 - Saturday, November 17
20th Anniversary of the Bridges Chair:
Conference & Banquet
On November 16 and 17, 2012, we celebrate 20 years of the Harry Bridges Center for Labor Studies!
On Friday evening, we kick everything off with a keynote lecture by labor lawyer Tom Geoghegan, author of several notable books on labor law and the labor movement and a regular contributor to national publications like The New York Times and The Nation.
On Saturday, a special conference will discuss the accomplishments of the Bridges Chair, the state of the labor movement, and the hard work that lies ahead. Click here to download a full schedule.
Following the conference, our anniversary festivities continue into the evening with a special anniversary banquet, with food, drinks, and fundraising for the Labor Archives!
All events are free. A box lunch is available during the Saturday conference open plenary for $13, with option of chicken or vegetarian sandwich. Must be ordered in advance by Monday, November 12.
Reserve your banquet ticket today! Space is limited, so please RSVP in advance. To order lunch at the conference, or RSVP for the banquet, please call the Bridges Center at 206-543-7946 or e-mail hbcls@uw.edu.
EVENTS OF INTEREST
---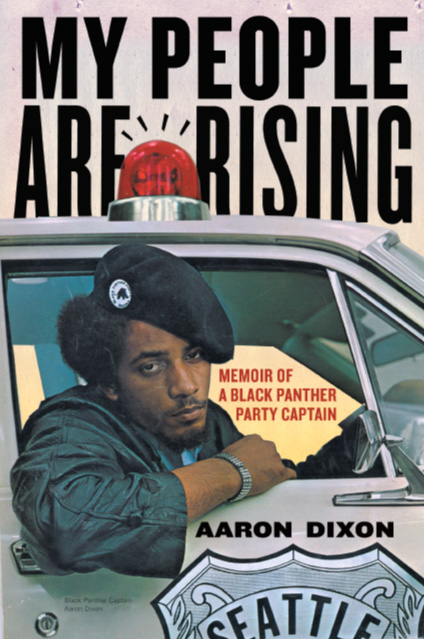 Tuesday, September 18
Book Talk: My People Are Rising: Memoir of a Black Panther Party Captain
7:00pm. Northwest African American Museum, 2300 Massachusetts Street, Seattle, WA 98144.
In an era of stark racial injustice, Aaron Dixon dedicated his life to the struggle for change, founding the Seattle chapter of the Black Panther Party in 1968 at age nineteen. Through his eyes - in a memoir that begins with the story of his enslaved ancestors and takes us on a journey throughout America - we see the courage of a generation, and the unforgettable legacy of Black Power.
Aaron Dixon is one of the co-founders of the Seattle chapter of the Black Panther Party. He has since founded Central House, a nonprofit that provides transitional housing for youth, and was one of the cofounders of the Cannon House, a senior assisted-living facility. Aaron ran for US Senate on the Green Party ticket in 2006. | Read more
Friday, September 21
to Saturday, September 22
Class: Labor History with a Global Focus
Washington State Labor Education and Research Center
6737 Corson Avenue South, Seattle, WA 98108. Cost: $125 per person.
Registration Deadline: Friday, September 14, 2012
The class will focus on the following questions:
How did the U.S. become the richest nation in the world and, at the same time, how did some of the Latin American nations become the poorest?
When and how did the U.S. get involved in the global economy and how did that shape (or was shaped by) labor policy?
How and why has worker control and participation in the workplace in the U.S. been limited by the evolution of U.S. globalism?
What are some of the recent efforts within the global labor movement to address problems resulting from colonial legacies and imperialism?
The instructors for this class will be Charles Bergquist, Professor Emeritus in Modern Latin America from the Dept. of History at the UW and Will Brucher, the Labor Center's new labor educator. The class will benefit from Professor Bergquist's expertise on the evolution of labor policy throughout the Americas, about which he has written, published and taught for many years.
Will Brucher has just finished his PhD in U.S. History at Brown University; his dissertation is titled "On the Edge of the Pacific Rim: Capitalism, Work, and Community on the Los Angeles Waterfront." Will will contribute his own expertise on the nature of global labor from his research. They will use one or two films in the class to help explore globalism and the development of labor politics.
For more information, contact the Washington State Labor Education and Research Center at (206) 934-5382 or sarah.laslett@seattlecolleges.edu
Thursday, September 27
Forum: Would the Proposal for a State Investment Trust (state bank) Be Beneficial to the People of Washington?
1:30-3:00 pm. Filipino Community Center, 5740 M.L. King Jr. Way S, Seattle, WA 98118. Free.
This forum will feature State Treasurer Jim McIntire, Rep. Bob Hasegawa, and community banker, Darel Grothaus discussing the potential benefits and risks of creating a state investment trust.
Sponsored by the Puget Sound Advocates for Retirement Action, Washington State Labor Council AFL-CIO, and IAM District 751. For more information, visit www.psara.org, or call 206-448-9646.
Thursday, September 27
Labor Book Group
MLK CLC Education Committee
5:30-7:00 pm. Seattle Labor Temple, 2800 1st Ave, Seattle, WA 98121. Room 208.
Join the MLK CLC Education Committee Book Group in reading and discussing the Introduction and chapter 1 of The New Jim Crow: Mass Incarceration in the Age of Colorblindness by Michelle Alexander. Come on down and bring a snack!
For more information, contact Cheryl Coney at the Washington State Labor Education and Research Center at (206) 934-5350 or cheryl.coney@seattlecolleges.edu
Friday, October 19 - Saturday, October 20
Conference: From Civil War to Civil Rights
2012 Pacific Northwest History Conference
Washington State History Museum, 1911 Pacific Avenue, Tacoma, WA.
Registration deadline: October 15, 2012
The Conference begins at 2:00 p.m. on October 19 and continues on Saturday October 20, 2012 until 2:30 p.m. with all sessions at the Washington State History Museum in Tacoma. Friday evening reception and Saturday morning light breakfast included in registration. Saturday lunch on your own.
Highlights include Friday evening reception and book signing event at the Washington State History Museum with Dr. David W. Blight noted author on Civil War legacy who will also give the keynote plenary address for the conference on Saturday, October 20, 2012.
Scheduled presentations include panels on Civil War connections in Washington Territory, Civil War Biography, Seattle Civil Rights, Oregon Slavery and Exclusion, Native American Civil Rights and the Labor and Civil Rights Struggle Project in Tacoma. | Read more
NEWS & ANNOUNCEMENTS
---
---
Labor Studies faculty quoted in article about Chehalis foundary workers (The Olympian)
James Gregory, UW History, quoted in this article, served as the Harry Bridges in Labor Studies from 2008-1012. Jake Rosenfeld, UW Sociology also quoted, is a Faculty Associate of the Bridges Center.
August 28, 2012 - James Gregory, a professor of labor history at the University of Washington, said he thought the news of Bradken's employees unionizing was noteworthy because it has been hard for unions to organize lately.
Gregory said strong unions result in better wages and a higher standard of living for both union and nonunion workers in the region. "The shrinking of unions has translated pretty quickly to the shrinking of the middle class," Gregory said. "Since the '70s the median family income has been flat and fell in the recession, while the wealthy incomes grew." | Read more