ROB CORSER NAMED AMONG 30 'MOST ADMIRED EDUCATORS' IN DESIGN
CARRIE DOSSICK NAMED TO ENR'S TOP 20 UNDER 40 IN THE NW LIST
FACULTY BOOKSHELF: JEFF HOU, CHRISTOPHER MEEK NEW RELEASES
EDGAR LEBERT RETIRES AFTER 47 YEARS OF SERVICE
NOTES FROM SABBATICAL: IAIN ROBERTSON INSPIRES CREATIVITY IN WUHAN
LYNNE MANZO NAMED ADJUNCT ASSOCIATE PROFESSOR IN THE UW SCHOOL OF SOCIAL WORK
THAISA WAY RECEIVES ARTIST FELLOWSHIP AT THE MACDOWELL COLONY


Faculty News
ROB CORSER NAMED AMONG 30 'MOST ADMIRED EDUCATORS' IN DESIGN
Rob Corser, UW assistant professor of architecture, has been named one of the 30 most admired educators in design for 2013 by the editors of DesignIntelligencemagazine. Each year DesignIntelligence, which is published by the Design Futures Council, names 30 educators in the field that the magazine considers exemplary.
DesignIntelligence wrote that Corser "has become one of the leaders in design and digital fabrication. He has established an energetic presence on campus that brings in­fectious enthusiasm and breadth of knowledge to students and his colleagues." Read more...
CARRIE DOSSICK NAMED TO ENR'S TOP 20 UNDER 40 IN THE NW LIST
CBE is pleased to share that CM's Carrie Sturts Dossick, associate professor and director of the UW Pacific Northwest Center for Construction Research and Education (PNCCRE), was named as one of the Engineering News-Record (ENR) "20 under 40 in the NW" list. Each year, the ENR regional editions celebrate the excellence of young construction professionals. In early 2013, each region highlights 20 individuals under the age of 40 who represent the "Best-of-the-Best" in their construction and design careers by giving back to their industry and communities. Another notable recipient included CBE alumnus Ian Kell (MS in Construction Management '06), Senior Project Manager at Heery International, Inc.
FACULTY BOOKSHELF: JEFF HOU, CHRISTOPHER MEEK NEW RELEASES
Transcultural Cities: Border Crossing and Placemaking
Edited by Jeff Hou, CBE Associate Professor and Chair of the Department of Landscape Architecture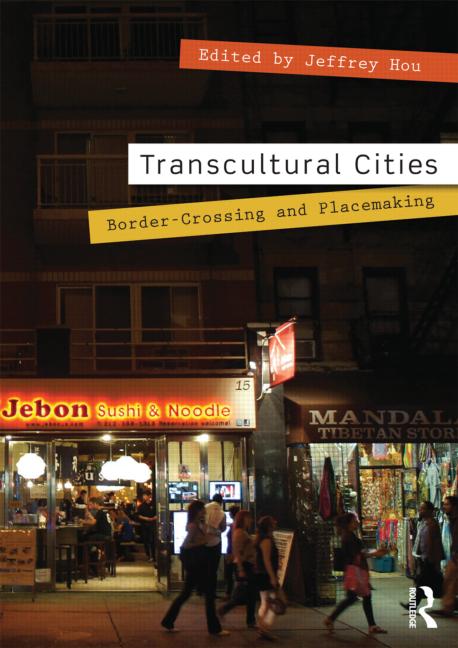 Daylighting Design in the Pacific Northwest
By CBE Research Assistant Professor Christopher Meek, Kevin Van Den Wymelenberg, and foreword by CBE Professor Joel Loveland
EDGAR LEBERT RETIRES AFTER 47 YEARS OF SERVICE
Professor Edgar Lebert retired with the title of associate professor emeritus last autumn after 47 years of service to the Department of Architecture. Professor Lebert taught Structures classes for both the Department of Architecture and the Department of Construction Management and will continue to teach at .40 FTE this year. CBE is grateful for all the wisdom and experience Professor Lebert has bestowed on students during his esteemed career.
NOTES FROM SABBATICAL: IAIN ROBERTSON INSPIRES CREATIVITY IN WUHAN
Associate Professor of Landscape Architecture Iain M Robertson co-taught an introductory landscape architecture studio and a "creativity" class at Huazhong University of Science and Technology in Wuhan, China during Autumn Quarter while on sabbatical. HUST students from Landscape Architecture, Urban Planning, and Architecture responded positively to the creativity class' different pedagogical approaches and produced fascinating work.
Robertson described his class: "One exercise asked students to "interpret" a culture using materials produced by it--specifically, the USA using advertising from a Sunday edition of The Seattle Times. After studying the materials closely, they created a human-scale Statue of Liberty collage on the studio wall.
A follow up exercise asked them to "reinterpret" their earlier work in the form of painting--using red wine as paint--with fascinating results.
The above painting, with the Statue of Liberty in one corner and a ship heading to "America!" in the other corner, has overtones of Chinese landscape painting while calling to mind Homer's "wine dark seas."
The faculty and students share great interest in learning about his creativity classes with UW Honors students and HUST students at HUST, Chongqing University, Sichuan Fine Arts Institute, Chengdu Fine Arts Institute, and Hubei Institute of Fine Arts."
JEFF HOU APPOINTED CITY OF VIENNA VISITING PROFESSOR AT SKUOR
In January, Hou delivered a talk titled "Making a City of Publics" in Vienna. Starting in March, he will begin his one-year appointment as the City of Vienna Visiting Professor at SKuOR—the Interdisciplinary Center for Urban Culture and Public Space at the Vienna University of Technology (TU Wien) where he will work with local faculty to develop and conduct a year-long program based on the theme of "Urban culture, public space, and knowledge – Education and difference." In December 2012, he presented a paper titled "Power (and Limits) of Everyday Insurgencies" at the "Global Insurgencies—Remaking the Public City in Asia" symposium at the National University of Singapore. This coming spring, he will also participate in the "Putting Public Space in Its Place" conference at Harvard GSD and the "Emerging Asian Cities" symposium at Parsons the New School for Design.
LYNNE MANZO NAMED ADJUNCT ASSOCIATE PROFESSOR IN THE UW SCHOOL OF SOCIAL WORK
Landscape Architecture associate professor Lynne Manzo has been named adjunct associate professor in the UW School of Social Work for her work as an environmental psychologist. She is currently mentoring social work doctoral students who are incorporating theories about place into social work research and practice. Manzo was also named a fellow of the West Coast Poverty Center at the UW. Learn more about Dr. Manzo here.
FRITZ WAGNER INDUCTED INTO THE UAA SERVICE HONOR ROLL
The Governing Board of the Urban Affairs Association (UAA) has unanimously elected to induct UDP professor Fritz Wagner to the UAA Service Honor Roll for his "outstanding service over the years to the association."
The UAA states on its website that it "is the international professional organization for urban scholars, researchers, and public service professionals," and is "dedicated to creating interdisciplinary spaces for engaging in intellectual and practical discussions about urban life."
Professor Wagner and other Honor Roll inductees will be recognized at the Awards and Recognition Luncheon during the 43rd Annual UAA conference, "Building the 21st Century City: Inclusion, Innovation, and Globalization," to be held in San Francisco this April. Read more…
THAISA WAY RECEIVES ARTIST FELLOWSHIP AT THE MACDOWELL COLONY
This spring, Associate Professor Thaisa Way will have the honor of serving as a Fellow at the MacDowell Colony in Peterborough, New Hampshire. There she will be completing her book manuscript on Richard Haag and Urban Ecological Design. The mission of the MacDowell Colony is to nurture the arts by offering creative individuals of the highest talent an inspiring environment in which they can produce enduring works of the imagination. The sole criterion for acceptance to the MacDowell Colony is artistic excellence. MacDowell defines excellence in a pluralistic and inclusive way, encouraging applications from artists representing the widest possible range of perspectives and demographics. Way also gave the 2013 Timothy Egan Lenahan Lecture at Yale University this winter. Her talk titled Thick Sections, Gas Works Park, and Richard Haag considered the important role of the project in shaping the practice of landscape architecture in the 21st century. This park, now listed on the National Register of Historic Landmarks, opened doors to new areas of investigation and practice around the globe including projects such as Duisberg Nord in Germany by Latz & Partners and the recent work of Kongjian Yu and Turenscape at Houtan Park in Shanghai, China.