Dec. 17 issue of UW Medicine Insight
IN THIS ISSUE:
and much more...
A biweekly newsletter focused on issues related to
the UW Medicine system.
Thank you for making 2015 a wonderful and productive year
Dear Colleagues:
2015 has been an exceptionally busy and productive year at UW Medicine. During the past year, UW Medicine faculty, staff, students and trainees have led many substantial changes that help advance our mission of improving the health of the public.
UW Medicine's clinical programs have demonstrated an enduring commitment to patients in many different ways. We are dedicated to improving healthcare for individual patients, improving the health of the population and making healthcare more affordable. In June, the UW Medicine Accountable Care Network was chosen by the Washington Health Care Authority as a new healthcare option for those enrolled in the Public Employees Benefit Board (PEBB). Since we are also serving Boeing employees under a similar program, the UW Medicine Accountable Care Network is the only organization in our region engaged in both the Boeing and PEBB landmark new approaches to improving health.
In education, our new medical school curriculum was successfully launched in August at all WWAMI campuses with an intensive multi-week clinical immersion for entering students. This was followed in September with the start of a more integrated, active-learning classroom curriculum as well as increased clinical training and experiences. Hundreds of faculty, students and staff participated in the development and launching of the new curriculum that represents the most substantial curriculum change in the history of the UW School of Medicine.
In research, our faculty received major, multi-million dollar grants that will change the face of medicine — including $55 million for three awards to improve quality of care, increase patients' access to information, and spend healthcare dollars more wisely; $12 million to study the three- and four-dimensional architecture of the nucleome; and others. Throughout the year, significant scientific advances came to fruition thanks to hundreds of talented UW Medicine research teams.
All of these advances and much more were made possible by the people of UW Medicine — our greatest asset. I would like to express my personal thanks to each of you for your vital role in enriching our community and fulfilling our goals. Your work is advancing our mission of improving the health of the population, regionally and globally.
My best wishes for a happy and healthy holiday season and 2016!
Sincerely,
Paul G. Ramsey, M.D.
CEO, UW Medicine
Executive Vice President for Medical Affairs and
Dean of the School of Medicine,
University of Washington
Depression contributes to preventable hospital admissions
Hospitalizations, and hospital re-admissions, can add to the health problems of older adults, especially those who are depressed. (ThinkStock)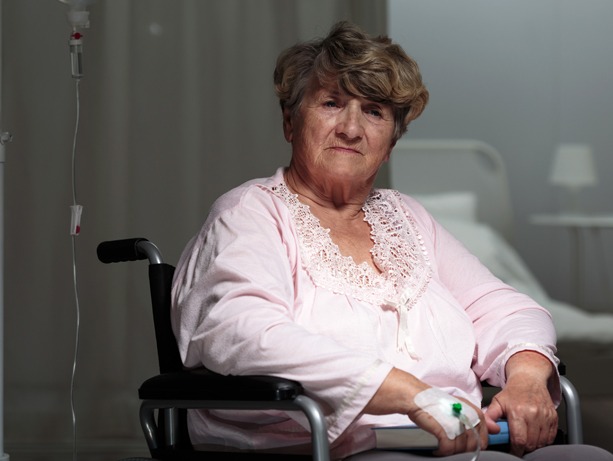 Individuals with depression are more than twice as likely to have hospitalizations that might be preventable with timely outpatient medical care in the community, a new study finds. In addition, after being discharged from the hospital, individuals with depression are also more likely to return to the hospital within 30 days for the same conditions (e.g., diabetes, congestive heart failure, chronic obstructive pulmonary disease, bacterial pneumonia and urinary tract infections).
The report is the result of an ongoing collaboration between researchers at UW Medicine and Aarhus University in Denmark, and results were published in BMJ Open. The lead author was Dimitry S. Davydow, UW associate professor of psychiatry and behavioral sciences. For more on the study, see article on HSNewsBeat.
Can machines evaluate psychotherapists?
David Atkins, UW research professor of psychiatry and behavioral science, and a small team of scientists in California and Utah, have developed software that recognizes words and vocal qualities. The vocal data is run through algorithms to infer, for instance, whether a counseling session was empathic. The first findings of automated evaluation of psychotherapy were published in PLOS ONE. For more on the story, see article on HSNewsBeat and coverage in The Los Angeles Times.
Big strides in protein design and structure prediction
Proteins are the nanoscale machines that carry out the critical functions in living things. (Image courtesy of Baker Lab.)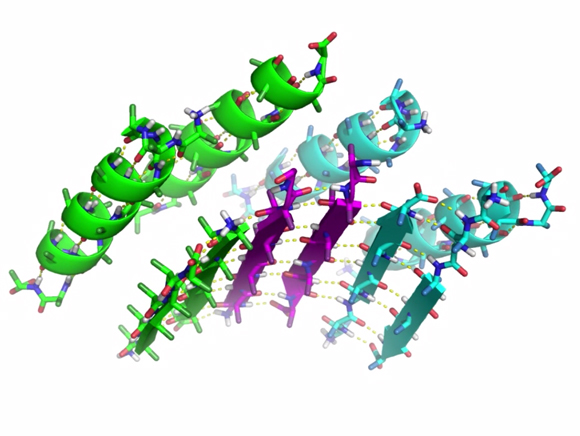 Naturally occurring proteins are the nanoscale machines that carry out essentially all of the critical functions in living things. Over the past few months, scientists at the UW Institute for Protein Design and the Fred Hutchinson Cancer Research Center in Seattle, along with colleagues at other institutions, have reported advances in two long-standing problems in constructing new proteins from scratch. Proteins can be created to aid a number of diseases, including Alzheimer's.
The first advance is figuring out how a protein's chemical makeup predetermines its molecular structure, and in turn, its biological role. The second, and equally as difficult is designing amino acid sequences that will fold into brand new protein structures. "It has been a watershed year for protein structure prediction and molecular design, which are two sides of the same coin," said UW Medicine researcher David A. Baker, UW professor of biochemistry, Howard Hughes Medical Institute investigator and head of the UW Institute for Protein Design. The findings have been reported recently in Science and Nature. Read more at HSNewsbeat.
More research stories involving UW Medicine:
The extra mile: Clinicians, volunteers aid marathoners
UW Medicine was the medical sponsor for the Seattle Marathon held Nov. 29. (Photo by Stephen Brashear.)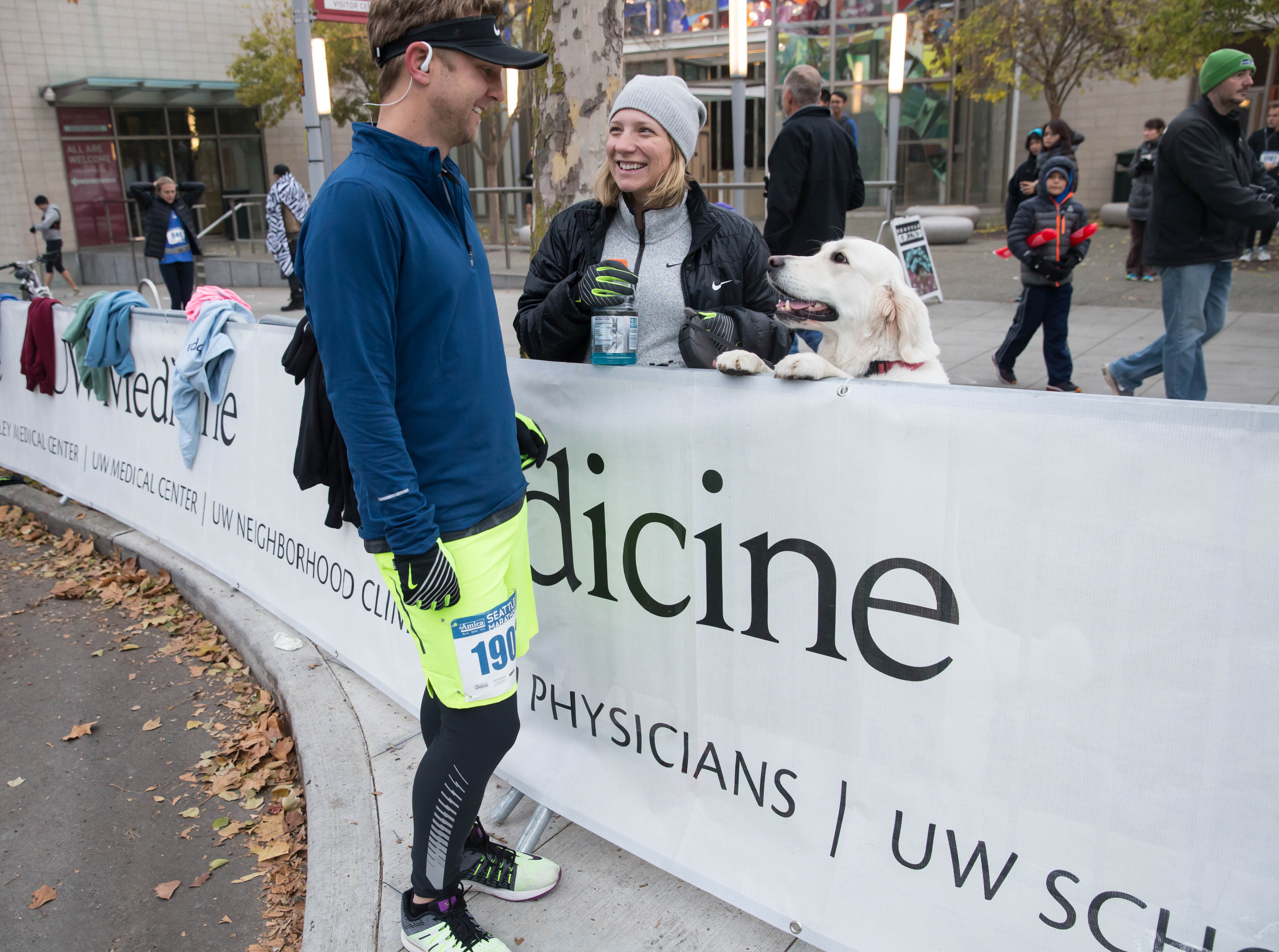 UW Medicine has been the Seattle Marathon's medical sponsor since 2009. This year, about 140 volunteers, primarily clinicians, staffed aid stations along the route and at the finish line of the Seattle Marathon. More than 350 competitors received aid, most commonly for muscle cramps and knee and foot pain, said Mark Harrast, an orthopedic- and sports-medicine specialist who oversaw UW Medicine's role providing care.
Congratulations to the winners of the full marathon: Steve Slaby of Seabeck won for men's with a time of 2:38:15. And Sophia Liu, a UW post-doc fellow in radiology research, won the woman's marathon for the second straight year, with a time of 2:58:42. Liu studies genetics and aging, and currently is helping to conduct a clinical trial and exercise program related to aging and muscle dysfunction. For more on the marathon, see story in The Seattle Times and for more on UW Medicine's role, see story on HSNewsBeat.
Frederick Rivara on gun violence
Frederick Rivara, UW professor of pediatrics, weighed in on the continued mass shootings in the U.S. "Having more guns does not decrease the risk of violent death. It increases the risk of violent death," he told KOMO-TV 4 ABC.
Rivara treats children recovering from gunshot wounds at Harborview Medical Center, and he has researched the relationship between gun availability and the corresponding risk of violent death in the home. His suggested fixes include starting a national gun registry and better regulating who should and shouldn't be allowed to own firearms. For more on the story, see his interview on KOMO-TV 4 ABC.
More clinical stories involving UW Medicine:
Pediatrics Professor Eileen Klein receives 'Courage to Teach' Award
Dr. Eileen Klein awarded the prestigious Parker J. Palmer Courage to Teach Award. (Photo by Emily Rasinski).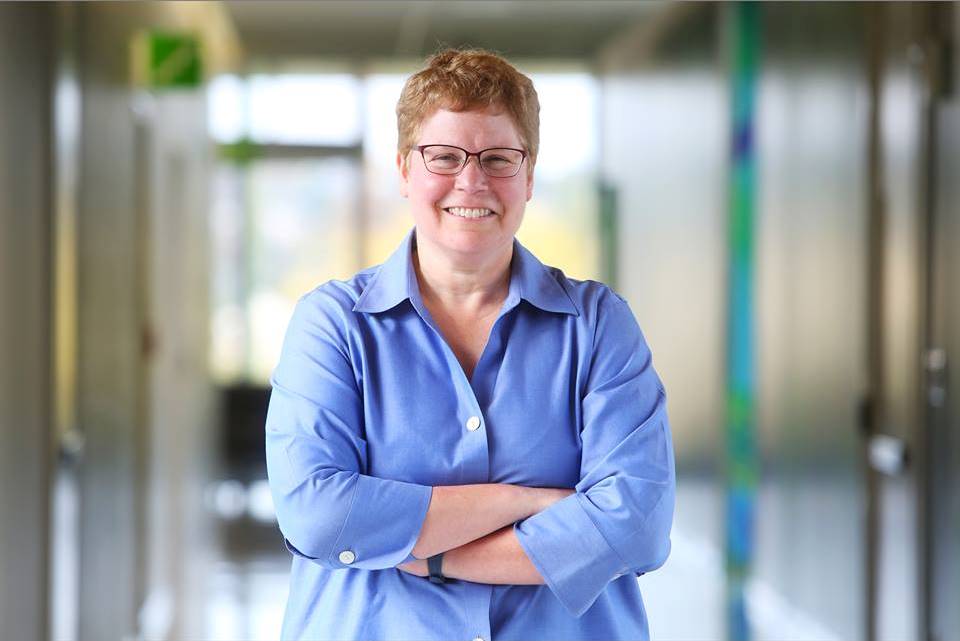 By Emily Rasinski
Eileen Klein, UW professor of pediatrics and program director for the UW Pediatric Emergency Medicine Fellowship, was awarded the prestigious Parker J. Palmer Courage to Teach Award in 2016 from the Accreditation Council for Graduate Medical Education. This award honors graduate medical education program directors in the U.S. who find innovative ways to teach residents and to provide quality healthcare and is given each year to about 10 individuals nationally. (Past winners from UW include Teresa L. Massagli (2005), Byron Joyner, Deborah Cowley (2006), Richard Shugerman, Karen Horvath (2008), Ronald Maier (2010), Karen J. Souter (2011), Sidney Gospe, Angelisa Paladin (2014), Christopher Varley (2015).
In a recent interview, Klein answered a few questions about her career choice:
Why did you decide to go into pediatric emergency medicine?
I was going to go into oncology. I was one of those people who wanted to help cure cancer. Then during my pediatrics rotation in medical school, my preceptor came up to me and said 'You know you are going into pediatrics.' This was the 80s, and I was trying to buck the trend that all women go into pediatrics. But there was no question. I really love kids. So I thought I'll go into pediatric oncology but it didn't fit my personality. I would get too connected to the kids and couldn't build some of the separation you need to be successful and effective in the field.
Why does emergency medicine fit your personality?
I am a very high-energy person with a lot of enthusiasm, sometimes a little excessive enthusiasm. I like to do things with my hands and I don't have a problem with the uncertainty of the emergency department. I can make quick intense connections with people, which can be hard to do, but you have to be able to do that in the emergency department if you want to be successful. I think that's why my personality fits. You do have to be a little ADHD in the ED, and that works well for me. The ED is also a great place to be if you love to teach. In the ED you are always teaching, whether it's your colleagues, trainees, families or nurses.
Can you talk about a resident that has made an impression on you?
The other day I was walking past a room and I saw a resident give discharge instructions to a family and I noticed his body language. He was sitting in a chair next to the father and holding the instructions in his hand and making sure that what he was saying was understood. I think sometimes we are so incredibly rushed that we don't really make sure that our families understand what we are asking them to do. It struck me as a model of how we should be caring for our patients from start to finish.
Medical student in Spokane creates concussion protocol for small town
Kenley Unruh's protocol is a step-by-step guide for parents, coaches and local hospitals to keep young athletes safe.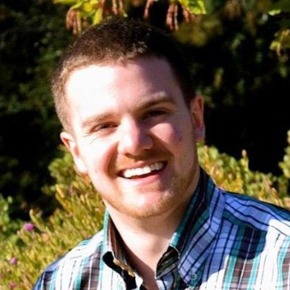 When he was playing one of the last high school football games of his career, Kenley Unruh took a hard hit, leaving him dizzy. Given his own experience, Unruh, now 26 and a second-year medical student in Spokane, wanted to give back to a community and a game he still loves.
This year, Unruh created a concussion protocol to prevent injured players in small school districts from returning to the game before they are ready. Unruh's project is part of his Targeted Rural Underserved Track (TRUST) program in which WWAMI students create a program that will impact and assist the rural communities where they receive their training. Unruh worked with his preceptor, Dr. Andrew Castrodale, who lives and practices in Grand Coulee. Castrodale helped Unruh launch his project at Lake Roosevelt High School.
Unruh's protocol was adopted by the small central Washington town this year and will likely be expanded throughout the Grand Coulee Dam School District with a $10,000 grant the district received this fall. The protocol starts with training parents, teachers and coaches alike about what to look for if they suspect a concussion has occurred. For more on the story, see the article in HSNewsBeat.
The role of relationships in the WWAMI Targeted Rural Underserved Track
Jon Patberg, who will graduate from the UW School of Medicine in June 2016, said when he joined the WWAMI Targeted Rural Underserved Track (TRUST), he was plugged into a group of medical students and physicians passionate about using their education to serve the most underserved. He writes about his experience in AM Rounds for AM Express, an online publication of the Association of American Medical Colleges.
"For me, the centerpiece of the TRUST curriculum is the longitudinal relationship we develop at our continuity sites with physician role models in rural communities. … Luckily, as a TRUST student, I was afforded the luxury of over six months of living and working alongside Dr. Castrodale in Grand Coulee, Washington, witnessing him enjoy the breadth of family medicine while leading his hospital as chief of staff. While there, he not only taught me clinically but invited me over to dinner several times to get to know him and his family on a personal level. As a result, not only did I get privileged insight into the highs and lows of rural medicine, I also built a mentoring relationship that was deep enough to yield discussions, advice, and teaching that has been truly formative in my career choice to practice underserved or rural medicine…" For more on his story, see article in AM Rounds.
Injured teen receives $5,000, then gifts it to Medic One
Lily James, 13, presents a check to Medic One representatives on Dec. 1. (Image courtesy of KIRO-TV 7 CBS.)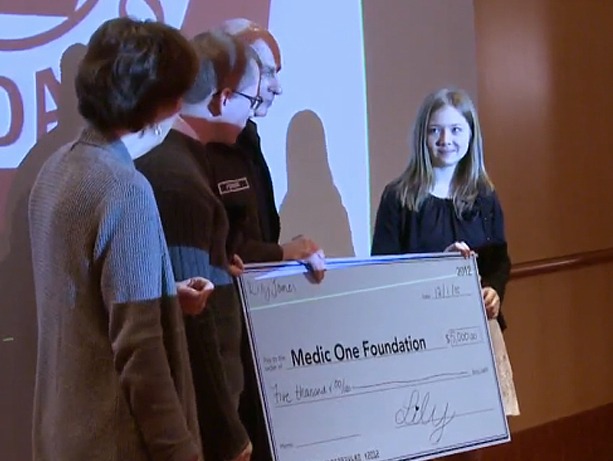 A 13-year-old Mercer Island girl presented a big gift to area paramedics to show her appreciation to those who saved her. When Lily James was 7, she survived a boating accident that nearly severed her right foot. Paramedics and a nearby doctor rushed her to Harborview Medical Center where her foot was successfully re-attached.
Lily was recently presented with a national courage award in Boston and $5,000. She donated all of the money to the Medic One Paramedic Training Program. "If it wasn't for all of the paramedics and the Medic One Foundation and Dr. Vedder, I maybe wouldn't have even been here. So I just decided that giving back would make me feel a lot better," said Lily.
The money will fund pediatric training for future paramedics. Lily wears a compression sock at times, but is doing great. She is the leading scorer on her lacrosse team and enjoys swimming. See the story on KIRO-TV CBS 7.
Man dedicates last hours to bringing holiday cheer to sick children
Mike Hathaway's five-year battle with an incurable lung disease was close to an end when reporters met him in his hospital room at Harborview Medical Center.
But that did not deter the 58-year-old Lynnwood man from his wish to spread holiday joy to children who are also coping with injury and sickness. The disease that cut short Hathaway's life is Idiopathic Pulmonary Fibrosis. After his symptoms worsened overnight, he was forced to revise his plan on going from room to room delivering candy.Too sick to carry his Santa's bag and hand out the candy himself, Hathaway and hospital staff recruited a nurse to serve as Santa's helper and make a first delivery to the little girl in the room next door. Hathaway said there is another reason he wanted to spend precious time helping others. He wanted to express his gratitude to the Harborview doctors, nurses and other staff members who took such loving care of him.
"It made me feel as though I had no fear. No fear of the unknown. No fear of what was coming next," he said. "When it happens I will be in comfort and surrounded by beautiful people that know how to make people happy, safe and comfortable in the last days, the final moments." For more on his story, see coverage on KOMO-TV ABC 4.
Genome sciences student Keolu Fox selected as a 2016 TED Fellow
Keolu Fox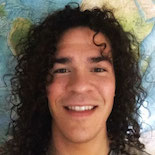 Keolu Fox, a UW Ph.D. candidate in genome sciences, was named a TED Fellow in 2016 and joins a network of 390+ fellows who are making headlines in over 80 countries for their remarkable work in all fields. He is one of just 21 talented individuals selected in the current round of new fellows.
The TED group — a global community building a clearinghouse of free knowledge from the world's most inspired thinkers — said, in announcing the new fellows: "They are building companies, sequencing rare diseases, exploring the stars, making music, saving lives, mapping political violence and much, much more."
Fox, a native Hawaiian, is a geneticist exploring the links between human genetic variation and disease in underrepresented populations with the goal of eliminating health disparities. He has expressed the need for systemic change, comparing students of majority populations to those from minority backgrounds. He said often times when finding students to participate in research, principal investigators (PIs) will choose the students who have strong backgrounds and lots of research experience already. These PIs don't have to put as much time into shaping students who have had access to previous research opportunities as they might with students with a less traditional scientific education, he told the UW Daily in a story published Nov. 16. "Indigenous kids think about science totally differently, the questions we ask are different, and the potential for cornering a new niche within science is way higher. By empowering … minority students, I think the potential benefit down the road is a lot higher."
Fox is also quoted in an Oct. 23, 2015, article in The Atlantic, "Making Indigenous Peoples Equal Partners in Gene Research. For a list of the fellows, see the TED website.
---
In the News
Articles that involve UW Medicine and Health Science faculty staff, students and trainees.
If you would like to offer feedback or subscribe, please write Bobbi Nodell, the editor of UW Medicine Insight, at bnodell@uw.edu.