Jan. 15 issue of UW Medicine Insight
Peter Neligan (pictured above), director of the Center for Reconstructive Surgery at UWMC, talks about face transplant surgery in a UW Medicine Pulse podcast. Also, patient Dawn Shaw, who consults with Neligan, blogs about why she wants to tell her story to TLC. See her blog, Facing Up to It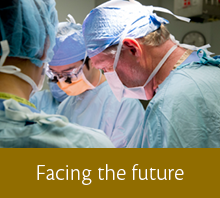 IN THIS ISSUE:
and much more...
A biweekly newsletter focused on issues related to
the UW Medicine system.
HOUSE, the Journal of Housestaff Quality & Safety, debuts
UW Medicine's residents and fellows play a vital role in caring for patients in our hospitals and clinics. In 2012, the Office of Graduate Medical Education (GME), under the leadership of Byron Joyner, vice dean for graduate medical education, inaugurated the UW Medicine Housestaff Quality & Safety Committee (HQSC), a trainee-led organization that engages members in quality and safety activities throughout our training sites. Their work is exemplary. The group meets throughout the year to learn the skills needed to lead and improve complex systems and also serves as the housestaff voice on quality and safety by participating in many forums throughout UW Medicine. More than 40 residents representing 21 specialties are on the committee. They receive guidance from 10 outstanding faculty advisors. Another 100 housestaff attend hospital quality and safety committee meetings on an ad hoc basis.
Recently, HQSC launched HOUSE, the Journal of Housestaff Quality & Safety, to showcase the exceptional work undertaken by our trainees to advance the quality, safety and value of patient care delivered across UW Medicine. During the 2014-2015 academic year, HQSC subcommittees tackled projects that included promoting use of bedside whiteboards to enhance discharge planning, evaluating depression screening workflow at a primary care clinic, overhauling the post-operative transfer-of-care process at Harborview Medical Center, and improving computerized ordering of influenza screening tests to reduce waste and lower costs. Descriptions of these and other projects are presented in HOUSE. It is gratifying to see our talented, dedicated trainees take such an active role translating the UW Medicine Patients Are First pillars from concept into everyday clinical practice.
I urge you to review the inaugural issue. Many individuals have been involved in both HQSC and developing the journal. Current HQSC co-chairs are Vlad Golgotiu, second-year resident in anesthesiology & pain medicine, and Chenwei Wu, internal medicine chief resident in quality & patient safety. Irving Ye, fourth-year resident in anesthesiology & pain medicine, who served last year as HQSC co-chair with Nick Meo, is editor-in-chief of the first issue of HOUSE. Nick, now an attending hospitalist at the Seattle VA, was recently appointed GME co-director of quality & safety; he will serve alongside Lisa McIntyre, associate professor of surgery. Their efforts are supported by an outstanding GME team including Byron Joyner, Amity Neumeister and Gabrielle Pett. Thank you to each of these individuals and to all committee members and faculty advisors for your dedication to safe, excellent patient care. Your work plays a vitally important role in achieving our mission of improving health for all people.
Sincerely,
Paul G. Ramsey, M.D.
CEO, UW Medicine
Executive Vice President for Medical Affairs and
Dean of the School of Medicine,
University of Washington
Progress towards creating a broad-spectrum antiviral went viral
A scientist's illustration of immunology research at UW Medicine's South Lake Union campus. (Photo by Dennis Wise.)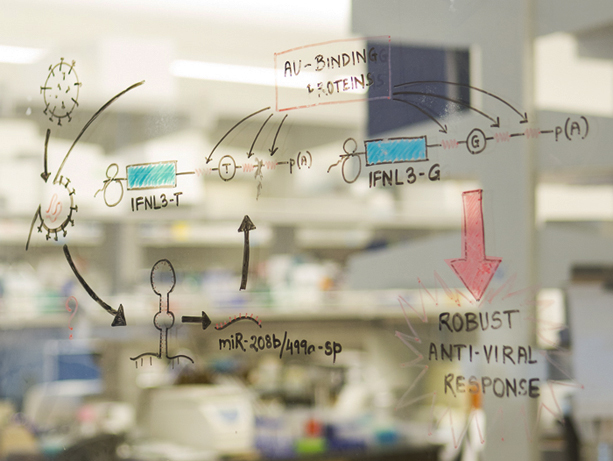 News from the UW Center for Innate Immunity and Immune Disease on progress towards a broad-spectrum antiviral becomes one of the Top 10 trending science stories on Facebook December 18 when news is released from research published in the Journal of Virology.
UW researchers working in collaboration with Kineta Inc. and the University of Texas at Galveston have shown that making a drug-like molecule to turn on innate immunity can induce genes to control infection in several known viruses. The findings, published online Dec. 18, show promising evidence for creating a broad-spectrum antiviral that can suppress a range of RNA viruses, including West Nile, dengue virus, hepatitis C, influenza A, respiratory syncytial, Nipah, Lassa and Ebola.
Michael Gale Jr., UW professor of immunology and director of the UW Center for Innate Immunity and Immune Disease, is one of the authors. For more information, see story on HSNewsBeat, Gizmag, Dispatch Tribunal, Science Daily among others.
Repetitive blast exposure causes cerebellar dysfunction in combat veterans
Study shows combat veterans suffer similar brain injuries as boxers. (Image from ThinkStock.)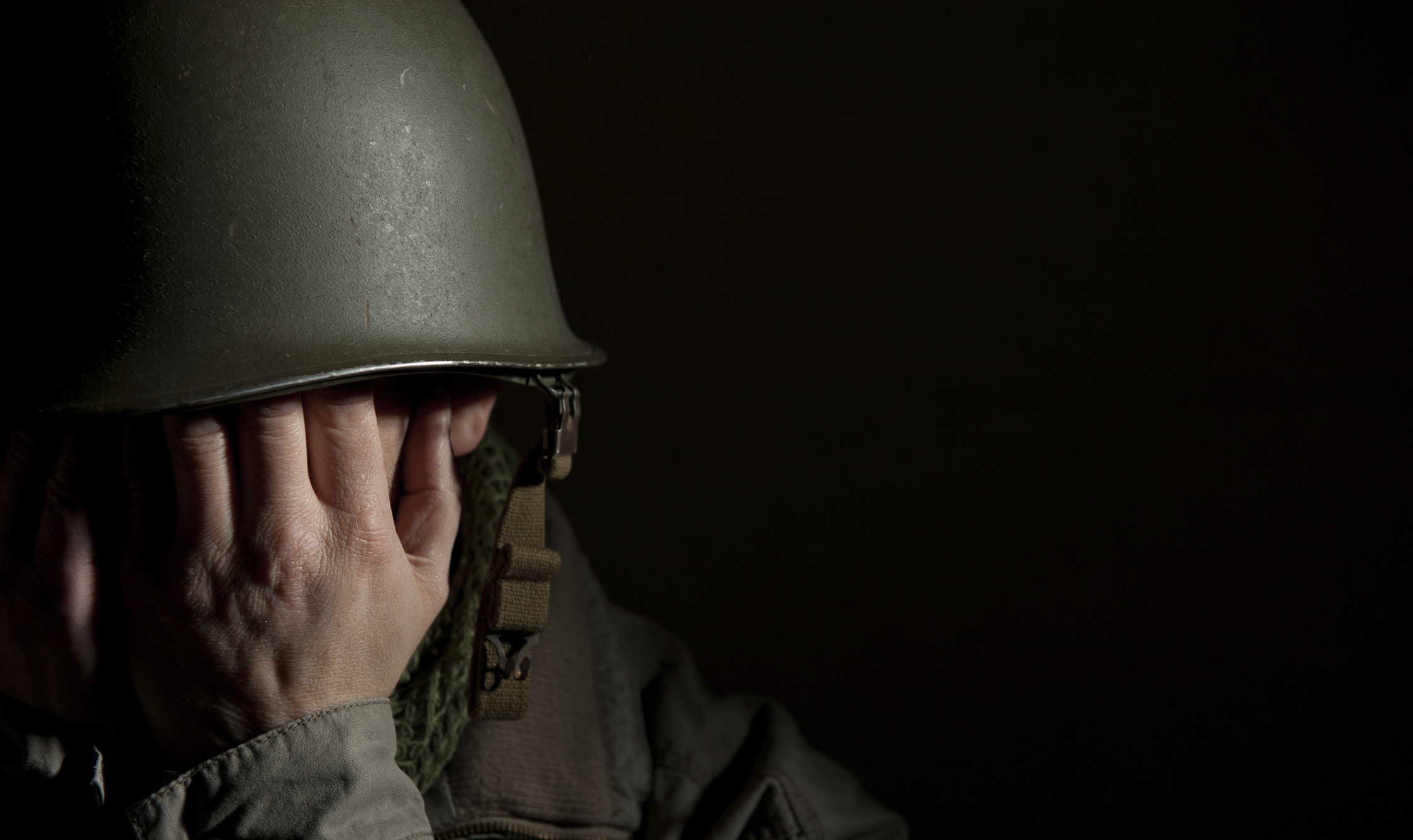 A team of brain injury experts led by researchers at the VA Puget Sound Health Care System and UW Medicine found that the more blasts veterans are exposed to, the more they show chronic changes in neuron activity in specific brain regions. The researchers also found that in mild blast-exposed mice, neurons are lost in the same brain regions, and that the pattern of loss is similar to findings in retired boxers seen more than 40 years ago.
Their findings, "Repetitive blast exposure in mice and combat veterans causes persistent cerebellar dysfunction," published in Science Translational Medicine January 13, are helping to uncover the mysteries of how combat veterans have been injured by repetitive blast exposure. These results can help guide the search for more effective treatments, said David Cook, VA scientist and UW research associate professor of medicine and pharmacology. For more on the story, see release on HSNewsBeat and coverage in The Seattle Times, KUOW, Reuters, KPLU among others.
Wearable device suppresses growth of brain-cancer cells
A wearable device that creates electrical fields to suppress cancer cells' proliferation in the brain was so effective at extending patients' survival that the clinical trial in which it was being tested was ended early. Optune, the battery-powered, cap-like device, when paired with standard-care temozolomide chemotherapy, significantly prolonged progression-free and overall survival of patients with newly diagnosed glioblastoma, compared with patients who received temozolomide alone.
Findings were published Dec. 15 in JAMA. "We should add this modality to what we're currently doing for our patients," said Maciej Mrugala, UW associate professor of neurology in the Division of Neuro-Oncology, who led UW Medicine's participation in the clinical trial. For more information, see article on HSNewsBeat.
More research stories involving UW Medicine:
Biggest medical breakthroughs of 2015 include brain-to-brain experiment at UW, ABC News, Dec. 29, 2015
What you need to know about the connection between sleep and pain, Huffington Post, Jan. 2, 2016
Connections between pain and sleep are real, and knowing how they work can be helpful. A UW study about sleep disruption and pain is mentioned.
Fruit fly study identifies gene for new species, Tech Times, Dec. 18, 2015
In a new study, University of Utah researcher Nitin Phadnis and his colleagues from the UW and the Fred Hutchinson Cancer Research Center identified a component in organisms known as the "hybrid inviability" gene that is linked to the ability of species to successfully breed with others.
Great reception at new clinic opening in Olympia
Harry the Husky gives a high five to young visitors at the open house. (Photo by Clare McLean, UW Medicine.)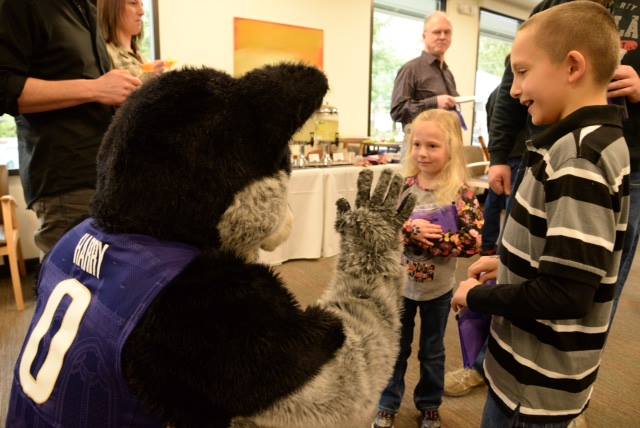 More than 300 people turned out for an open house Jan. 9 welcoming a UW Medicine neighborhood clinic in Olympia, the 11th UW Medicine clinic in the state.
Attendees were treated to healthy snacks, the Husky Pep Band, Harry the Husky, Mr. Yuk, first-aid myth busters, live Latin jazz, giveaways, tours of the clinic and meet-and-greets with the clinicians. A dozen pieces of local art decorate the 12,600 square-foot facility, located on Ensign Road in N.E. Olympia.
The primary care clinic is a collaboration between UW Medicine and Olympia's Capital Medical Center and offers care for acute illness and injury, women's healthcare, preventive medicine, medical screening and chronic disease management, as well as an onsite lab and X-ray. The clinic opened with three providers: Clinic Chief Eunice Chen, MD; Hollie Matthews, MD; and Theresa Duggan, ARNP. A second ARNP will join the team next month. For photos of the event, see the UW Medicine Facebook album
UW physician joins Gov. Inslee in plan to reduce gun violence
Prof. Monica Vavilala is a huge advocate of locking up guns so they don't accidentally fall into the wrong hands. (Photo courtesy of KING-TV NBC 5.)
Monica Vavilala, UW professor of anesthesiology and pediatrics and director of ‪Harborview's Injury and Prevention Research Center, joined Washington Gov. Jay Inslee Jan. 6 as he announced a new initiative to reduce gun-related deaths by strengthening background checks and implementing a statewide suicide prevention plan. Vavilala advocates for locking up guns among other measures. (For more information about safe storage of firearms, visit lokitup.org.)
See coverage on the UW website, KING-TV NBC 5, New York Times, Seattle Times, KOMO-TV ABC 4, KIRO-TV CBS 7, Spokesman-Review.
More clinical stories involving UW Medicine:
An inspiring look back at 2015
Students, teachers, researchers and physicians talk about their past year at UW Medicine in a five-minute video produced by UW Medicine Advancement. From standing up to cancer, to being a great mentor, to being chosen to make a TED Talk, their comments show vision, compassion and generosity. View the video here.
The dream becomes real for MEDEX student Simon Mendoza
Simon Mendoza at the offices of MEDEX Northwest in Seattle. (Photo courtesy of MEDEX Northwest.)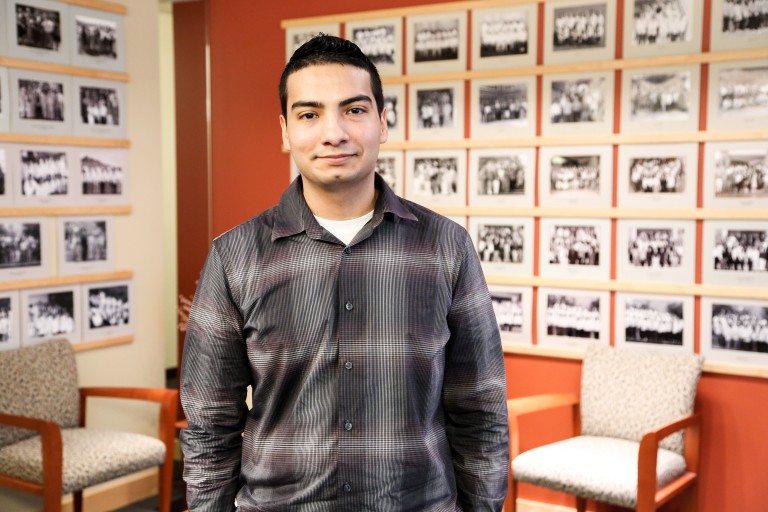 Simon Mendoza emigrated to Washington state from Michoacán, Mexico, with his parents and nine brothers and sisters in search of a better life. The family lived in Grandview with an uncle, who also had nine children; Mendoza's father became a farmworker. Growing up, his family would travel 25 miles to a medical clinic in Othello for health services.
Now a student in his clinical year with the MEDEX Northwest physician assistant program, Mendoza is putting his new skills to use in the same Othello clinic. At the Columbia Basin Health Association Othello Family Clinic, where he's doing his four-month family medicine preceptorship, Mendoza says he feels right at home. The mission statement of the clinic speaks to its focus on migrant farmworkers: "Keeping healthy those who feed the world." Read more on his journey in MEDEX Magazine.
Related links:
Contract talks resume between UW and doctors in residency programs, KPLU, Jan. 11, 2015
Contract talks are getting back underway between the University of Washington and a new union representing doctors in residency programs at hospitals including Harborview Medical Center, UW Medical Center and Seattle Children's.
Opinion | We know long doctor shifts are dangerous; Why won't hospitals adapt? Washington Post, Dec. 18, 2015
"We already know that extended shifts are dangerous," write Jeffrey Clark and David Harari, resident physicians at UW Medicine.
Long work hours for new doctors criticized, Baltimore Sun, Dec. 12, 2015
Dozens of hospitals around the country, including UW Medical Center, are participating in a pair of studies to assess whether allowing medical residents to work longer hours for needed on-the-job training benefits or harms patients. David Harari, first-year resident at UW, is quoted.
UW medical students' unique training: 6 weeks in Northwest outposts
Julie Middleton, 28, and Kayla McMahon, 25, are UW medical students in rural Montana. (Photo by Paula G. McGarvey for The Montana Standard.)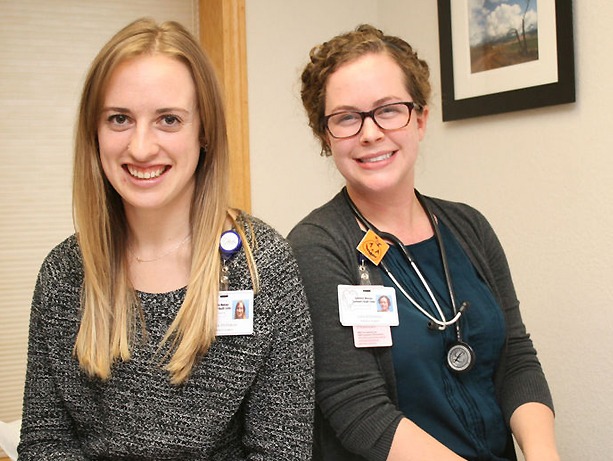 Julie Middleton from Billings, Mont., and Kayla McMahon from Helena, Mont., are among the UW medical students providing care this winter in rural and underserved Northwest outposts. The two participate in the School of Medicine's Targeted Rural Underserved Track (TRUST, which aims to get primary care into areas where it traditionally is lacking.
They are training at the Southwest Montana Community Health Center in Butte, Montana. The local paper wrote about "the new faces in the exam rooms."
Students visit their designated TRUST communities numerous times during their training. This includes two weeks prior to their first year of medical school and again in their second year, for one month during the summer. At this time, they work on a community project. Middleton worked on a suicide prevention project in Butte, and McMahon worked on a sexual education project in Helena.
The WWAMI Rural Integrated Training Experience (WRITE) program expands on TRUST, giving third-year medical students a mix of opportunities and experiences where they learn to diagnose, treat and manage a broad range of patient health issues and conditions. This allows them to develop their practice style and simultaneously benefits rural or underserved regions in the Pacific Northwest where they are assigned. For more on the story, see article in The Montana Standard.
Paris climate change conference big deal for health
Prof. Kristie Ebi gave two presentations at side events; one

for 200 people on the effects of climate change on health.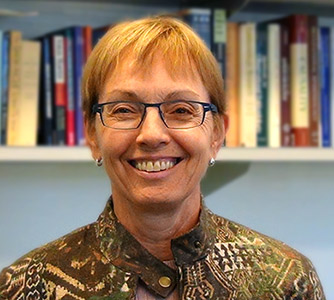 Kristie Ebi, UW professor of global health, who has attended United Nations climate-change conferences since 2000, said the agreement reached at the Paris conference in December was nothing short of monumental.
"It showed that world governments agree climate change is a serious problem and they are committed to addressing it," Ebi said. She's an expert on the health risks of climate change and how humans adapt to it. She addressed conference attendees on Dec. 5 and 11.
Ebi sat for a Q&A about her experience in Paris.

Q: What was the atmosphere of the conference?

A: There was tremendous spirit of collaboration to reach an agreement. The French and the secretariat for the United Nations did an incredible job on all scales, from having welcoming kiosks at the airports, to hiring people from the local community as greeters when delegates took buses to the venue, to doing an amazing job on the diplomatic end. It's quite clear from countries' comments that the agreement was as strong as possible at this time. See the full Q&A with Ebi on HSNewsBeat.
---
In the News
Articles that involve UW Medicine and Health Science faculty staff, students and trainees.