Feb. 26 issue of UW Medicine Insight
The UW Medicine art collection has recently been expanded to include artwork for UW Neighborhood Clinics. See slideshow (7 slides).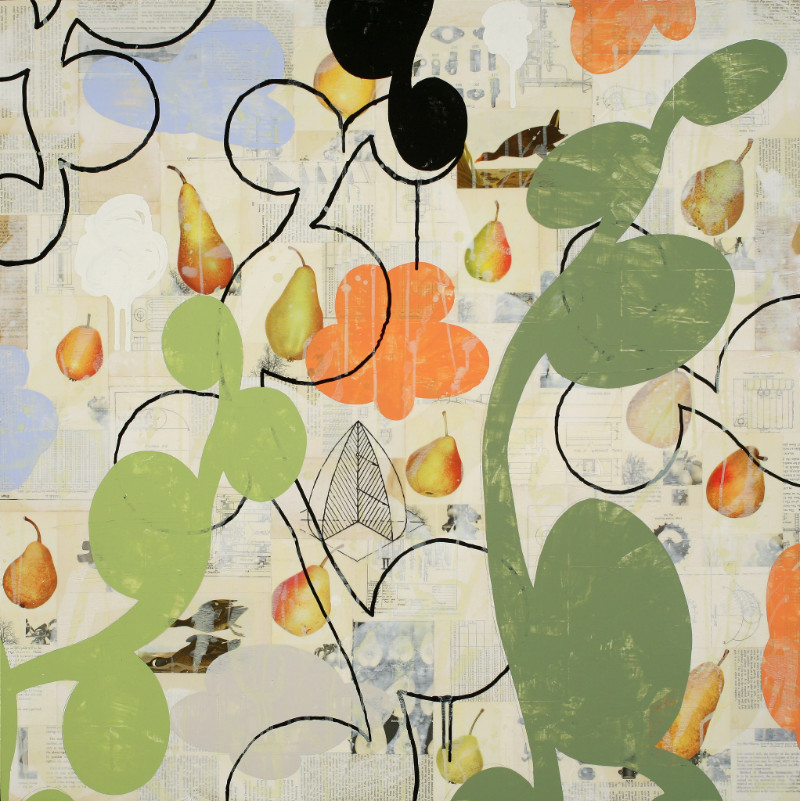 IN THIS ISSUE:
and much more...
A biweekly newsletter focused on issues related to
the UW Medicine system.
UW School of Medicine enters accreditation cycle
Dear Colleagues,
We are approaching the accreditation process for our medical school by the Liaison Committee on Medical Education (LCME) that occurs every eight years. That process consists of a sustained, structured self-study followed by an LCME site visit. Our last accreditation occurred in 2010 after a successful collaborative effort of our faculty, staff, students and others.
As we anticipate the LCME site visit in March 2018, I would like to share with you important changes to the accreditation requirements and ask for your contributions to upcoming events and processes.
Since 2010, the LCME has made two major changes to accreditation requirements. The previous standards have been revised into 12 standards covering over 550 narrative questions, data requests, and documentation requirements. These are collected into a report submitted to the LCME and addressed during self-study. In addition, there is now an explicit requirement for a formal continuous quality improvement process aligned with our mission, with documented and measurable outcomes.
Nationally, the new accreditation process has resulted in an increase in medical schools receiving probationary status. The more stringent process introduced by these changes requires particular vigilance to areas in which we already are putting considerable attention, such as improving the learning environment, increasing diversity and ensuring an active, engaged and robust education for our students.
The school's recently established Educational Quality Improvement (EQI) Office within Academic Affairs will spearhead the upcoming accreditation and continuing quality improvement initiatives. Sara Kim, associate dean for educational quality improvement and research professor of surgery, and Elizabeth Buttrick, director of EQI, are leading the effort.
Starting in March 2016, many of you will be asked to contribute your knowledge and skills to developing materials, providing information and participating on committees to address the 550 accreditation data points. Then, on Sept. 26, 2016, a formal event will initiate a school-wide review and quality improvement process and strategic response to any challenges identified during data collection in coming months.
The accreditation is an important opportunity to highlight the outstanding work of hundreds of individuals and is vital to our continued success. Thank you in advance for your time and dedicated contributions to making the upcoming self-study and site visit a success.
Sincerely,
Paul G. Ramsey, M.D.
CEO, UW Medicine
Executive Vice President for Medical Affairs and
Dean of the School of Medicine,
University of Washington
A small peptide dubbed TAxI is living up to its name
One of the obstacles to effective treatments for motor neuron disease and other degenerative diseases of the central nervous system is the body's protective barrier that limits substances in the blood from entering the brain or spinal cord. Suzie Hwang Pun, UW Robert F. Rushmer professor of bioengineering, is senior author of a study in the Proceedings of the National Academy of Sciences that shows a peptide called TAxI was able to shuttle a functional protein into the spinal cord in mice after being injected into a muscle. The peptide and its cargo traveled up nerve fibers and into the spinal cord, thereby bypassing the spinal cord/blood barrier. Further testing of this minimally invasive delivery system will determine if TAxl is able to carry biologic therapeutics into the spinal cord. See the story on HSNewsBeat.
Microbicide reduces women's HIV risk in large-scale trial
(Photo by Andrew Loxley).
Two large clinical trials, one led by Jared Baeten, UW professor of medicine and global health, have found that a microbicide prevention method delivered through a vaginal ring can safely help reduce new HIV infections in women. Results of the ASPIRE study, which enrolled more than 2,600 women in Africa, were announced Feb. 22 at the Conference on Retroviruses and Opportunistic Infections in Boston, and published online in The New England Journal of Medicine.
"This is a glass half-full moment," said Baeten. "The HIV prevention field for women has struggled in the last few years, and at times the glass had seemed almost completely empty. Now, for the first time, we have two trials demonstrating that a female-controlled HIV prevention method can safely help reduce new HIV infections. I'm optimistic about what these results might mean for women worldwide." The ASPIRE study was led by the National Institutes of Health-funded Microbicide Trials Network. For more on the story, see coverage on HSNewsBeat, The New York Times, Reuters, The Verge, Seattle Times and USA Today, among others.
Note: The New York Times editorial board hails success of trials (Feb. 26, 2016): "Helping women in Africa avoid HIV."
More research stories involving UW Medicine:
Donor's mother hears her son's heart
Steve Craig reaches out to comfort his wife, Patty, as she listens to her son's heart in Keilah Hansford. (Photo by Bill Wagner, The Daily News).
After 20-year-old Raymond Craig died on Oct. 18 in a car accident in Pierce County, his family donated his heart, both lungs and kidneys, his liver and his pancreas. In total, he saved the lives of six people, including a child. Among them was Keilah Hansford, a 28-year-old Longview mother of three. On a rainy Saturday afternoon, Raymond's parents, Steve and Patty Craig, met Hansford for the first time at her parents' West Longview home.
They put a stethoscope to Hansford's chest and from behind a blush pink, 10-inch scar, they once again heard the gentle beating of their son's heart. For more on the story, see article in The Daily News (Longview, Wash.).
Dr. Stanley Riddell
Stanley Riddell, UW professor of medicine (medical oncology), with the Fred Hutchinson Cancer Research Center, presented amazing results from an immunotherapy program to treat patients with advance leukemia and lymphoma at the American Association for the Advancement of Science's annual meeting in Washington D.C., Feb. 11-15. In one trial, 94 percent of patients suffering from acute lymphoblastic leukemia (ALL) said their symptoms vanished completely after they were treated with the modified blood cells, known as T-cells. Before the intervention, Riddell said the patients had two to five months to live. More research is needed because of adverse side effects for seven of the patients.
James Gallagher, health editor of the BBC, in an analysis accompanying the promising trial, noted that immunotherapy is coming of age and may soon join chemotherapy, radiotherapy and surgery as major weapons in the fight against cancer. And Atul Grover, the chief public policy officer of the Association of American Medical Colleges (AAMC), wrote in the Wall Street Journal why the cancer moon shot might work, citing collaborations such as the Seattle Cancer Care Alliance. For more coverage, see article on FOX news and watch the Fred Hutch interview with Dr. Riddell.
More clinical stories involving UW Medicine:
MEDEX: 'You do what you have to do'
Jeff Stubblefield. (Photo courtesy of MEDEX).
Jeff Stubblefield spent considerable time traveling and working around the world — 21 years with the Air Force as an independent duty medical officer. Now a physician's assistant working on neurology cases at the Alaska Native Medical Center in Anchorage, Stubblefield talks about facing the challenging needs of this community. "There's a lot of obstacles we face trying to care for this population," he says. "It's impressive in a bad way," he says."Underserved is the word, but I don't know that it captures the whole issues we have here."
An employee of the Alaska Native Tribal Health Consortium, which provides health services to 130,000 Alaska Natives and American Indians, Stubblefield is clear not to fault the medical side. "There's a lot of obstacles we face trying to care for this population." Even in instances where the need for neurological services is identified accessing care can be difficult. Stubblefield recounts a favorable scenario. "I'll get a phone call from Savoonga. They'll say, 'I've got somebody who fell down. They're having paresthesia, or they're myopathic or what have you.' And I can expedite those to a certain extent, but the geographic space of Alaska, weather, transportation obstacles, and the limited services available to the patients all work against speedy access." For more on the story, see article in MEDEX Magazine.
UW, Gonzaga join forces for medical education in Spokane
Gonzaga Pres.Thayne McCulloh and UW Pres. Ana Mari Cauce celebrate their new partnership. (Photo by Rajah Bose/Gonzaga).
UW and Gonzaga University have signed an agreement to continue, enhance and expand medical education and research in Spokane. The agreement makes Gonzaga a partner in UW's regional, community-based medical-education program and sets in motion plans to advance health-related research, entrepreneurship and interdisciplinary health-sciences teaching in Spokane.
Starting in fall 2016, the UW School of Medicine-Gonzaga University Partnership will welcome the largest-ever entering class of Spokane medical students to dedicated facilities on the Gonzaga campus. Faculty from both schools will recruit, teach and mentor students, utilizing UW's new and notable medical curriculum. UW and GU will also embark on a collaborative Regional Health Initiative to develop shared facilities and high-impact, applied research.
The partnership's development will be guided by a dedicated executive director at Gonzaga, Spokane-based UW School of Medicine leadership, and a new community advisory board. For more information, see story on HSNewsBeat and visit the UW-Spokane medical school website.
WWAMI students go red for women
UW medical students in Alaska.
"On February 5, the last day learning about the cardiovascular system, we (pictured) all wore red for the American Heart Association's National Wear Red Day. Was it a coincidence? I think not. We wore red because we all believe we can save lives and improve statistics. In 2004, the American Heart Association created the campaign Go Red For Women to increase awareness of the No. 1 cause of death for women in America: cardiovascular disease.
The statistics show that 1 in 3 women die of heart disease and stroke even though 80 percent of these events may be prevented with lifestyle changes and education. As medical students, we often stress about the different heart murmurs. But the day we wore red was to demonstrate how we want to take advantage of our time in medicine, as a team, working to improve the lives of our patients. We took this picture and shared it on social media to increase the awareness of heart disease among the women in our families and circles of friends. We hope by reading this, you will also spread the hope and love."
— Kimiko "Koko" Urata, MS1
Students in photo (top left to right): Priyanka Pillai, Ellen Dore, Prishanya Pillai, Beverley Khondra, Julia Parrish. (Bottom left to right):
Sarah Poggi, Madigan Stanley, Robert Merkouris, Koko Urata, Mariah Minder, Carolyn Craig.
Teaching Moments: An interview with David Townes
Photo by Emily Rasinski/UW Medicine.
David Townes, UW associate professor of medicine (emergency medicine), joined the UW faculty in 2001. He is also a public health and medical technical advisor to the Office of Foreign Disaster Assistance at USAID and a medical epidemiologist in the Emergency Response and Recovery Branch at the Centers for Disease Control and Prevention (CDC). Throughout his career Townes has worked in Antarctica, Costa Rica, Ethiopia, Ghana, Guatemala, Haiti, Indonesia, Jordan, Kenya, Malawi, Mozambique, Nepal, Russia, Senegal, Tanzania, Turkey, the West Indies and Zambia.
Q: Tell me about a patient who made a significant impact on you.
In 2009, I was working on the border between Malawi and Mozambique for the CDC investigating an outbreak of an unknown disease that turned out to be typhoid. There was an 8-year-old little girl that ended up in the isolation ward before we knew what the disease was. She was getting gradually sicker and sicker, eventually developing abdominal pain and an acute abdomen. I was faced with the public health vs. healthcare dilemma: I'm here to work for the CDC as a medical epidemiologist on a population level and not as a clinician to provide care for this individual patient.
Ultimately, I spoke with the physicians who were taking care of the child. I said 'This girl has belly pains and an acute abdomen. I think she needs an operation and there is a very capable hospital several hours drive away.' I came back later that evening and saw them putting a monitor and oxygen on her and what I thought was preparing to take her by ambulance to the referral hospital. I asked if this was the case, but they said no, they were just going to continue to monitor her and draw more labs. I responded, 'She's pretty sick, her belly is pretty tender and I think she needs an operation.' However, I was an invited guest and didn't have any authority there.
I came in the next day and learned that she had died the night before. To this day, I wonder if I should have done more. Should I have said more? That's one case where I think I failed. I will always remember that story and I tell it because I don't think I did the right thing. I think I could have advocated for the individual and still maintained my role as an epidemiologist.
Q: What does it mean to be a doctor?
I finished my residency 20 years ago, and I still believe that it just comes down to wanting to help people. It's kind of that simple. Being a doctor is really an interesting privilege, especially working in emergency medicine. I once tried to estimate how many patients I had seen in my career. If on average I see about 10 patients a shift, and about 10 shifts a month, that's 100 patients a month and about 1,200 patients a year. I've probably seen close to 25,000 patients at this point. That means I've had a very personal conversation with 25,000-30,000 strangers; that's an interesting and privileged experience. It provides unique insight into the human condition. If you are (a patient) in the emergency department, it is probably because you are not having the best day. To be able to help people through that time when they are at their most vulnerable is a privilege.
Q: Why global health?
For myself and most people working in this field, it's the incredible disparity in people's lives that drives us. However, the disparities obviously extend well beyond health. It's also nutritional status, educational opportunities, and economic prosperity. Being a clinician, I feel like my best opportunity for impact is in health. I am troubled and motivated by trying to do what I can. People say there is disparity in the United States and that's completely true. The economic and opportunistic void between the haves and have-nots in this country is enormous as well. I'm just drawn to the international realm.
Of all the vulnerable people in the world, I think the most vulnerable are those who have been displaced from their homes either as refugees or as internally displaced persons. If you look within those groups of displaced people, children, women, the elderly, mentally and physically handicapped are the most vulnerable. If you are a mentally or physically handicapped child who is also an orphan who has been displaced by an emergency, you are about as vulnerable as any human can be. I think the opportunity to advocate and try and make some positive impact for those populations is what drives me.
---
In the News
Articles that involve UW Medicine and Health Sciences faculty staff, students and trainees.
If you would like to offer feedback or subscribe, please write Bobbi Nodell, the editor of UW Medicine Insight, at bnodell@uw.edu.